Japanese food is an art, and not everyone is good at it. When it comes to sushi and plastic surgery, Graham Norton once said never get attracted to a bargain. In this article, we have compiled a list of the city's best and most authentic Japanese food restaurants.
Sakura
Sushi Nuk
Avari towers, Fujiyama Restaurant
Tao
Cocochan
Bonsai Pan Asian Kitchen
Miyako
Chop Chop Wok
Sakura
Sakura provides you with the experience of exquisite Japanese quality food. At Sakura, you will get a taste of authentic Japanese food, and not only the food tastes delicious, but the presentation also makes it look more tempting. The food there tastes and looks fresh and colorful. Especially if you are keen on their food, you know well what fresh sushi tastes like. Sakura is located in Pearl Continental, Club Road Karachi.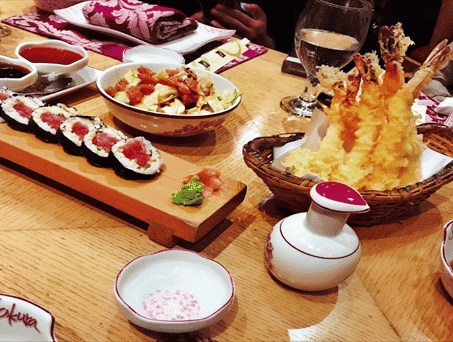 The menu of Sakura contains authentic sashimi and sushi options. AThe menu contains a variety of sushi options to choose from. The menu also contains authentic teriyaki and classical Japanese noodles. There is a separate section for Hosso Makimono and Nigiri Sushi, where you can find various sushi options at a minimal price. The vegetarian option in sushi contains avocado and cucumber, and the non-vegetarian option contains fresh tuna and salmon, full of nutrients.
Sushi Nuk
Sushi Nuk is one of the best Japanese restaurants in Karachi. Among Karachiites, it is quite famous that Sushi Nuk provides its customers with the ultimate Japanese Sushi experience, and that is because the chefs at Sushi Nuk are the maestro of their craft. Sushi Nuk is located in Khayaban-e- Mujahid Phase V, DHA, Karachi.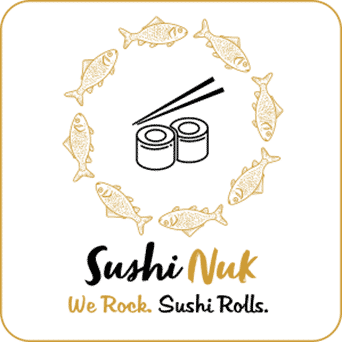 The menu of Sushi Nuk had an ample range of sushi options to choose from. The sushi options at Sushi Nuk range from Asian Styled appetizers, Al-a-carte Nigiri, Assorted Nigiri, Sashimi, and Al-a-carte Sashimi. The ingredients used at Sushi Nuk are fresh and of high quality. The prices are very reasonable. The menu of the Sushi Nuk is also available on their site, making them even more user-friendly. The environment at Sushi Nuk is very cozy and comforting.
Avari towers, Fujiyama Restaurant
Fujiyama restaurant is famous because of its location. It is located on the top floor of Avari towers and provides a birds-ey view of the whole city, which is heavenly. No doubt, the food at Fujiyama restaurant is also worth trying.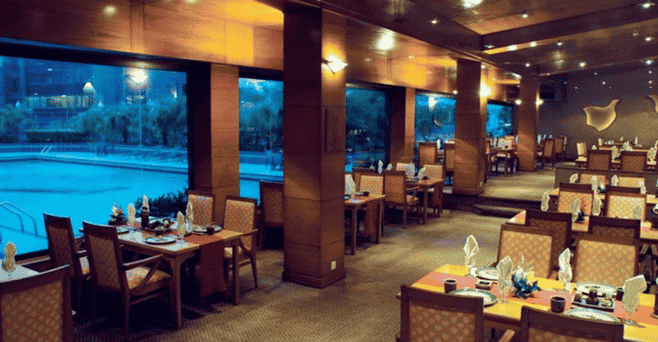 Like the restaurant, the menu is also magnificently themed in red and black. The menu of Fujiyama restaurant contains extravagant and authentic Japanese delicacies. The sushi and sashimi section on the menu contains a vast variety of options and not only this; their dessert option is so heart-melting that one cannot resist ordering those yumilicious desserts, which include deep-fried tempura ice cream and banana split. It is a perfect place to enjoy dinner with your loved ones.
Tao
Tao is another perfect place to have authentic Japanese delicacies. At Tao, you will find the twist in contemporary Asian cuisine. Tao's signature style combines contemporary cuisine with different cooking styles such as grilling and pan-frying. It is located in Khayaban-e-Bukhari.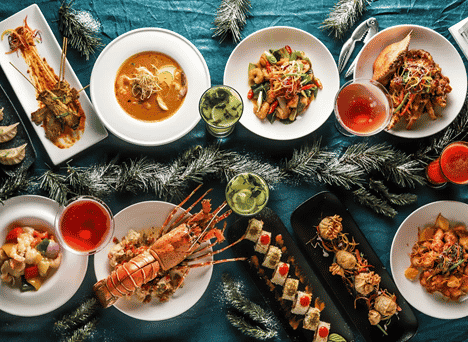 This restaurant is always jammed-packed. It offers a wide range of platter options such as sushi platters, sashimi platters, and nigiri platters. It also has an option for "All you can eat" for die-hard sushi fans. Other than that, Tao's most famous menu options include a wide range of maki rolls, Asian chicken bites, soy mixed vegetables, and sweet and spicy basil beef. The menu has so many tempting options to choose from that you would surely make you confused about what to choose.
Cocochan
Cocochan is another authentic pan-Asian eatery that offers you a wide range of options. This has two outlets in Karachi, one at Tipu Sultan Road and the other in the Dolmen mall, Clifton Karachi.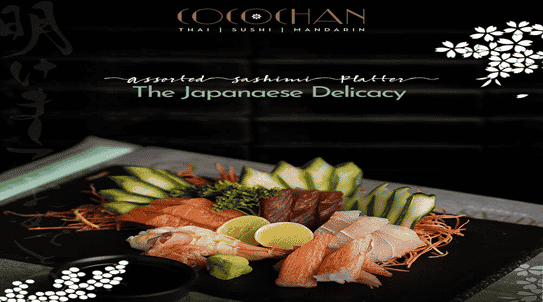 The menu of CocoChan contains a wide range of pan-Asian cuisines. At CocoChan, one can find authentic Thai, Chinese, and Japanese food options. The menu of CocoChan has a wide range of Japanese delicacies, including sushi, sushi platter, sashimi, makimono, and sushi roll options. The platter comes with a choice between tuna and salmon. The price range at Cocochan justifies the quality of food.
Bonsai Pan Asian Kitchen
Bonsai is also considered a great place to satisfy your sushi cravings. The Bonsai Pan gives you the taste of authentic Japanese food in the simplest form. This restaurant is simply amazing; no extravagance, just taste and quality, Bonsai Pan's specialty. It is located at Tipu Sultan Road in Karachi.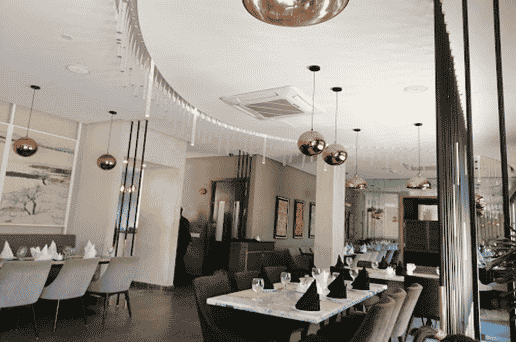 This restaurant can satisfy your sushi cravings even with a tight budget. Running out of cash but badly craving some Chinese, not to worry, Bonsai can help you with that! Their menu contains a wide range of sashimi and Nigiri options to choose from, and that too in a budget-friendly way.
Miyako
Miyako provides its customers with authentic pan-Asian cuisine with a contemporary twist. The Miyako is mostly famous for its sushi items, but they continue to upgrade their menu with other Asian delicacies. They keep upgrading their menu with new items and provide their customers a taste of an extravagant variety of Asian food options.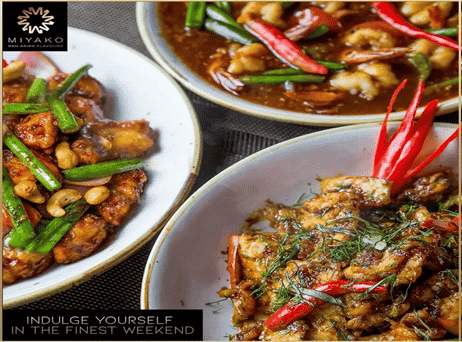 Miyako's menu is not only limited to sushi. It also contains a variety of beverages, beef options, seafood and desserts to enjoy other than sushi, and all of the items at Miyako are made in authentic Japanese style. Miyako is located in Khayaban-e-Shahbaz, DHA phase 6, Karachi.
Chop Chop Wok
Chop Chop Wok started as a small outlet in Khadda market, Karachi, but within 4 years, the restaurant has expanded and opened four outlets in major cities of Pakistan. The main outlet of Chop Chop Wok in Karachi is in DHA Phase 5.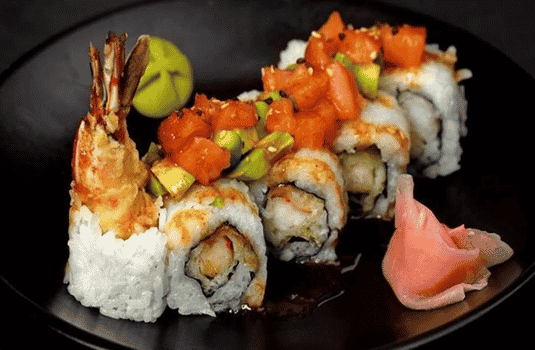 The menu of Chop Chop has a vast range of options. The menu includes platters of Nigiri and Sashimi, salmon and futomaki selection. Moreover, you can also choose nigiri, sashimi, maki rolls and hosomaki from the sushi selection. They also offer a special item in their menu: a 3-step customizable stir fry.