CMS Migration, Pakistan's top-ranked migration agency, specializes in Skilled Recognized Graduate Visa Subclass 476 or in other words helping fresh engineers of Pakistan move to Australia to pursue their engineering career.
Engineering employment openings in Australia have reached a 10-year high, due to pandemic border restrictions and a scarcity of locally trained engineers.
According to Engineers Australia's latest Australian Engineering Employment Vacancies Report, the number of engineering positions posted grew by 50% in 2021.
Australia has massive demand for engineers. Prime Minister Anthony Albanese said the jobs summit would look at ways to immediately deal with the shortage of skilled workers.
CMS Migration is the most reputable organization in the entire Asian Region with extensive experience in Subclass 476, offering support, advice, and legal assistance to those wishing to go to Australia for studies, employment, or business.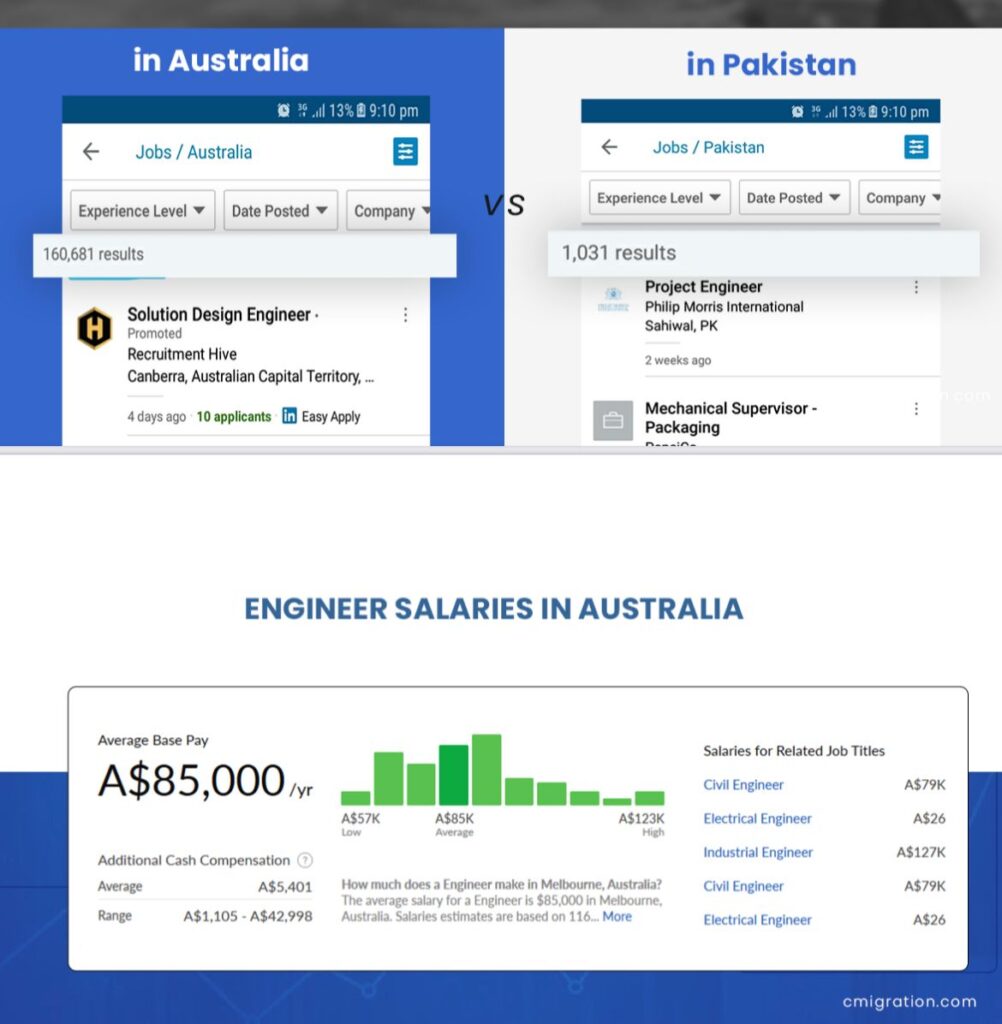 In 2017, they established their ground operations in Pakistan. Since then, they have been dealing, guiding & processing  Subclass 476 visa applications, which is a treat for all recent engineering graduates from PEC Accredited Universities (a signatory body of the Washington Accord in Pakistan) who wish to pursue a promising profession while residing in Australia for 18 months by fulfilling the Subclass 476 requirements.
"Fresh Engineers of Pakistan are in High Demand in Australia," says Muhammad Faizan Haider, Managing Director – CMS Migration.
CMS Migration starts with a free consultation that gives detailed and accurate information about the opportunity, documents, and entire procedure.
In addition, there is hardly any application that is handled less than perfection after processing more than 2,000 applications. CMS Migration is the most well-known agency among Pakistan's leading engineering universities, with a fan base of more than 50,000.
Even after their clients have moved to Australia, they stay in touch with them in order to support them in their future aspirations. By offering superior consulting services that are intensely focused on their clients' needs and expectations, their qualified team of professionals ensures a smooth pathway towards PR once they got field job in Australia after reaching on Subclass 476.
Moreover, Australia is offering the highest minimum per hour wage in the world as per https://worldpopulationreview.com/country-rankings/minimum-wage-by-country. Normal income range in Australia for graduate engineers is approximately AU$ 5,000 to AU$ 8,000 per month before tax.
Following candidates are eligible to apply for this Subclass 476 visa:
Must have completed their engineering degree from a PEC-recognized institution strictly within last 24 months
Must demonstrate English language ability (IELTS with minimum 5 in each and overall 6 General/ Academic) OR (PTE Academic with minimum 36 in each and overall 50 score )
Must fulfill character and health requirements
You must be under 31 years of age.
Engineers are highly undervalued with no great future prospects in Pakistan, so it's definitely a golden opportunity for a fresh engineering graduate of any discipline, incomparable with any other option they may have.
With offices currently in Islamabad, Lahore, and Malaysia; CMS Migration is working both nationally and abroad & always expanding.
On their official social media pages, which include their website, Facebook page, YouTube channel, and Instagram page, their clients have provided excellent explanations of their remarkable professionalism, work, and success stories.