Overview
Benazir's Income Support program was initiated in 2008 to reduce poverty in the country. It helps individuals through donations and scholarships. It offers various programs such as BISP Ehsaas Program and BISP Internship programs.
The BISP internship program offers job opportunities to the youth and students of Pakistan. This scheme provides business opportunities to the students. Through this program, students enter into professional and practical life and get financial assistance. It also helps the students obtain their dream job by providing experience in that specific domain.
If you are looking for BISP internship programs to start your career or get a Job through a BISP internship program, then stay connected on this page. Here, you will find all details about the BISP internship program 2023-complete guide and its benefits.
BISP Internship Program
BISP internship offers short-term job opportunities to students in their specific field of education. Here students and youth obtain work experience under the supervision of professionals. Thus, it is the best platform that provides practical experience to the students.
Here are some of the main objectives of the BISP internship program.
BISP Internship supports and promotes work among youth communities after completing their education by providing job opportunities.
Its purpose is to remove unemployment from the country.
The BISP Internship scheme develops a diverse and one-step-ahead method to deal with adversity.
It helps to hunt the future talent of Pakistan by providing hidden experiences.
It provides opportunities for interns to acquire benefits from ISP facilities and learn much more.
To develop a network in the public sector.
It provides opportunities to avail the internationally recognized internships.
BISP Internship Program Eligibility Criteria?
Following are the BISP Internship Program eligibility conditions that the candidate must fulfill. Follow them carefully before applying for the BISP internship 2023.
Candidates must have HEC recognized 3-year graduation degree or enrolled in a relevant study program with a 2.50/4.00 CGPA.
He should have obtained 50% marks in matriculation.
Candidates must achieve 80% during the 8 to 16 weeks internship with mandatory attendance to receive remuneration of PKR.10000 per month.
There is a 2% quota for special applicants and a 5% quota is reserved for minorities.
Males as well as females are also encouraged to apply for this internship opportunity.
Candidates aged between 22 to 30 years can apply for the BISP Internship program.
The students who graduated from Madrasa are also encouraged to apply.
BISP internship terms and Conditions
Following are the BISP internship terms and conditions that you must know if you are applying for it.
Each year, only 20 candidates are selected for the BISP internship program.
The BISP internship minimum duration is three months. However, the maximum internship duration is for 6 months.
You can start an internship after accepting the terms and conditions provided by the BISP team director.
The BISP internship program agreement is managed by the director that the applicant signs on the date of joining or the day before joining.
The nationality of the candidate is discussed during the interview session.
Pakistan govt internship and ISP secretariat candidates are not applicable.
How to apply for BISP internship Program?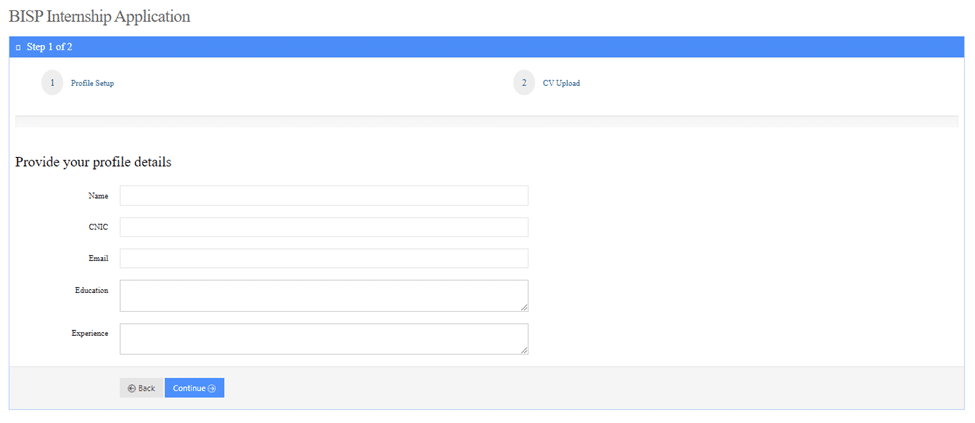 To apply for the BISP internship program, go to the BISP website. Select Jobs from the menu bar. A drop-down menu is opened showing different job opportunity options. On the top of the drop-down menu, you will see the Internship Application Portal. Open the Internship application form. Here you will need to make your profile.
Follow the following instructions to successfully complete the application form.
Go to the Jobs link and select Internship Application. An internship application form will be opened in a new window.
The first step to fill this application form is to make your profile on the BISP internship portal. To set up a BISP Internship Application profile, it will ask you to enter your name, CNIC number, Email, Education, and experience.
After entering all the above information, click on the Continue button.
The next step is to upload your CV. For that, click on choose file from your device and open it on the portal.
After uploading your cv, click on Submit button.
You have now successfully applied for the BISP internship program. Wait for the response from the BISP team.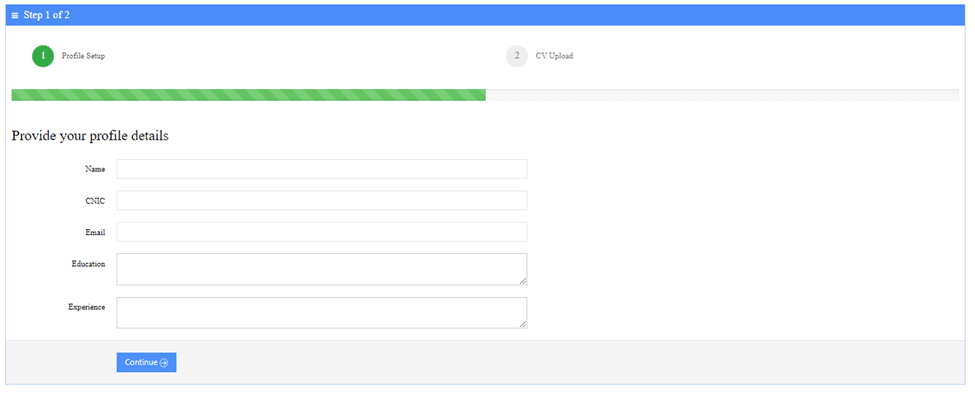 In all that process, you must remember that all information you have entered in your profile must be correct. Also, your CV should be impressive containing your educational records, personal and professional skills, and experience. Also, mention if you have completed any projects in that domain.
Application Scope and Guidelines
A BISP internship does not provide a commitment to any job opportunity or position in the BISP secretariat or any other organization. It only provides experience to the youth and polishes their skills so that they can apply them in any well-reputed organization.
BSIP Contact Details
In case of any queries, you can contact the BISP by using their helpline and contact details. Here are the contact details of BISP.
Contact number: 080026477 & 051-9246326
Address: Benazir income support programme Pak secretariat, Islamabad.
Official Website link: bisp.gov.pk
EndNote
All the details of BISP internship programs are given above. If you fulfil the eligibility criteria of BISP internship program, then follow the instructions to successfully apply for it. In case of any problem or queries, contact to the BISP help desk.