Inorder to encourage and appreciate the change maker in the field of education, President of Pakistan, Dr. Arif Alvi presented the 'Education Excellence Recognition' Award to Country Director of TCL Global Mr. Faisal Mahmood. A ceremony in this regard was organized by the Rawalpindi Chamber of Commerce and Industry (RCCI), in which many prominent names in the field of education participated.
President Dr. Arif Alvi stressed upon adoption of a holistic approach to education by accelerating the pace of changes to match the rest of the world.
Mr. Faisal Mahmood said he felt honored to receive such a prestigious accolade in recognition of his efforts in ensuring vast educational services, resources and opportunities are provided to the youth of our nation.
These facts and unfolding of events prove that the right stakeholders in the right places such as dedicated professionals at suited designations in the relevant institutions of the education field can manifest wonders and make great progress for our national agenda on improving the facilitation and quality of education in Pakistan.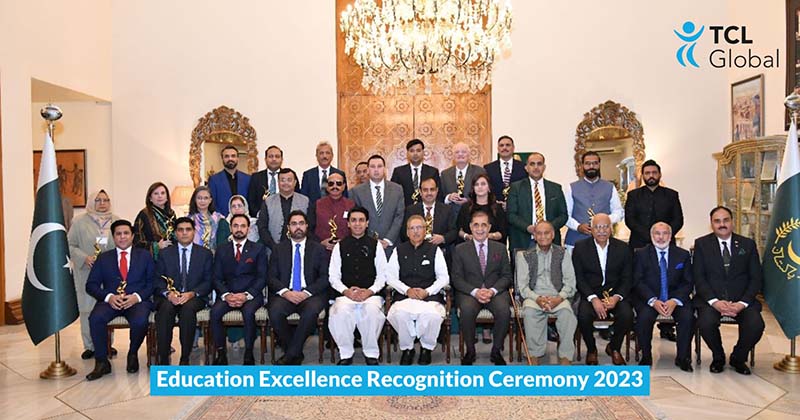 Further, TCL Global Pakistan is proud to have been recognized by the President and RCCI alike as it shows that developmental and noble efforts do not go in vain. TCL Global hopes to continue to provide higher education resources from guidance to arrival at university to best set up their inspiring clients for success.
Further, all chapters of TCL Global including Pakistan's have worked diligently and efficiently to ensure every single one of their aspiring study-abroad clients have access to world class higher education they deserve. All developed applications are individual-centric and bridge the communication gap effectively between student and university. By timely processing of strong applications TCL Global is able to make hundreds of dreams come true of their motivated clientele.
Participation in this event gave high government officials a chance to communicate and collaborate with relevant education sector stakeholders including TCL Global Pakistan. Further, individuals and institutions that attended got a deeper insight into the shortcomings and accomplishments thus far when it comes to educational provision and resources at a national level.