Small and medium-sized businesses are the backbone of a country's economy. Such businesses create enormous employment opportunities, trigger market creation and improve standard of living in any country. As per the estimates of the Small & Medium Enterprise Development Authority (SMEDA), there are more than 5 million SMEs in Pakistan and they contribute 40% in GDP and 30% in overall exports of the country.
While that's true, the SME sector of Pakistan faces many challenges due to lack of capital, financial opportunities, inadequate infrastructure and unavailability of modern technology.
Here's where CreditBook comes in with its industry-first feature and campaign where a technology company is making strides to connect its business community with opportunities. Building a one-of-its-kind experience to promote local businesses, CreditBook created a whole new feature named 'Local Baadshah' to help promote its partner businesses with none other than Babar Azam, the Baadshah of Cricket!
How does it work?
CreditBook app's 'Local Baadshah' feature lets the users enter details like their business name, address, number etc. Then, with just a few clicks the users can render a full-fledged video ad promotion for their businesses by Babar Azam himself! Business owners can then share those customized video ads with their customer and partner networks! The feature is set to help many businesses get free promotion and traction through CreditBook's platform!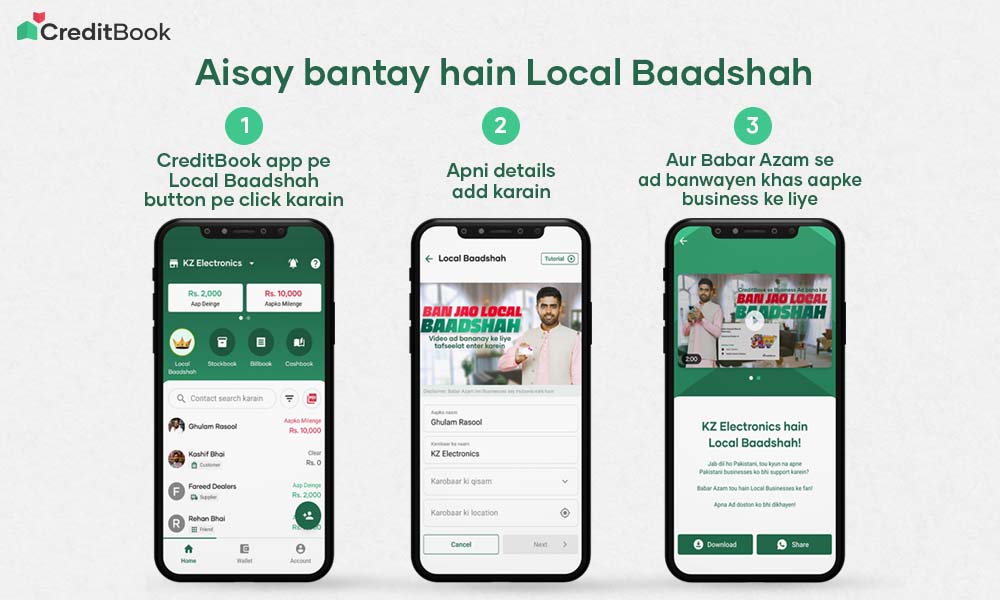 CreditBook launched in 2020 with the single aim to improve the financial outcomes of micro, small and medium businesses across Pakistan. Starting with a simple digital ledger, the company has been building secure software for millions of businesses to manage their credit, sales, and expense cycles.
CreditBook partnering with Babar Azam to promote these local businesses speaks volumes of the company's resolve and commitment to Pakistan with a varied set of products built just to enable improved commerce for MSMEs. With this app and its new feature 'Local Baadshah', CreditBook expects to bring some joy to business owners in Pakistan who have had to go through trying times like the pandemic to the recent economic volatility.

Download the CreditBook app here and get a free promotion from Babar Azam for your business!


Google Play Store link: https://bit.ly/3yPmN9a

Huawei Gallery: https://bit.ly/3s7kHxv