Cricket in Pakistan is more than just a sport; it is a national passion that unites people from all walks of life. The enthusiasm for cricket in the country is unparalleled, and Tamasha, a leading mobile app, has successfully tapped into this enthusiasm by providing an extensive array of cricket offerings on mobile devices. The recent live stream of the Asia Cup 2023 on Tamasha achieved a phenomenal concurrency of 4.8 million viewers during the event, setting new records in the world of mobile streaming. In fact, the viewership numbers soared, reaching over 72 million views in a single match, making Tamasha the go-to cricket streaming platform.
Tamasha stands out by captivating an overwhelming 14.4 million users on a single mobile platform during a cricketing event. Moreover, the App's success has not gone unnoticed by brands, who have leveraged advertising and branding opportunities during these live matches to effectively reach their target audiences and make a significant impact. Numerous brands capitalized on this opportunity, including well-known names such as Sprite, Tapal, Coca Cola, Pepsi, K&N's, foodpanda, Honda, Alkaram, Yango, M&U, Naunehal, Golden Pearl, Hello Hair and many others.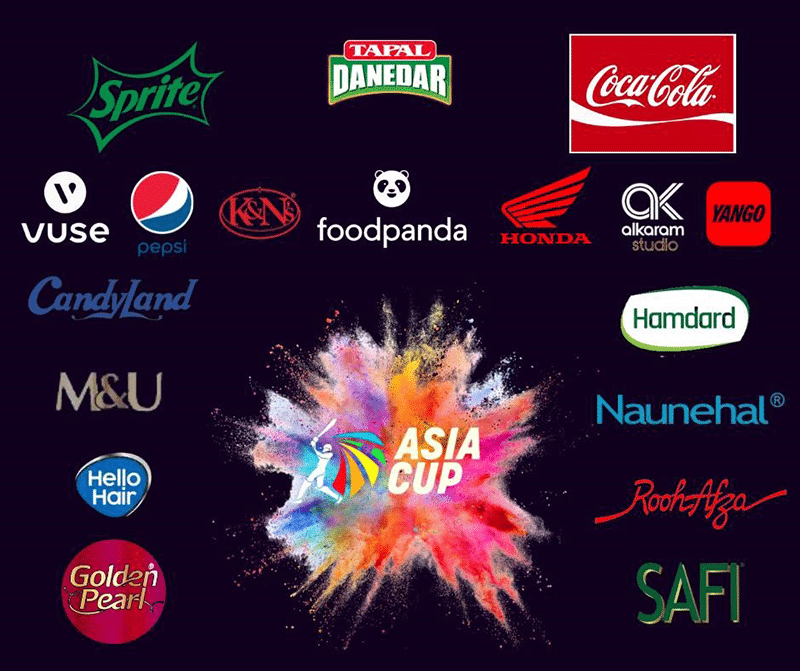 One of the key features of Tamasha is its ability to provide cricket enthusiasts with the opportunity to enjoy their favorite content anytime and anywhere, whether it is during shopping in malls, at home while cooking, at tandoor shops, or anywhere else. The app's purpose is to provide a platform so that people can watch cricket while doing routine chores, especially during cricket events like the Asia Cup 2023. The user-friendly interface ensures continuous browsing and streaming, making Tamasha the ideal choice for all cricket entertainment needs.
Moreover, Tamasha offers a diverse array of cricket related content and other genres, including romance, comedy, action, drama, horror, and thriller, among others. The platform provides 24/7 live TV channels across various categories such as News, Entertainment, Islamic, Regional, Kids/Cartoons, and, of course, Sports, perfectly catering to the diverse preferences of cricket enthusiasts.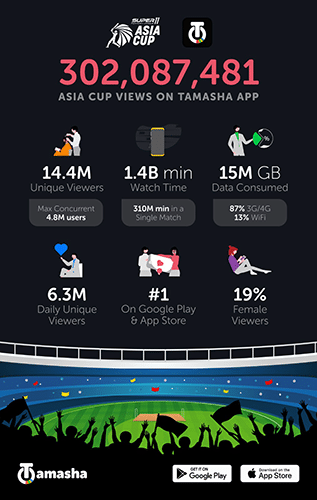 Furthermore, Tamasha provides users the access to catch up on cricket matches and shows they may have missed within the last seven days. The platform understands the importance of regional languages and inclusivity, offering cricket-related content in languages like Pashto and Punjabi, allowing a broader audience to enjoy the cricket entertainment.
The "My Library" feature on Tamasha further enhances the cricket-viewing experience, enabling users to quickly select and watch their favorite cricket TV channels, dramas, and full-length matches. Additionally, daily rewards and gifts for completing simple tasks enhance user engagement and enjoyment, adding to the thrill of following cricket matches during the Asia Cup 2023.
Understanding the significance of user convenience, Tamasha features a "Watch History" option, allowing users to easily find cricket videos they have recently watched. With cricket content accessible over both Wi-Fi and mobile data (3G/4G), Tamasha truly caters to the needs and preferences of its cricket-loving users, ensuring uninterrupted and exciting cricket streaming experiences.
In conclusion, Tamasha's success in mobile cricket streaming during the Asia Cup 2023 underscores its commitment to providing high-quality cricket entertainment and a continuous, user experience. So, what are you waiting for? Download Tamasha now and make it your preferred platform for unlimited cricket streaming and a world of cricket entertainment options, bringing joy and excitement to your fingertips. The App is available on App Store as well as in Play Store. Install and experience the cricket madness with Tamasha like never before.