Daraz, South Asia's leading e-commerce platform in Pakistan, Bangladesh, Sri Lanka, Nepal and Myanmar, unveils its rebranded service, Daraz Marketing Solutions (DMS), an integrated suite of retail media tools which enables businesses to engage customers across diverse touch points along the shopping journey. The all-in-one marketing platform provides various solutions that can be tailored to specific business objectives, from awareness to consideration to conversion and loyalty. Daraz Marketing Solutions offers 1st party shopper data for targeted onsite advertising, a streamlined user interface, selection of high-quality influencers, in-app real-time engagement features, and advanced personalisation algorithms to automate ad creation.
With millions of shoppers across South Asia, businesses can leverage this wide audience and tap into billions of impressions on the Daraz app. Daraz Marketing Solutions is the first comprehensive and customisable marketing toolkit in the market with direct access to such a vast base of active shoppers. Small and medium businesses can leverage this tool to grow their shop traffic, while larger brands can benefit from the end-to-end funnel solution to maximise conversion across different touch points of the consumer journey.
The advent of digital retail advertising, where advertisements are placed directly on a retailer's e-commerce website or app, has brought about a significant shift in the marketing landscape and it is revolutionising the way businesses interact with their customers. The global market for retail media is expected to be worth over $125 billion by the end of 2023 and surpass the market for television ads by 2028. Despite the booming e-commerce industry and the potential for digital advertising, there are few retailers offering marketing solutions and it is still a nascent concept. As such, Daraz Marketing Solutions aims to provide South Asian businesses a pivotal entry point into this flourishing industry.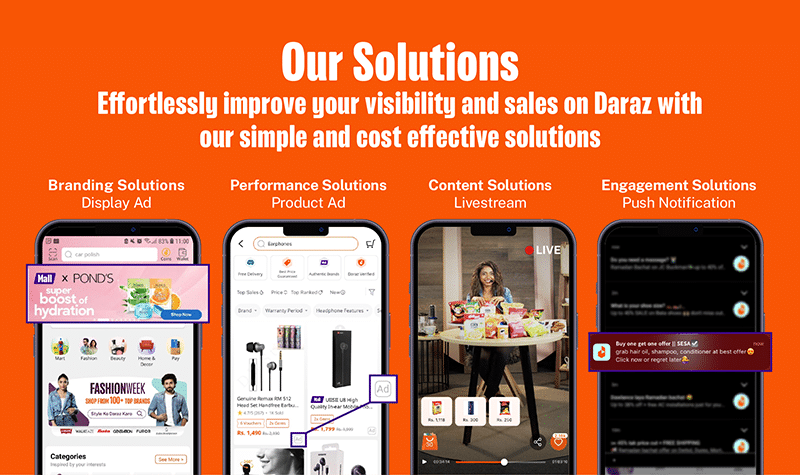 Under Daraz Marketing Solutions, there are four main advertising solutions targeted at different business objectives across the consumer funnel:
Branding Solutions consists of Display Ads which give businesses the opportunity to highlight their brands and products on Daraz assets through homepage sliders and splash screens.
Performance Solutions include Product Ads to boost products to high-traffic onsite placements for increased product visibility and Private Traffic which enables businesses to drive audiences from social media to Daraz and track their purchase behaviour.
Content Solutions include Influencer Affiliate Marketing & Livecommerce to provide an exciting way for brands to engage with customers through influencers' social media posts and Daraz Live Product demonstrations & Flash Sales.
Engagement Solutions focus on amplifying brand building and content planning and help businesses to send out personalised messages to users to foster brand loyalty.
"In the era of attention scarcity, advertisements need to be placed where relevancy is high. Our advertisers have experienced a high click-through rate on their advertisements compared to the industry, resulting in two times growth in the share of traffic and broadening their store base for full-funnel marketing efforts" said Ammar Hassan, Chief Marketing Officer of Daraz Pakistan.
Businesses using Daraz Marketing Solutions include leading multinational brands such as Reckitt, Unilever, Nestle, P&G, as well as 10,000+ small and medium-sized enterprises on Daraz. Businesses utilising Daraz Marketing Solutions report millions of impressions and clicks, with some brands achieving as high as seven times more store visitors, more than a five times uplift in sales, and a return on ad spend surpassing ten times.
To learn more about Daraz Marketing Solutions, click here.