Pakistan is a country of over 190 million people, and each of these people speaks a different language. This vast diversity is reflected in the country's official languages, which are Urdu, English, Balochi, Sindhi, and Pashto. While these languages are the official ones, there are many more spoken throughout the different regions of Pakistan.
In this article, we will go through the different most spoken languages in Pakistan.
Let's explore the languages of Pakistan!
Languages of Pakistan
There are between 70 and 80 languages spoken in Pakistan:
| | | |
| --- | --- | --- |
| Punjabi | Sindhi | Balochi |
| Saraiki | Urdu | Kundal Shahi |
| Pothohari | Kalami | Persian |
| Hindko | Gujarati | Dameli |
| Haryanvi | Dhatki (Thari) | Kalkoti |
| Pashto | Kohistani | Domaki |
| Bagri | Marwari | Wakhi |
| Khowar (Chitrali) | Kathiawari | Ushoji |
| Kashmiri | Palula | Torwali |
| Pahari | Dehwari – Persian | Makrani |
| Gujari or Gojri | Balti | Burushaski |
| Badeshi | Bateri | Brahui |
Now we will discuss some most spoken languages in Pakistan
Urdu-The National Language of Pakistan
Around 70 million people in Pakistan and 100 million people worldwide use Urdu as their mother tongue. It is the national language of Pakistan.
One of the oldest and most widely used Indo-European languages is Urdu. Turkish, Arabic, and Persian are all mixed together. Poetry was also composed in the Urdu language back in the 19th century.
Urdu, which is Pakistan's official language, is the language most commonly used in the country's urban areas, particularly spoken in Karachi-the most populous city in the country. Although Urdu is the official language of Pakistan, only about 10% of the country's population is really able to speak the language fluently.
Both Urdu and English are recognized as official languages in Pakistan, however, the country's Supreme Court has ruled that Urdu should replace English as the only official language.
According to Dr. Rasul Bux Rais, who addressed the LUMS university conference, each nation's mother tongue is crucial since it serves as the "cultural basis" of that nation.
Punjabi- most widely spoken language
In Pakistan, 49% of the population speaks Punjabi, however, there is very little variation in the language from one region to the next.
Punjabi, commonly referred to as Panjabi, is included in the Indo-Aryan language family. Punjabi is primarily spoken in the Punjab province of Pakistan. The position of Punjabi as a language is kept largely for Urdu. It is well known that Punjabi is a mixture of numerous dialects. It ranks as the eleventh most spoken language worldwide, not just in Pakistan but also in India, where it is spoken as a first language by over 39% of the population.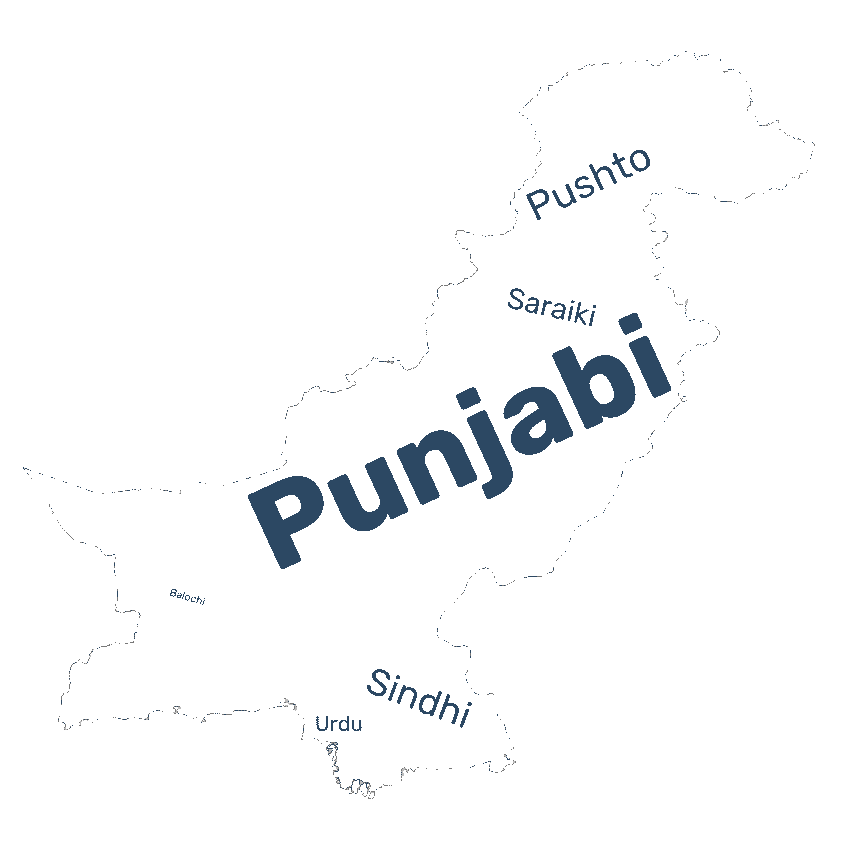 Pashto-The provincial Language of Kpk
The three primary regional dialects of Pashto are Central Pashto, Northern Pashto, and Southern Pashto. Northern and Southern Pashto is spoken in Pakistan, while Central Pashto is primarily spoken in Iran or Afghanistan. Pukhto is another name for Pashto. Balochistan and Khyber Pakhtunkhwa are the primary provinces in Pakistan where Pashto is spoken by the majority of the population. According to estimates, 8% of Pakistanis are Pashto-speaking.
Sindhi- The provincial Language of Sindh
One of Pakistan's most widely spoken languages, Sindhi is based on the Arabic and Devanagari scripts. This language has a number of important dialects, including Kachhi, Lasi, Vicholi, Machaira, Muslim Sindhi, and Thari. Additionally, it is an old Indo-Aryan language that is still widely spoken in Pakistan and in some regions of India.
Balochi- The provincial Language of Balochistan
It is frequently written Baluchi and is among the most widely used and widely spoken languages in Pakistan. Most people in Balochistan and Afghanistan speak this language, which is one of the oldest on the subcontinent. The Indo-Aryan language family, spoken in the Indo-Iranian region, includes Balochi. The Balochi language is known to be divided into several dialects, including Southern, Western, Eastern, and Northern Balochi.
Saraiki
Nearly 10% of Pakistan's population speaks Saraiki, another member of the Indo-Aryan language family. Pakistan's Punjab and Sindh provinces are home to the majority of speakers of this language. It is also regarded as a dialect of Punjabi and is spoken as a second language in some areas of Punjab in India. There are several names for the Seraiki language, including Landhi, Multani, and Siraiki.
Hindko
A member of the Indo-Aryan language family, Hindko is a historic language spoken in Pakistan. The majority of Hindko speakers reside in Pakistan's north. There has always been controversy around the Hindko language because the majority of people think that its dialect is related to Sindhi while the minority think that it is related to Punjabi. The terms Hind, which signifies Sindh, and Ko, which means language, were combined to create the name Hindko.
Gujrati
Mohammad Ali Jinnah, the Quaid-e-Azam, was a Gujarati speaker. During the period of independence, many Gujarati speakers migrated to Karachi. The majority of the Parsis, Gujaratis, Hindu communities, and a small number of Memons are the communities that speak Gujarati in Karachi.
Khowar
The Indo-Aryan, Dardic language of Khowar is spoken in Pakistan's Chitral and Gilgit. Dardic is typically spoken in the Hindukush and the Himalayas, nevertheless. Kho people speak Khowar in Chitral, and it is also spoken in a few Gilgit and Swat district. The Kalash people speak it as well.