The Greater Iqbal Park Lahore is one of Pakistan's oldest and biggest parks. Almost everyone likes this park because it doesn't cost anything to get in and has a lot of different things to do.
Iqbal Park is home to a wide variety of exciting activities and beautiful landscaping. Recently, the government built new things in the park, which has made it a lot more interesting.
If you want to spend the day with your family in Lahore, Gulshan-e-Iqbal Park would be a great place to go. So, let's find out more about this very popular place for families to visit in Lahore.
Gulshan Iqbal Park Ticket Price
The best advantage for everyone to visit Greater Iqbal Park is that it does not require an entry ticket. You and your friends and family can take advantage of the free access to this lovely park. It is advisable to visit the park in the evening to see the stunning sceneries that this park gives its guests.
Attractions
The park has a huge variety of attractions, the most well-known of which is the Minar-e-Pakistan. Additionally, it features a lovely manmade lake that covers 4 acres of land. The lake includes a lovely 800-foot-long musical fountain that dances.
The park contains flowerbeds, an outdoor gym, and a soft rail. In addition, the park has a food court where all of the tourists' hunger demands are met.
The ideal setting for spending quality time with friends and family. The musical dancing fountain is the most alluring and breathtaking natural wonder you may witness.
Location & Timing
Greater Iqbal Park is located in one of Lahore's most ancient and historic neighborhoods. The park is close to several ancient and historic sites, including the tombs of Allama Iqbal, Hafeez Jalandhari, Badshahi Mosque, Lahore Fort, and Muhammad Iqbal.
Lahore City's Badshahi Masjid is one of its well-known landmarks.
From 6:00 AM to 11:00 PM, seven days a week, the park is accessible. Early in the morning and late at night are the finest times to visit the park since you can take in all the splendor it has to offer.
More About Iqbal Park and Its Recreational Facilities
Allama Iqbal was one of the most important poets and philosophers in the history of the subcontinent. The park is named after him. Gulshan-e-Iqbal is a word in the Urdu language that means "Garden of Iqbal" in English.
A hand-made sculpture of the great poet Allama Iqbal was also recently put up in the park to honour his work.
There are four ways to get into the park, but most people use the one that leads to the Fazal-e-Haq Road. Also, to make things easier for people who come by car, there are a lot of parking spots right next to the main entrance.
Activities For People Of All Ages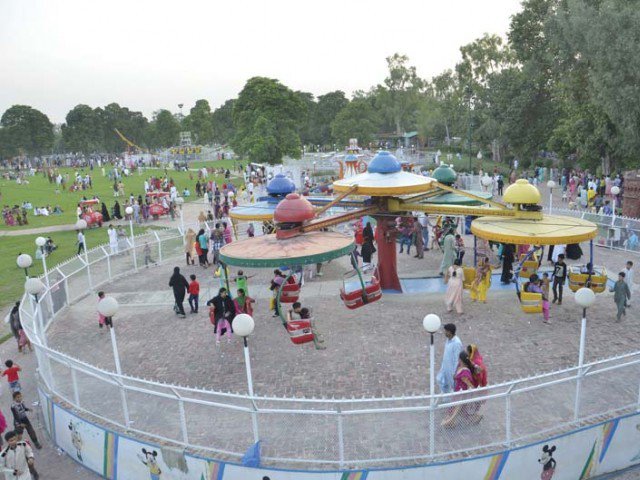 There is a place for kids to play with a small theme park. It has a lot of fun rides for kids of all ages. Gulshan-e-Iqbal Park may also have some exciting things for adults to do, such as ziplining.
Since the park is so big, it would be nearly impossible to see it all on foot. For just PKR 50 per person, you can take a special vehicle that looks like a buggy to see the whole place. Gulshan-e-Iqbal Park also has a small zoo with deer, peacocks, and pigeons, among other animals and birds.
Availability Of A Variety Of Food Options
Gulshan-e-Iqbal Park in Lahore is a great place for people who like to eat because it has a lot of food stands and kiosks that sell different kinds of food, mostly snacks.
Some of the restaurants also have tables and chairs set up outside. Your trip can be even more fun if you eat your favourite snack in one of the city's most beautiful open spaces, where there is peace and quiet.