At the Gwadar deepwater port in southwest Pakistan, cargo loading and unloading are proceeding in an orderly manner, accompanied by the breeze of the Arabian Sea and the sound of sirens; on the Eastbay Expressway connected to the port, trucks are driving from this emerging port to all parts of the country; supporting airport and water supply projects have been completed or are about to be completed.
Being a flagship project of China-Pakistan Economic Corridor (CPEC), Gwadar deep seaport is poised to play a greater role in regional and global trade. From bulk cargo of agricultural products, to containerized goods such as fertilizers and livelihood supplies, to staple products such as liquefied petroleum gas, port stevedore Ahmed, was deeply moved, "Business volume has increased significantly since the beginning of this year. All of us are much busier than ever." In the first half of this year, Gwadar Port completed container throughput of 1,162 TEUs and bulk cargo throughput of 506,800 tons.
"Through sea, land and air connectivity, Gwadar Port is increasingly becoming a regional logistics hub, effectively connecting with the Middle East, Central Asian countries and China, creating opportunities for the integrated development of Pakistan and regional countries," emphasized Zamir Ahmed Awan, Founding Chair of an Islamabad-based think tank, Global Silk Route Research Alliance.
Apart from being a port itself, Gwadar connects China's western economic zones to the sea, such as Kashgar which is 4500km away from the Shanghai seaport but only 2033km from Gwadar.
About 60 percent of Chinese oil imports are from the Middle East and the opening of Gwadar port reduces the marine distance from 16000 km to 5000 km and the duration from 45 days to 10 days. Pakistan will benefit through this opportunity as it is estimated that CPEC would generate transit revenue of USD 70 billion per annum through Gwadar port.
So far, the Gwadar Port Free Zone has been allocated 2,281 acres of land for infrastructural development. The first phase (60acres) of the project is completed. 46 enterprises have been registered in the Free Zone while 3 companies have started production.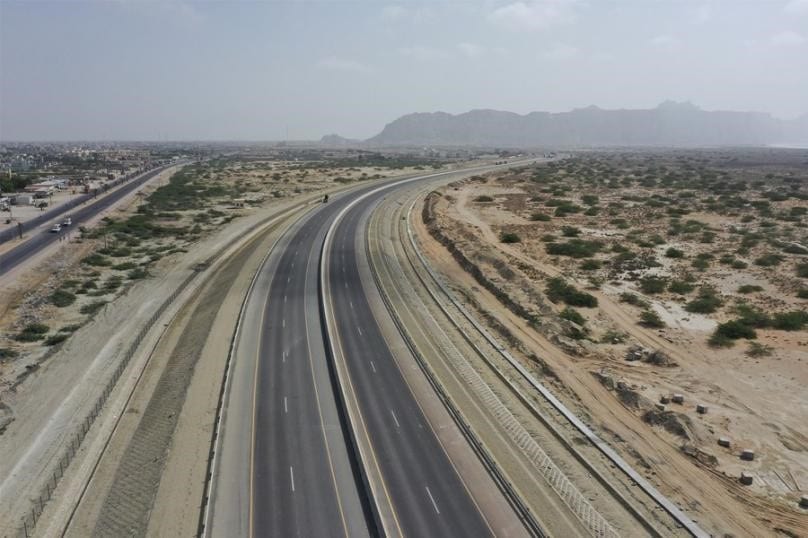 As for transportation, the 19km long Eastbay Expressway was inaugurated on June 22, 2022, which has connected the Free Zone with the network of National Highways for smooth logistic transportation of import, export, and transit goods. Akbar Reis, Chairman of the Gwadar Fisheries Association, indicated that the opening of the expressway provides a vital logistics channel for Gwadar Port trade, benefiting the majority of fishermen."This road is very important to us, because the built breakwater protects fishing boats from ocean thunderstorms and storms. With this road, the transportation of goods between the port and big cities will be smooth."
Gwadar, meaning "the gate of wind" in Urdu, and now the CPEC has opened its gate of development. The port's stride forward as a trade hub is not only reflected in the sea. At the same time, as the New Gwadar International Airport (NGIA) becomes fully operational, it is poised to emerge as a transformative force in global trade and connectivity. "After the new airport is put into use completely, the packaged lobsters can be flown to China the next morning!" Nagman, Chairman of the Gwadar Chamber of Commerce and Industry, urgently hopes to export lobsters to China from the new airport in the future. After the new airport is fully operational, it will form a modern three-dimensional transportation network by sea, land and air together with Gwadar Port and Eastbay Expressway.