Haier is a multinational company that initially originated in China. It designs, develops, and manufactures refrigerators, washing machines, microwaves, and many other home appliances. Haier's products being a brand, have had an intense influence over the Pakistani market. Every other house has a product of Haier within them.
Haier refrigerators
Haier refrigerators come in numerous varieties. The company claims that they have products to match every interior. They come in every style and size, including top or bottom mount freezers with standard doors or French doors in various finishes. For small spaces like apartments or dorms, they also have compact refrigerators. Haier refrigerator price in Pakistan is very affordable and budget-friendly.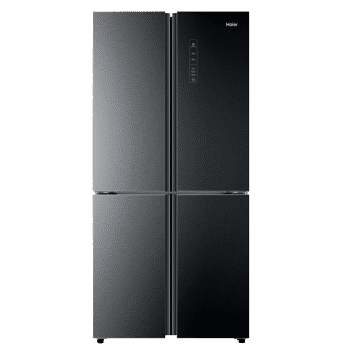 Best Haier refrigerators in Pakistan
Haier has a series of their best selling products within the Pakistani market. A couple of those refrigerators among them are listed as follows,
French door refrigerator
HRF 276 Haier
Haier 438
Haier 11 cu inverter refrigerator
French door refrigerator
Haier refrigerators are among the top refrigerators in the market. The latest technology is (French door refrigerators).
Exterior
It has a luxurious lock, and it is dustproof, which means it can get cleaned easily. It has two giant doors on top, and it has a large capacity of 476 liters with three adjustable tough glass shelve. In French refrigerators, the shelves are removable in their bottom. It has two drawers named humidity or dry zone.
Interior
The humidity zone is specially designed for keeping fruits and vegetables fresh for a long time. The other is the dry zone which is perfectly designed for dry food and fruits, which keeps it crispy and crunchy along with storage compartment it has three shelves on both sides in which u can store your water bottles and drinks In total it has three doors 1 the main door on top and freezers at the bottom (left) one of them has the storage of 118 liters with three smooth siding draw.
To the right of the freezer is named convertible zone, which has a large storage of one hundred and eighteen liters. The convertible zone temperature can also be changed into a refrigerator or freezer. The compartment is mounted on the top, which reduces the bending up to 90 percent. Because of poor visibility, people get tired of finding things in their fridges because of poor visibility. Still, we have a top led in the Haier French refrigerator and a front led that light illuminates every fridge corner.
Censors
There are nine types of sensors in this refrigerator that detects the recently stored food and quickly adapt to the temperature. It has three separate fans and three separate capillaries for all different zones, fridge freezer, and convertible, which keep food fresh and prevent mixing of smells.
Why do we love it
This product from Haier specifically includes newer technology, and the design is outstanding. The price range is also very affordable and budget-friendly, considering the serving factors.
Haier Refrigerator HRF 276 without handle glass door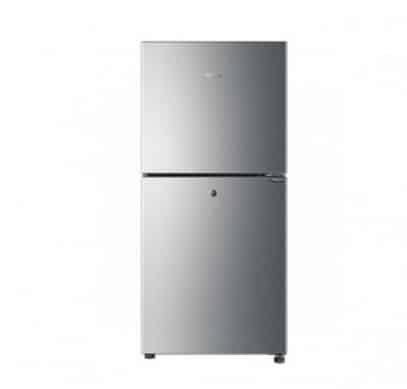 Starting from our first refrigerator, Haier HRF-276 without handle glass door. It explains that this refrigerator comes with a handle and has a glass door by its name. The glass door adds a super unique touch to the refrigerator, making it suitable for many fancy and formal interior designs.
Features:
125V-260V wide voltage.
Its cooling levels down to -25 degrees deep cooling keeping all the products fresh.
Haier also gives a 10-year warranty for this refrigerator.
It also has 100 hours of cooling retention, with its size being9.7 CFT size.
This refrigerator is available in the colours blue, red, and brown
Haier refrigerator 276 prices in Pakistan
The Haier refrigerator 276 glass door price in Pakistan can range from 38,000 to 45,000 rupees.
Why do we love it
Haier refrigerator 276 has a glass door with a variety of vibrant colours; this product serves as a great cooling machine and adds a great touch to the interior of households. It is a perfect fit for anyone who wants to keep their appliances trendy and in style.
The next best Haier refrigerator in Pakistan is Haier refrigerator 438. This refrigerator comes in with a digital control system where you can control all the detailed necessities of your fridge. It also has 4 temperature sensors making it easier to use the product. This refrigerator also comes with FD inverter technology.
Haier refrigerator 438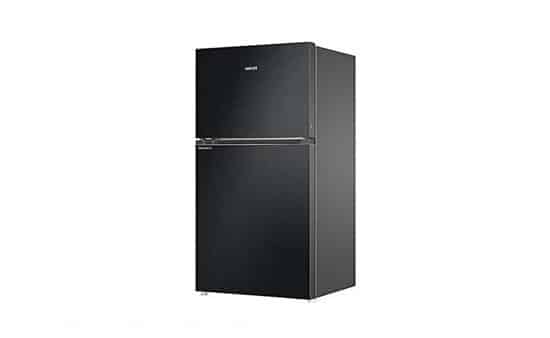 Here are some characteristics of refrigerator 438
Physical specification
It is one of the mainstream looking fridges available in the market, but its technical capacities are undeniable. This refrigerator comes in the form of a fridge with a freezer on top of it. The freezer contains two shelves, and there are two freezer door pockets. Furthermore, the freezer contains two ice trays.
The refrigerator has two egg trays and includes a crisper cover. The Haier refrigerator comes in the colours: red and black.
Technical specification
It has a direct cooling method. Its gross capacity is 438 liters. The freezer has a capacity of 120 liters. The inverter for this refrigerator is the digital inverter. It comes with built-in turbo cooling to keep the food fresh.
Haier 438 prices in Pakistan
The price of this refrigerator can go up to 66000 rupees.
Why do we love it
The mentioned specifications of the refrigerator make it stand out. The price range of this product might not be as suitable as in the same price range different products can fit in.
Haier 11 cu inverter refrigerator
Physical specification
As the name suggests, Haier 11 cu is an inverter refrigerator. It comes with a fridge along with a freezer on top of it. The freezer has two shelves and two spacious pockets on the door interior.
The fridge contains three shelves and a massive drawer at the bottom. It also has two pocket spaces on the door side. The exterior of the refrigerator has an ombre effect to it with the colours red and black, which gives the fridge a classy touch.
Technical specification
Following are the technical specification of the this refrigerator
Brand Warranty
10 Years Compressor Warranty
Antibacterial Technology
ABT Sterilization
FD Inverter
Blue Turbo Cooling
Digital Control System
Antibacterial Technology
A+ Inverter Compressor
105V~260V Full Voltage Operation
One-Touch Smart Control
Turbo Cooling 60% Energy Saving
2+1 LED Lighting
Net Capacity: 276L
100 Hours Cooling Retention
Refrigerant R600
1 Hour Icing Technology
Less than 1 Unit a day
4 Temperature Sensors
Fastest Freshness Cooling
Haier inverter refrigerator price
The price for Haier CU inverter refrigerator price in Pakistan is 51650
| Haier Refrigerators | Price in Pakistan |
| --- | --- |
| French door refrigerator | 147,000 |
| Haier HRF 276 | 38,000-45,000 |
| Haier refrigerator 438 | 66,000 |
| Haier 11 cu inverter refrigerator | 51,650 |