Hairdryers, also known as blow dryers or hair blowers, are relatively common electrical devices used by both men and women who wish to fast dry their hair after a shower.
Barbers use them in salons to create cool hairstyles by dampening the hair and blowing hot air through the dryer.
What to look in a hairdryer
Technologies
Distinct technologies contribute to different characteristics of professional blow dryers, which is why technology is the essential factor to consider when selecting the perfect device. We suggest looking for a solution that protects colour scheme hair if you have coloured hair.
Heat settings
This comprises a cold shot, as well as speed and heat. We recommend using a hair drier that gets hot, not simply really warm if you need to heat style your hair.
Price
Consider that a hairdryer is an investment rather than a buy. It doesn't dig the largest hole in your pocket, but it takes up space and becomes an important part of your hair care routine. It'll almost certainly be used every time you wash your hair and want to style it, implying a lengthy relationship. As a result, choosing a product based on price isn't the greatest option.
Best Hair Dryers in Pakistan
Remington D3190 Damage Protection Hair Dryer
The Remington Damage Protection Hair Dryer gives you the gleaming blowout you've always desired while safeguarding your treasured locks. This hair dryer's Advanced Coating Technology provides 3X more protection than other blow dryers. Its key features are following:
It uses ceramic, ionic, and tourmaline technologies to deliver a quick-drying, frizz-free experience.
You can customize the airflow to your preferences and hair type with two speeds and three heat settings.
Comes with a concentrator and a diffuser to meet all of your style and volume requirements.
Provides three times the amount of hair protection.
Features hair filters that may be removed.
Comes in two hues.
Offers multiple setting features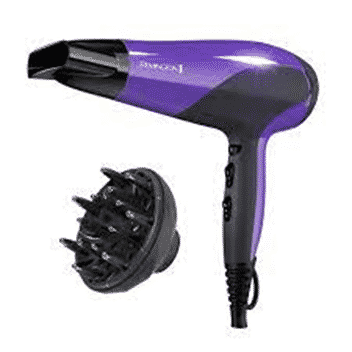 Remington AC2015 Pro Hair Dryer
This Remington hair dryer gives you a salon-quality finish. It is available in Pakistan at the best price. Its key features are following:
The heat-activating Pearl Ceramic Technology produces 40% quicker airflow while distributing tiny hair conditioners to your hair.
According to your desire and style method, you can control the airflow with three heat and two-speed settings.
Also features a powerful motor that allows it to operate quickly and produce long-lasting effects.
This hair drier is most suited for those who are virtually constantly on the go, but it is also ideal for fine hair and keeps frizz at bay.
Comes with a diffuser and concentrator.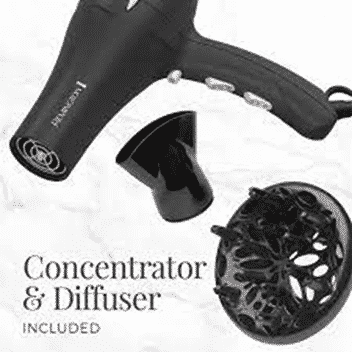 Philips 3000 Series Hair Dryer BHD300/10
This hair dryer is thermo protect. It offers a reasonable price in Pakistan. Includes following features:
1600W drying power: This 1600W hair drier produces the ideal amount of airflow for flawless results every time.
Thermo protects technology: The Thermo Protect attachment's innovative design powerfully blends warm and cool air for everyday maintenance. It lowers the temperature by 10°C while still swiftly drying your hair.
Heat and speed settings: This hairdryer has three pre-programmed heat/speed combinations, making it simple to obtain the ideal look.
Cool air settings: The cool air option gives you a rush of chilly air to complete and maintain your look.
Touch-ups and careful styling using a tiny nozzle: The compact nozzle perfectly concentrates the air for quick touch-ups and polishing little nuances of your style.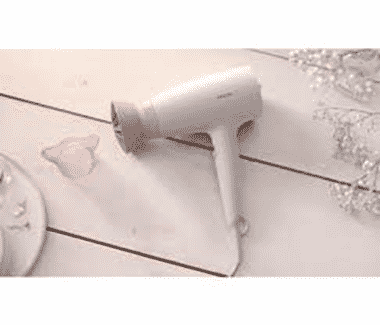 Dyson SuperSonic Hair Dryer
The Dyson Supersonic hair dryer presentation created by James Dyson is included in the rare black/purple gift edition. It has certain features:
Smooth, Style, Shape, And assisting in the preservation of natural radiance. The Dyson Supersonic hairdryer is equipped with three magnetic styling attachments to guard against heat damage.
Dyson's V9 digital motor: The Dyson digital motor V9 is the most powerful we've ever had. Its unique location in the handle allows it to spin at a frequency that is 6 times quicker than regular hair dryer motors.
The technology of the Air Multiplier: There's room in the head for Air Multiplier technology since the motor is in the handle. This sucks air in from the bottom and three times magnifies it, resulting in a controlled, high-pressure jet of air. Because of the strong airflow, drying does not have to rely just on heat.
Damage can be undetectable. But not in our case.
Extremely hot weather, Brushing, Colorants and chemicals. Everyday styling routines might create irreparable damage that is not obvious. We could only turn hair drying on its head if we knew everything there was to know about hair.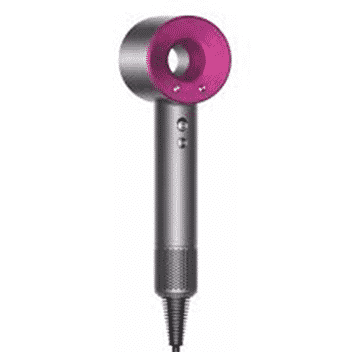 Revlon One-Step Hair Dryer and Volumizer Hot Air Brush
In a single gadget, the Revlon One-Step Hair Drier & Styler combines the power of a dryer with the accuracy of a styler. It employs ionic technology to treat and smooth your hair, making it shinier and reducing frizz. Its key features are:
Include large paddle in design.
A non-detachable brush is also included.
A professional swivel cord is in it.
Drying power is almost 1100 Watt.
Detangling bristles are in it.
It has advanced ionic technology.
Lightweight, easy to use and travel friendly, you can easily carry it.
Based on Ergonomic design.

Nova NV-662 Foldable Hair Dryer Mini
It is travel friendly and foldable, nova best mini hairdryer. Offers the best and most affordable price in Pakistan. Its key features are following:
Professional hairdryer with 2 temperature settings.
Has a cool, short and foldable handle.
Rate power is 1000 watts.
Also has a styling nozzle.
2-speed setting.
Includes cool short professional finger diffuser.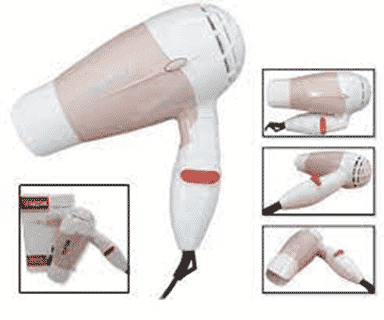 Hair Dryers Price in Pakistan
There are many best hair dryer brands in Pakistan. They produce the best hair dryers with the best features. The best models of certain brands are following with their prices:
| Best hair dryers | Price in Pakistan |
| --- | --- |
| Remington D3190 Damage Protection Hair Dryer | Rs.7,100 |
| Remington AC2015 Pro Hair Dryer | Rs.9,949 |
| Philips 3000 Series Hair Dryer BHD300/10 | Rs.7,500 |
| Dyson Supersonic Hair Dryer | Rs.79,417 |
| Revlon One-Step Hair Dryer and Volumizer Hot Air Brush | Rs.6,031 |
| Nova NV-662 Foldable Hair Dryer Mini | Rs.800 |