Hairstyling was less difficult in Pakistan when hair straighteners became widely available. If you want to make your hair more presentable for the office or college, or if you want your hair to appear attractive for a particular event, a hair straightener is a godsend.
Many Pakistani females have thick or frizzy hair and struggle to tidy it. You can make a range of attractive hairstyles at home if you have a hair straightener. Here's a look at some of the best and most economical hair straighteners on the market in Pakistan.
Best Hair Straightener Brands in Pakistan
In Pakistan, there are many best and most well-known hair straightener brands. Hair straightening has been used since the 1819s when young ladies required straight and silky hair. It turns out that it has become increasingly well-known in the last two decades.
Straighteners are temporary hair-fixing equipment available on the market. Hair straightener machines are made by various electronic companies (or brands). These internationally recognized brands are available in Pakistan's commercial sectors and on the internet.
Here are the six best hair straightener brands in Pakistan which show the best features and less damage to the hair. It also includes their best model in Pakistan, the most reviewed and used by the public.
Remington
Remington is a company that specializes in hair care products. This is a well-known brand for hair straighteners, stylers, and dryers worldwide. With our selection of hair straighteners, you may get smooth, reflexive hair. It's never been easier to get that wonderful salon look. Appreciate hair that is lustrous, sensitive, and heat-protected.
Hair straighteners come in various styles to suit different hair types and lifestyles. Remington has an extensive range of straighteners with distinct features. Remington Hair straightener price in Pakistan is also affordable. You may buy from the market or get online in Pakistan.
Best Remington Hair Straightener
Remington S3500 hair straightener is the best model of Remington at an affordable price, ranging from 4500- to 5000. It includes the following features:
It is equipped with innovative ceramic plates that do not adhere to frizzy hair.
It's 45 Watts and may be used on wet or dry hair.
150°C – 230°C digital temperature display, 10 settings
It'll be ready in 15 seconds and will produce a beeping sound when it's done.
Straightener plates are longer than regular straighteners.
Has a floating plate for uniform styling pressure on the hair.
After 60 minutes, the device will power down automatically.
It has a swivel cord and a temperature control wheel.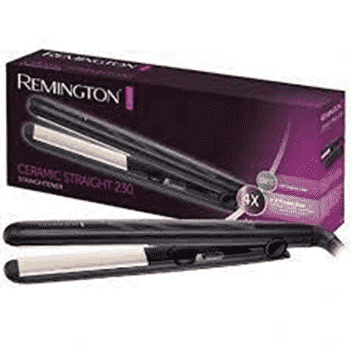 Philips
Philips is one of the world's most well-known gadget companies. The group was founded in 1891 and has gained a great deal of prominence since then. Philips's products are used in over 100 countries worldwide because of their high reputation. Since 1948, Philip's activities in Pakistan have been vigorous. Pakistani professionals frequently seek and prefer its hair straightener.
Best Philips Straightener
Philips HP8316/00 Kerashine Hair Straightener is the best product with a price of 8,299.
Its keratin protects your hair from harm.
It is designed with lengthy Keratin-mixed plates and two temperature settings for quick and easy style.
Protect your hair with ThermoProtect technology, which prevents overheating.
The professional high heat of 210°C for salon-quality results.
It heats up quickly and is ready to use in 60 seconds.
To avoid tangled cables, use a swivel cord.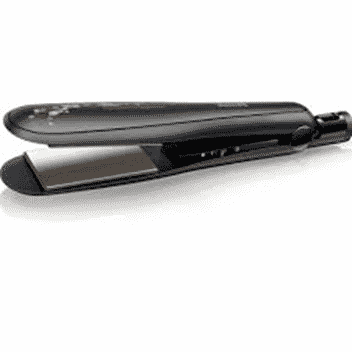 Anex
Anex is a well-known home appliance manufacturer that acquires high-quality items from world-class manufacturers to offer clients varied products. It takes pride in procuring only high-quality items, which is accomplished through rigorous quality control management.
Anex's objective also includes ensuring that all goods are designed with well-known safety precautions, distinctive designs, high-quality standards, and dependability. It also makes the best hair straighteners, including the best features to prevent damage.
Best Anex straightener
Anex Deluxe Ceramic Hair Straightener (AG-7039) features a lovely design and a soft grip handle that makes it very comfortable to use. Its price is 4,243. This straightener contains a digital LED display, one of its most interesting characteristics. This product also has the following unique features:
220 – 240 volts
45 Watts of power
It comes with plates that heat up rapidly.
Has a 46mmX100mm ceramic coated plate with power-on indicator light.
After 60 minutes, it turns off automatically.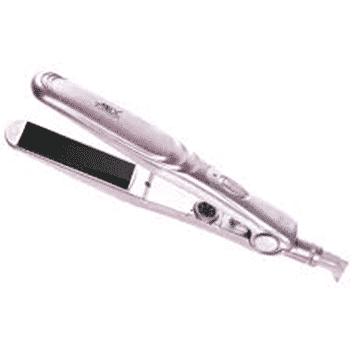 Keune
Keune is a hair products company that was founded in 1922. It is a well-known company that delivers haircare products all around the world. Their main purpose is to keep your hair in place and make you seem perfect. Professional artisans use a wide range of items in diverse countries. Their straightener is not a boutique selection when it comes to their electrical equipment.
The Silk Proteins in Keune's Hair Straightener, Extra Forte Cream, help maintain the hair dependable and sound. It includes keratin (K+), making hair gleam, straighten, and energize. A durable final detail is included in the fixing demulcent. This treatment should work on various hair types; however, it isn't recommended for darkening permed or colored hair.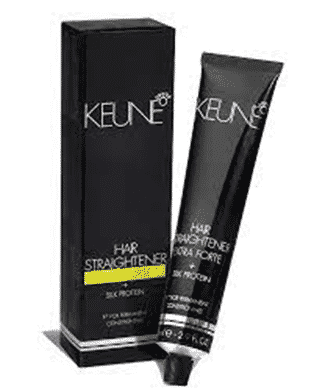 Best Keune Straightener
Super Keune is a proficient hair straightener. Its price is 8,480. It is the best straightener; it protects your hair from damage.
Ceramic Coated Plates.
Instant Heat Recovery.
Auto Shut-Off.
Wide Temperature Range of 130°C to 230°C.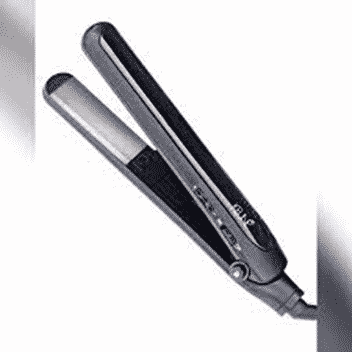 Babyliss
Babyliss straighteners are available in a wide range of styles. A few goods are warmly recommended, while others are not. The Babyliss Pro versions are pricey, but they produce excellent results. Their goods may be used for a long time without causing any problems. Babyliss goods are available in a variety of designs and sizes.
The plates that protect your hair are made of exceptional top-quality earthenware. You may buy on the internet or at hypermarkets in Pakistan.
Best Babyliss Straightener
Babyliss Mini Straightening Iron. It's perfect for all of your hair straightening requirements on the fly. It's one of the greatest travel-friendly hair straighteners because of its six-inch length and dual voltage setup.
BaByliss Pro 200 Nano Mini Hair Straightener (2860BAU) price is 10 240. It has the following features.
With a temperature of 200°C and ceramic plates for a smooth and glossy finish, you'll have all the control you need to create stunning designs.
Smooth, gleaming ceramic plates
On/off indicator light
Multi-voltage for use everywhere in the globe
High warming performance up to 200°C
Ceramic plates for a smooth, lustrous finish
Multi-voltage for use anywhere
16 cm long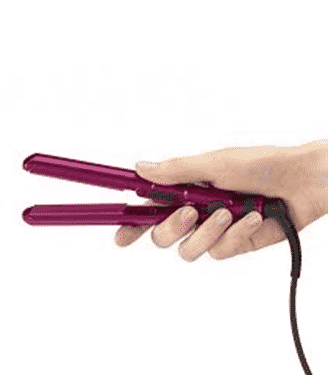 Nova
Nova straighteners are often used in Pakistan due to their high-quality products at low prices. It is inexpensive compared to the hair, as mentioned above, straightener brands, but the results are constant. The plates are sheeted with a fire-safe substance that protects your hair from injury. Their straightener provides a warm transformer button.
Various things may be heated to temperatures ranging from 210 to 230 degrees Fahrenheit. In Pakistan, it may be found in a variety of neighborhoods and certain economic sectors or correction shops. Nova hair straighteners are a popular choice among Pakistanis regarding affordable hardware. The price of a Nova Hair Straightener and Styler in Pakistan varies depending on the device's quality and flexibility.
Nova's hair straighteners are available for professional and home usage and may be used to fix or twist your hair using a variety of procedures and hair styling materials. The Nova hair straighteners, maybe the most reasonable element, are regarded as decent, if not the finest, hairstyle devices. Some of these straighteners are as low as Rs. 1000, but they may not be in the same league as top-of-the-line brands like Philips and Remington.
Best Nova Straightener
Nova Hair Straightener (NHC-473 CRM) its price in Pakistan is 1400. It includes the following features:
Colored Hair Has Never Looked So Vibrant & Healthy Thanks to Color Saver Technology
Made entirely of aluminum
Indicator Light for Power
Controlling the temperature between 140 and 200 degrees Celsius
Suitable for all hair types
PTC Heater That Heats Up Quickly
Hair Curler Styles
50-60Hz, 220-240V
40 watts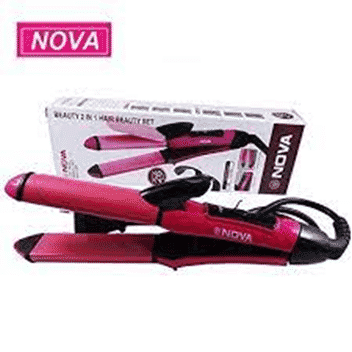 Best Hair straighteners and their prices in Pakistan
In Pakistan, we have many hairs straightener brands with reasonable prices and the best features. The price range of hair straighteners is from PKR 1,200 to 11,000. They include the best features. Following are the best hair straighteners in Pakistan with their prices;
| Best hair straighteners in Pakistan | Prices in Pakistan |
| --- | --- |
| Remington S3500 hair straightener | Rs. 4500-5000 |
| Philips HP8316/00 Kerashine Hair Straightener | Rs. 8,299 |
| Anex Deluxe Ceramic Hair Straightener (AG-7039) | Rs. 4,243 |
| Super Keune proficient hair straightener | Rs. 8,480 |
| BaByliss Pro 200 Nano Mini Hair Straightener (2860BAU) | Rs. 10,240 |
| Nova Hair Straightener (NHC-473 CRM) | Rs. 1,400 |
Conclusion
This article contains information about the best hair straightener brands in Pakistan. It also describes the best hair straightener of each brand with their prices in Pakistan. For more information and more options, you can visit every brand's website. You can also visit their stores to test their best results.