The Pakistan Civil Aviation Authority (CAA) recently unveiled the airline rankings for 2023, based on flight punctuality. In these rankings, Pakistan International Airlines (PIA), the national airline, secured the fifth position in domestic flight rankings.
The rankings shed light on various factors affecting the national airline, including financial difficulties and issues with on-time departures and arrivals during the first half of 2023. PIA's domestic flight punctuality was notably impacted during this period.
According to the report, PIA's on-time departure ratio for domestic flights stood at 58.24 percent, highlighting challenges with timely flight operations. In contrast, private airlines outperformed PIA in this regard. Fly Jinnah led the pack with an on-time departure rate of 87.93 percent, followed by Air Sial at 86.89 percent, Air Blue at 78.36 percent, and Serene Airlines at 62 percent, securing the top positions.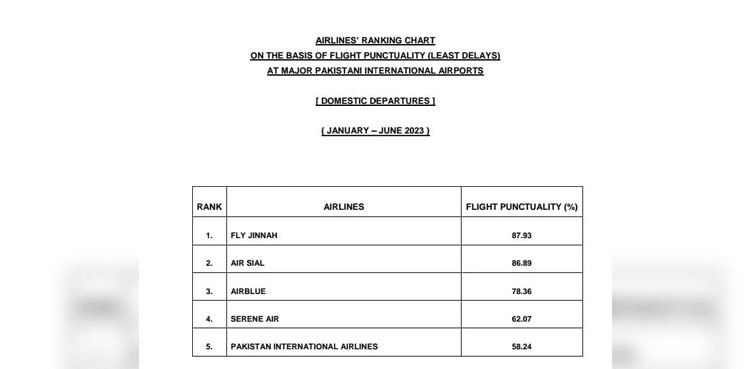 The CAA's report provides insights into the regularity of flights operated by Pakistani airlines from January to June 2023, highlighting the need for improvements in PIA's punctuality and operational efficiency.