DIGIT, a renowned Pakistani mobile phone brand has collaborated with MediaTek, a global fabless semiconductor company powering nearly 2 billion connected devices a year, to offer affordable 4G smartphones to Vodacom customers and make smartphones accessible to millions of its customers in South Africa, Egypt and Tanzania who are still using 2G devices. This alliance not only marks a significant milestone for Pakistan's Mobile Manufacturing Industry but also holds the promise of positioning the nation as a key player in the global tech market, aligned with the vision for a digital Pakistan.
This is a noteworthy achievement for the first Pakistani brand, engaging in such a substantial partnership on a massive scale This development holds the promise of bolstering economic strength and positioning the nation as a pivotal player in the global tech market. These efforts are poised to propel industry advancements and make a substantial contribution to the overall development of Pakistan.
"Africa's mobile network operators such as Vodacom have made impressive progress in covering the continent with 4G mobile broadband while bringing down the mobile data costs," said Rami Osman, Director for Business Development, MediaTek Middle East and Africa. "Affordable and reliable Smartphones like the Digit4G have an invaluable role in accelerating access to those networks so that everyone in Africa can enjoy the benefits of fast mobile connectivity."
According to the latest data from Vodacom, there are around 600 million people in Sub-Saharan Africa who don't have a smartphone (2G only or no phone) yet, including 90 million Vodacom subscribers. Vodacom Group is working with players like DIGIT and MediaTek to create a value chain to drive migration of 2G and 3G users to 4G devices and ensure unconnected customers can get the opportunity to participate in the digital world.
Davide Tacchino, Managing Executive: Terminals at Vodacom said: "4G device distribution and adoption is one of the greatest barriers to unleashing digital inclusion in Africa. We are drawing on our global strengths and partnerships with local suppliers to ensure that affordable data capable devices are available to all our customers to connect them for a better future."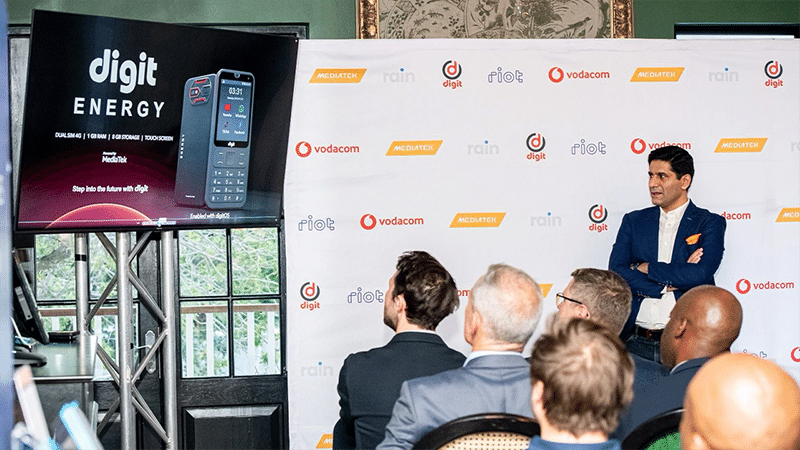 Abdul Rehman Mahmood, CEO of DIGIT, added: "DIGIT is on a mission to close the digital divide in Africa and to achieve this, we are pleased to partner with Vodacom Group and MediaTek to have a positive impact on African people's lives. Digit4G Energy is a unique combination of touch screen with keyboard, operating on DigitOS ensures uninterrupted connectivity with advanced features like VoLTE, Wi-Fi, Hotspot and Bluetooth. Together with Vodacom, DIGIT will work towards making affordable 4G Phones available for all."
DIGIT, a proud Pakistani brand, advances the nation's innovation globally, showcasing technological prowess in mobile manufacturing. This triumph not only solidifies Pakistan's global standing but also fuels the growth of the export industry, contributing to economic prosperity and elevating Pakistan's status in the global technology landscape.
In essence, this partnership marks a transformative leap for Pakistan, elevating its position as a formidable player in Mobile manufacturing technology. This achievement not only propels economic prosperity through increased exports but also fosters innovation, job creation, and contributes significantly to Pakistan's overall progress.