Whenever a person wants to start a business, first thing that comes to his/her mind is what will his/her business or company called, or what will be the name of the company. This is very important and crucial step regarding the success of a business corporation. And it is always compulsory to provide an official name to your company.
As well as you will need a valid name in order to register your business/company with SECP.
About SECP
Now let us briefly talk about SECP first; SECP is the financial regulatory authority of Pakistan, formulated by federal government under the provisions of Securities & Exchange Commission of Pakistan Act 1997 and was made functional by replacing corporate law Authority in 1999. SECP is known as the official regulator of the financial sector of Pakistan except banking sector, which is regulated by SBP.
SECP has the duty to make sure the precision of companies/businesses or corporations under the law of Pakistan. Actually, the SECP is a scholastic corpse along with mutual responsibility.
So, if anyone wants to start a business or wants to open a company (whether individually, on partnership, or private limited company), they must have to register the business/company with SECP to make it official, means to give their business an official identity by registering it with SECP as we register ourselves with Nadra to give us official identity as a resident of Pakistan.
Selecting company's name:
There is a whole long process of registering your company/business with SPEC, and the very first and foremost step is the company's name reservation with SECP. And for the name reservation you must seek availability of name from the SECP.
Since SECP is very strict regarding name selection so you must be very careful. You will be also performing SECP company name search regarding that.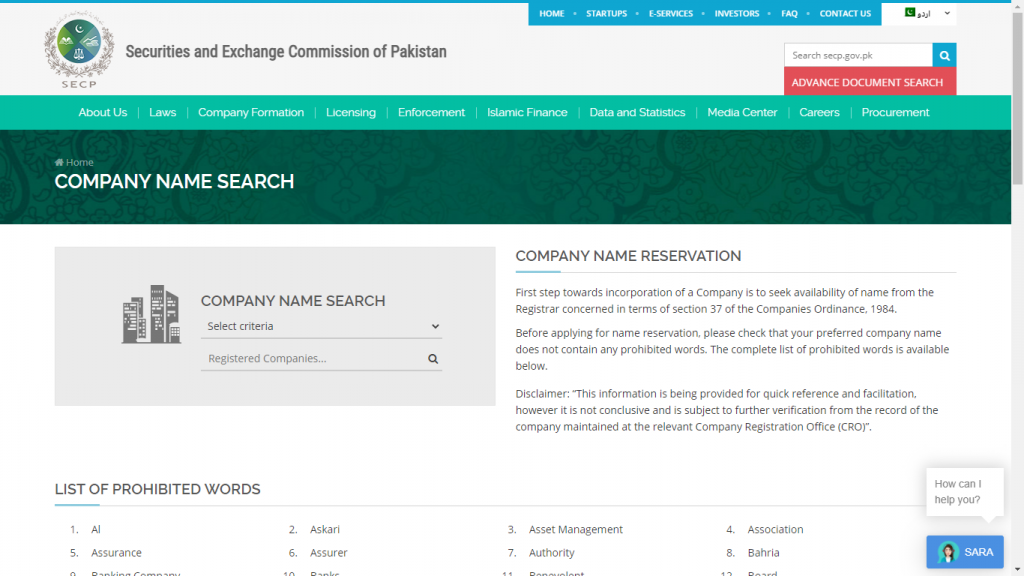 SECP has some rules and regulations regarding name selection, that are;
As informed by the SECP, a company might not have a proper name if the proposed name is:
Identical with or resemble or like the name of a company,
Improper.
unwanted.
misleading.
designed to take advantage of or offend religious sensitivities of the people
does not contain any prohibited words (list provided by SECP).
Further, in conditions under which of section 10 of the Act, a company cannot be registered by a name that includes any word indicating or suggesting:
corporate sponsorship of any past or present Pakistani or foreign head of state,
any link with the Federal Govt or a Provincial Govt or any dept or authority of Govt.
any link with such corporation that established under any Federal or Provincial law.
the support of, or any relationship with, any foreign Govt or any international organization.
Setting up a modaraba management company or to float a modaraba; or
any other business that requires a license from the Commission.
Some other important points regarding name selection for registering the business under SECP;
name should be unique.
It should be easy to remember.
Name should relate to your business.
Must check the availability of the name's web domain.
Must check trademark registration for your name, to avoid any litigated problem in the future.
Avoid using prohibited keywords (provided by SECP) in your company name, or otherwise SECP will not accept your application of registration.
Business types under SECP:
Now the name selection majorly depends upon the type of business you want to register with SECP.
Mainly, there are three types of business firms that come under the SECP registration zone.
1) Individual business
It is the type of business that is handled and run by a single person. It could be anything like a grocery shop, a barbershop, etc.
2) Partnership business
It is the type of business that is run by several individuals. All the partners of the company will have a decent amount of share in it.
3) Private limited business/single-member company
This type of business has different shareholders. This type of company/organization is specifically set to run a business. In this kind of business, each of the investors has a restricted financial obligation that relies on the number of shares they hold. They can just raise their liability by staying with more shares of the company and there will be no need to pay for any troubles outside the worth of offers any part has.
Searching name availability of the company:
A user will first visit SECP eservices site for company registration and will connect there after performing SECP login and rest of the process.
The company incorporation/registration will be available for them after the due challan and the company name reservation with SECP.
And for the company name reservation you have to check for the name availability of the company with SECP. It actually means to SECP company search, checking whether your selected name (that follows all the previously mentioned rules) is already present i.e., the chances are that your selected company name is already officially registered. So, before you finalize it, it is best to check if the company name is available to register with SECP or not.
1. For individual/partnership business
For individual and partnership types of businesses, it is not essential to perform an SECP company name search. In these types, many businesses can occupy one name, it does not create any problem. That means that you will still be able to register the same company name if your name corresponds to the already existing enterprise.
But on the safe side, it is better to do an SECP company search, and if you find any similarity just make a little change in it to avoid any problem in the future and making it easy for your customer to search for your business.
2. For Private limited business /single-member company
This type of company needs to be providing a unique name that does not already exist or is occupied by someone else.
The private limited companies must have to register themselves in the SECP for gaining legal identity in the country, and for that searching available SECP company name is a very essential step.
You can never register your company with the name that is already registered with SECP.
SECP company name search procedure

Before you apply for a name booking on the SECP, whether on the website or via physical application, the first thing you need to verify is the proposed name from the SECP company name search page, by visiting SECP official website or simply click the given below link:    (https://eservices.secp.gov.pk/eServices/NameSearch.jsp)
You will find the option of "search company name", here you can check whether your selected name is available or has been previously held by someone else.
You can search for the SECP company with different criteria like "exact name, "beginning with", "containing words" or "including exact string" options.
Now If you enter your selected name in the search bar, and the result appears like this "no result found" then this is good news for you. You can easily continue the further procedure of registration with no hesitation, and you will not face any problems in the future.
But if the name you entered already exists, i.e. taken by someone else, or any similar name present, and the result will show you those company's name list. And this means that you cannot register your company with the selected name, you have to change the name for company registration.
If you have been taking all the steps outlined above and have discovered an attractive, corresponding to your business and web domain-friendly name, you are prepared to go for its reservation. Just visit the SEPC eservices portal and log in for further registration procedures.
Conclusion:
So, the focal point is selecting a suitable plus unique name for the business you just started and now want to legally register it with SECP. And registering your business is very important for its success, as more customers with attracting toward you if your company is legally registered with SECP.
Due to the Fact That SECP is very stringent rules when it comes to the name of the registering company, so one has to be very cautious while performing an SECP company name search for your company/business firm.
Since all the private corporate sector register themselves on SECP so there is high and tough competition, and following this method i.e., of searching the available and existing company names, will help you a lot in the further registration process and in the success of your business, as the customer attends to like new and unique things. So, whether you run a business individually or in partnership, or you have a private limited company, choosing a unique and right name (according to the Govt rules) would be beneficial for you.
As well as You need to follow all these processes each time when you change your company name. Make the right decision at the very first step This minor effort in the start will save your time in advance events of registration of your company.