Huawei smartwatches are the best option for pocket-friendly and highly advanced smartwatch options. Huawei Smartwatch price in Pakistan 2022 is different yet economical.
The watches are integrated with advanced AI algorithms and sensors monitoring your health and workout routine. The fine craftsmanship is displayed in their products with skin-friendly straps and high-resolution displays. Get your favourite Huawei Smartwatch from the options given below.
Huawei watch fit
Huawei watch fit comprised of many state-of-the-art features; This Huawei Watch fit provides an array of options making your life easy. Its matte textured frame combined with soft straps provide an eminent look. The 1.64 inches rectangular screen with AMOLED display delivers a high HD resolution of 280 x 456 pixels.
The different watch faces expressing your style with an option to customize the front display. You can display battery, steps, heart rate, weather, message notifications, music, or any other option at your fingertip. The ultra-fast battery performance of 10 days is guaranteed with its dual chipset and battery-saving Algorithms. Charge it for 5 minutes, and you are ready to go for a whole day easily.
Your Huawei Watch fit is your Trainer now. The smartwatch presents 96 workout modes and 12 animated quick workout videos, including exercise for work, Ab ripper, full-body stretches, and 44 movement demonstrations.
The 96 workout modes include 11 sport modes and 85 custom workout modes. Whatever model you select, keep track of your fitness, calories burned, and workout duration.
The smartwatch has multiple sensors and.AI algorithms installed, making it a perfect fit to detect your blood oxygen saturation, stress, and sleeping schedule. Its TruSeen 4.0 technology measures your heart rate accurately. Know your blood oxygen saturation level to keep track of your health.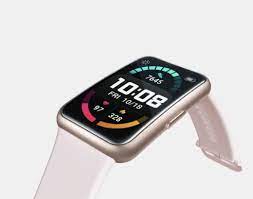 Huawei Smartwatch GT2
The Revolutionary Huawei watch GT2 has set the bar high for smartwatches. Its excellent battery lasting up to 2 weeks, is provided by chip Kirin A1 and intelligent AI technology. Moreover, the watch has a minimalistic and aesthetic appearance, perfect for formal and informal meetings.
The watch comes with high-end 3D glass for bezel-less visibility. Its fine craftsmanship and classic style ensure durability. It's your professional Trainer as well. Tracking your workout positions with workout modes and heart rate with its TruSeen 3.5.
The smartwatch also supports Messages, Bluetooth calls, and music to be transported from your device. With its TruSleep technology, track your sleeping schedule, and a stress sensor detects your body's stress level.
Wear your Huawei GT2 without worry during swimming and water sports as its 5ATM water-resistant feature protects it. Moreover, the watch also measures the Max. Rate of O2 consumption (VO2 Max) during exercises. It also represents your cardio fitness.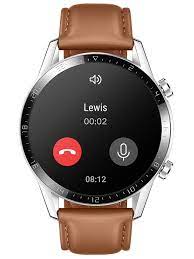 Huawei Watch 3
Huawei Watch 3 fits perfectly. Its round dial with fine craftsmanship and aesthetic style adds up to your whole personality. The watch has 1.43 inches screen with an AMOLED display. Organize the apps and display options you want at the front always. With its diverse range of watch faces, you can choose as per your choice.
Moreover, you can create your animated face with short 5 to 10-sec videos from your mobile phone. Turn a video into something special with Huawei Watch 3. This Huawei smartwatch also provides the option of using eSIM technology.
Now you can use your watch as a stand-alone device by making calls, texting, downloading and using apps, and playing music without touching your phone. With its MeeTime, connect to your friends and family. Do you want your watch assistant as well? Well, Huawei Watch 3 got you sorted with its own Celia.
Ask Celia to make calls and messages, and control everything, making your life smooth. What's more in this incredible smartwatch? Now click your photos using its remote shutter. Not only this, you can zoom in and out with the crown.
Furthermore, check your body temperature with Huawei Temperature sensor 9 and check your health. Other features include SpO2 measurement, heart rate detection, LED photodiodes, sapphire glass lens, dual chipset, stress level measurement, 14 days long-lasting battery, and much more!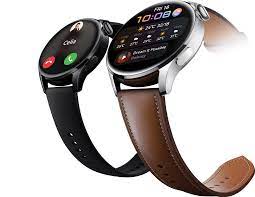 Huawei GT3
The new Huawei GT3 comes with minimalistic state-of-the-art design and features. There is multiple strap option, including the catfish strap, Viton strap, and Milanese strap. All of them are skin-friendly. Now you can zoom in and out with a crown for quick access. The TruSeen 5.0 technology detects your heaty rate with 8 photodiodes for accurate measurements.
The AI software provides a seamless working experience. The watch also supports GPS, QZSS, GLONASS, Beidou, and Galileo. The efficient battery performance lasts for 14 days. Other features include 100 plus workout modes, spO2 measurement, stress level measurement, 5ATM water resistance, Huawei assistant Celia, and many more.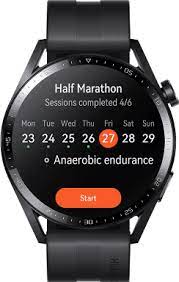 Huawei Watch Price in Pakistan
Given below are the Huawei smartwatch price in Pakistan. Get yours today.
| Huawei Smartwatch | Price in Pakistan |
| --- | --- |
| Huawei watch fit | PKR 14,699.00 – Rs 21,999.00 |
| Huawei Smartwatch GT2 | PKR 25,999.00 – Rs 29,999.00 |
| Huawei Watch 3 | PKR 69,599.00 |
| Huawei GT3 | PKR 39,999.00 – Rs 44,999.00 |
The article sums up the best and latest Huawei Smartwatches.