Lying in the province of Khyber Pakhtunkhwa, the beautiful
Kumrat valley is a piece of heaven. Carpeted with lush greenery, the Panjkora river, dense deodar forests, and amazing weather, the Valley is a perfect destination to spend your summers. Kumrat valley location
The scenic Valley is located in the upper district of KPK, Pakistan. The tourists can reach there by many routes. It can be reached through Thal, Kalam, and the Islamabad motorway. Kumrat valley's location can also be accessed through Google maps now.
You can reach Kumrat valley from Thal within an hour. The town is located on the banks of the Panjkora river. If you plan to explore more about KPK and its culture, the town of Thal can be a great option.
The Valley can also be reached from Islamabad. The total Kumrat valley distance is 370 Km via motorway M1 (8 to 9 hours' drive). You will drive towards colonel Sher Khan interchange on Swat motorway (M16) towards Chakdara and then onwards to Dir Road, which finally leads you to Kumrat valley.
You can also plan your visit to Kumrat from the swat valley. Tourists will be moving from a village named 'Utrar,' which is close to Kalam, towards Thal.
Tourist attractions
Panjkora river
The river originated from the Hindu Kush Mountain ranges and flowed through the beautiful Kumrat valley. Its ice-cold and turquoise blue water is a must-visit tourist attraction. You can enjoy your meal or just sit there enjoying the serenity of nature.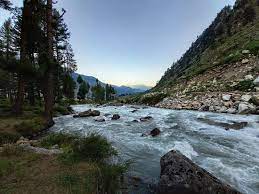 Jahanbanda Waterfall
The astonishing waterfall of Jahanbanda falls from a height of 3100 meters. The water turns into the fog in the middle. Do not forget to visit the waterfall and take pictures.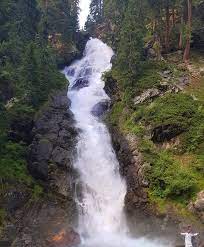 Do Kala chashma
The popular and breathtaking Do Kala chashma is known for its spectacular views. The name is given as chashma is surrounded by black mountains, throwing its dark shade. It is another best tourist attraction in Kumrat valley. According to locals, kumrat Valley begins from Kala chashma.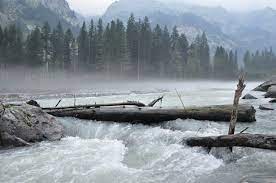 Thal Mosque
An ancient mosque in Thal is an architectural marvel and a must-visit place for every tourist. This centuries-old mosque holds a serene environment built of stones and wood. It's a different vibe over there. On the bank of the beautiful river Kumrat, this mosque is situated.
This historical old mosque was built in the 19th century but destroyed by 1950 fires. It was then decorated with hand-crafted art and flowers. The stunning views from the mosque, crustal clear blue water, green fields, and architectural mastery presents a view to remember forever.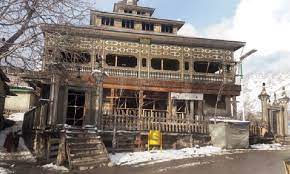 DO Janga
Do Janga refers to the two treks or places. It takes 3 to 4 hours of trekking to Do janga. Visit Shahzore lake, which is situated within 9 hours of walking distance, and Kundol lake. The lakes are must-visit places. Do janga is the last point of Kumrat valley. Finish your kumrat valley trip by visiting do janga.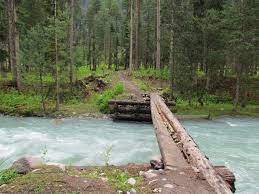 Wooden canals
Wooden canals built in the river are another great place to visit. Their clear waters and green beds present beautiful scenic views.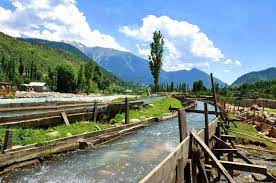 Crooked woods
The dense forests at Kumrat valley are another tourist attraction. Rivers are flowing in between the forests with skyscraper trees, and birds chirping is an experience to behold.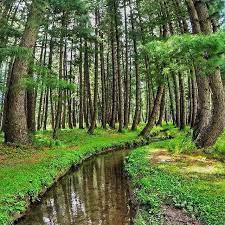 Katora lake
Start trekking towards katora lake while visiting kumrat Valley and enjoying the beautiful views. Lying in the heat of snow-peaked mountains is the beautiful turquoise water of kumrat valley.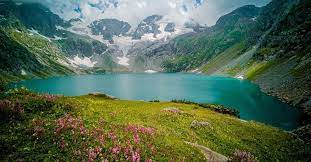 Jandrai trek
If you love trekking through refreshing greenery, the Jandrai trek is the one for you. Get up early in the morning for refreshing views of the natural beauty of kumrat valley.
Other places to visit are the Kumrat Town Centre, Majestic mountains, Wildlife, heavy jungles, National Park of Kumrat, and camping site.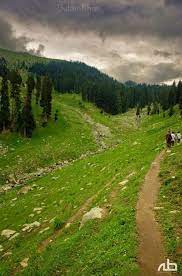 Best visiting time
The summer months from May to September are considered a perfect time to visit Kumrat valley. At this time of the year, Kumrat valley weather is pleasant, and the temperature keeps around 5.6°C to 16.2 °C.
During the winter, the temperature keeps fluctuating around -16.1 °C, and the valley looks, even more jaw-dropping covered in snowfall. Tourists also enjoy winter sports activities during this time of the year.
Hotels
There are many hotels where tourists can stay while visiting the Valley. However, camping is a great option if you want to adventure. There are tents available at pocket-friendly prices.
Tourists can go to the following kumrat valley hotels during the visit.
Panjkora hotels and resorts are situated on Kumrat road and close to all the tourist attractions.
At the bottom of kumrat valley Maskan Hotel is also situated and is known for its scenic views from the hotel. The services are great, and rates are budget-friendly.
Green hotel Thall, Glamping resort, Dehleez resort, Burj al Kumrat and Kumrat Alamir hotel are some other great options.
The article concludes with everything you need to know before visiting Kumrat valley.