realme, the world's fastest-growing smartphone brand, is leading the industry with a 240W smartphone charging device offering fast charging solutions for all. Based on the newest report from Counterpoint, realme is holding true to the 'Dare to Leap' motto, as being the first in fast-charging innovations. As a young brand, realme is able to push the boundaries further and become the first brand to introduce a 240W-capable smartphone, offering the fastest-charging power under Type-C standard.
Leap from a Popularizer to an Industry Leader
Established with a mission of empowering young consumers with a leap-forward technology and design, realme continues to realize and commercialize innovation in fast-charging technology for their smartphones. For example, realme succeeded in providing 65W charging technology to realme X7 in 2020, making the fast charging experience more accessible to everyone. Followed by an innovative breakthrough with the world's fastest 150W charging technology to realme GT Neo3 in 2022, this year realme is concocting a 240W charging technology through realme GT3.
Despite a younger brand, realme plays a key role in producing fast charging solutions available to all. Smartphone industry has been demanding higher wattages from time to time in a bid to reduce charging time less than an hour. This leads to realme's innovation of providing fast charging technology in all price segments.
For the first-time, realme is introducing its fast charging capabilities in smartphone devices and is able to grab a market-leading 85% sales penetration portfolio and features fast charging capability in the year 2022. realme was also the first OEM to launch a 65W capable smartphone, the realme Narzo 20 Pro in 2020. This follows realme's long-standing history of introducing the latest technologies for low-price segments, impelling smartphone industry to adopt this technology at a mass level.
During this time, realme ranked second in the mid-high to entry level premium segments for 65W capable smartphones in 2022. This means realme is also offering market-leading technology at higher price bands.
240W: Industry Highest Charging Standard
The 240W figure represents the highest standards of fast charging technology in the industry these days. The innovation that realme will present is also the fastest 240W charging technology globally that uses a standard USB Type-C interface.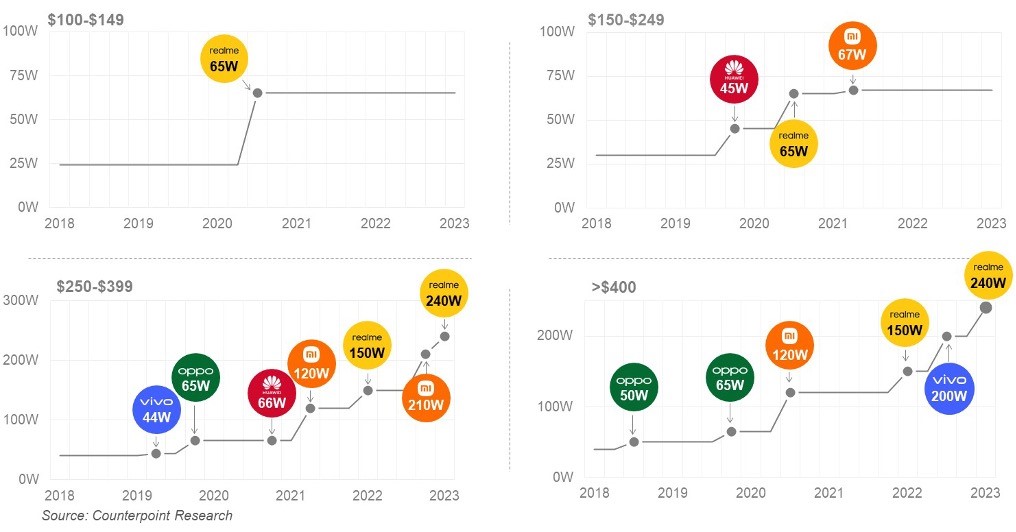 Innovation in Fast-Charging technology has a great impact on the overall smartphone industry. Advances in technology, especially in the smartphone industry, has become a top priority since smartphones are now able to syndicate sundry devices having different functions that previously were available separately. With budding functions in a smartphone, the usage of such devices is becoming more intense, resulting in an additional usage of a battery. The presence of a charging technology innovation, such as what realme endures will settle these issues.
Consumers are now much more concerned about saving their time while charging their smartphone batteries. Previously, it was normal for them to plug their devices for couple of hours and wait for a 100% charge. But now, there is a rise in content consumption and consumers also prefer being connected without long downtimes caused by charging their phones. The increase in power-delivering capabilities has reduced the charging time significantly, with more than 100W capable charging technology that can achieve full battery charge in 20-25 minutes. realme's latest industry-first 240W power output is taking fast charging to the next level.