The UAE's National Centre of Meteorology (NCM) issued red and yellow alerts due to foggy conditions in some parts of Abu Dhabi until 8:30 Am. Temperatures are expected to reach 48°C in Mezaira and Razeen, and 47°C in Sweihan and Al Ain. Dubai will experience a mostly sunny day with temperatures ranging from 33°C to 40°C.
The NCM forecasts low clouds in the Eastern coast in the morning, with a possibility of convective cloud formation in the afternoon. The night and Thursday morning will be humid, with a chance of mist in some coastal and internal areas.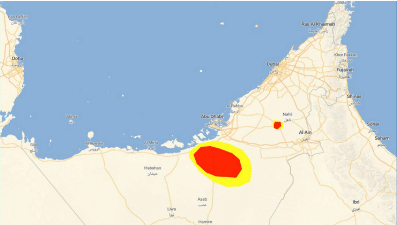 Southeasterly winds will become Northwesterly, freshening at times, with a speed of 10–25 kmph, reaching 35 kmph. The sea will be slight in the Arabian Gulf and Oman Sea.