Spotify recently launched its global VIP club at an event held in Karachi. Organized with a mission to redefine the audio experience for the influencer community in Pakistan, the program focused on educating digital creators about how Spotify acts as a partner in enriching their careers and aspirations.
Spotify's invite-only VIP club offers a 'money-can't-buy' experience with its members being able to visit unique events as well as offices all over the world, get exclusive access to data and products, and receive the in-and-out app experience to engage more deeply with their audiences. This program is designed to collaborate with the greatest Pakistani talents and build a Spotify community through deeper focus on education, create a continuous touchpoint for the latest Spotify news, offer an opportunity to dive into specific features and product "hacks" while also getting access to the most unique experiences.
The event kicked off with a Spotify for Artists Masterclass, an informative session tailored for influencers who want to become artists or songwriters. Hosted by Khan FM, Spotify's Artist and Label Partnerships Manager for Pakistan, Sri Lanka, and Bangladesh, the Masterclass was an opportunity to educate and empower these talented individuals about the potential of Spotify for Artists, a tool that provides insights to musicians to advance their careers on the platform globally through direct access to comprehensive data points on their respective listeners. While this isn't the first Spotify for Artists Masterclass in Pakistan, it's the exclusive one to welcome influencers who want to launch their music careers.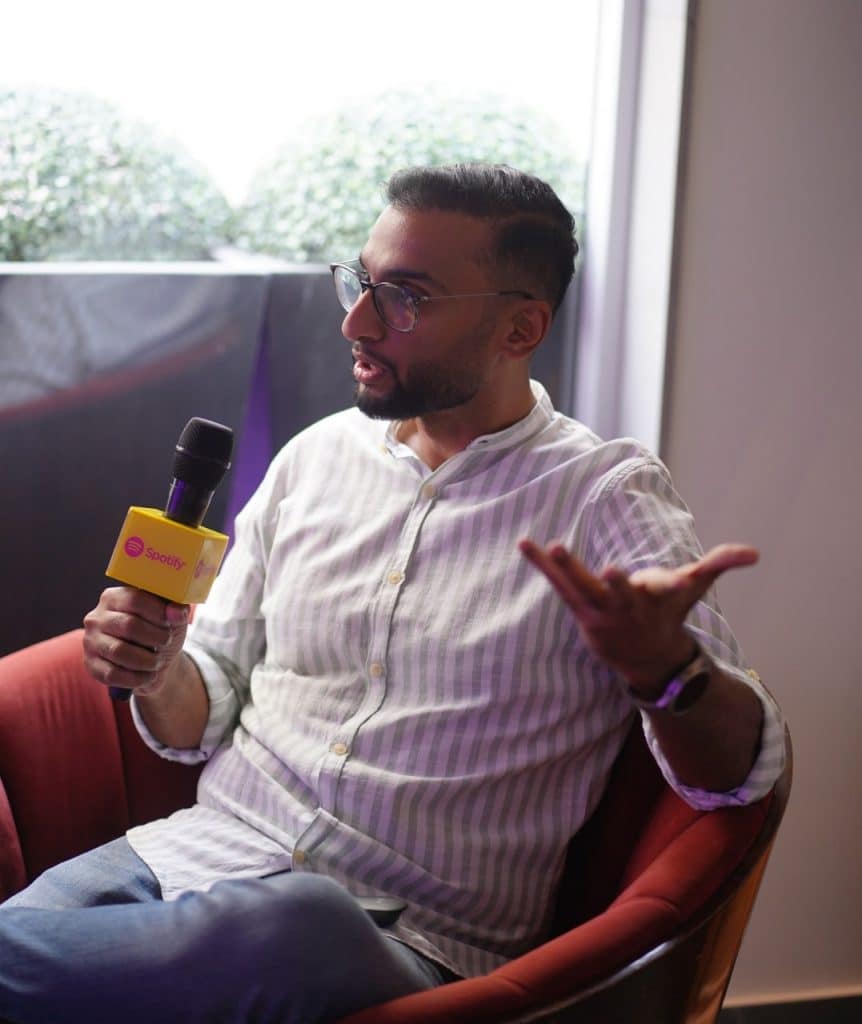 As a special treat for Spotify community members in attendance, artist and music producer Ali Hamza, shared his unique experience and insights on how Spotify can help to build artistic careers and allow musicians to attract more listeners globally. The session bridged the worlds of social media and music industry's content creators, offering valuable learning and awareness about tools that further their careers in both fields.
Next up was the Product Education workshop hosted by Talha Hashim, Spotify's Marketing Manager for Pakistan, Bangladesh, and Sri Lanka. This session was a captivating exploration of Spotify's rich ecosystem. Attendees deep dived into Spotify's latest features such as Blend and AI DJ, a personalized assistant that understands your tastes and plays music specifically suited to you. An exciting highlight of the session was the launch of Jam in Pakistan, a personalized, real-time listening session for any group to tune in together. These features were highlighted along with a "sneak-peek" of what artists and listeners can expect down the line with Spotify.
The launch of Spotify's VIP club created an unforgettable music experience and focused on fostering a community that thrives on creativity and innovation. As Spotify continues to resonate with music lovers across Pakistan, events like these underscore the brand's dedication to bringing people closer to the music they love.