Suzuki Company is working for several years in Pakistan and till now it has launched different cars that support various features and specifications. But, if you look back, almost all of its cars that have been launched in Pakistan comes with basic specifications and features according to the need of users.
Now, Suzuki has introduced a new model of Suzuki Alto in December 2021 for the year 2022. You can find its different variants which are accessible such as Suzuki Alto VXR, Suzuki Alto VXL, etc. You can also come to know about the Suzuki Alto VXR prices in 2023 from different sources.
Suzuki Alto VXR has 3 cylinders and is powered by DOHC twelve valves engine. These DOHC valves help to boast the engine up to 39 hp at 6500 RPM horsepower with the torque of 56 Nm @ 4000 RMP. It has an Engine displacement of 658 ccs.
Suzuki Alto VXR belongs to a type of car that uses petrol for fuel. Its fuel capacity is about twenty-seven litres. The mileage provided by Suzuki Alto for the city is 24 KM/L but on highways, it provides a mileage average of approximately 26KM/L.
Suzuki Alto VXR 2023 Colors
Every customer wants that car color should be of his/her choice. Suzuki Alto has offered a huge variety of colors to its customers. They are listed below.
Pearl Black
Sand Beige
Silky Silver
Graphite Grey
Solid white
Pearl Red
Cerulean Blue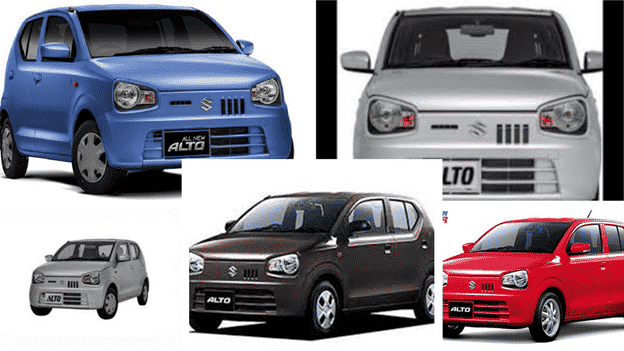 Interior
As described above, Suzuki offers basic car features and specifications. But this time, in this car you will notice many improvements regarding the interior of Suzuki Alto VXR 2023 features and specifications. It is equipped with different and new features. Due to the new feature addition, Suzuki Alto VXR 2023 price in Pakistan raise a little high.
Alto VXR model comes with seats that are very comfortable and are adjustable to provide the user a comfortable experience. The heater helps to keep the user warm on cold days.
The design of steering increases the look inside. You will see a touch screen that is mounted on the dashboard panel that provides connectivity with Bluetooth and USB ports.
Alto VXR 2023 offers defogger and interior lighting.
It has also offered a rear seat headrest that provides comfort to the user.
It also has interior lighting and a heater feature.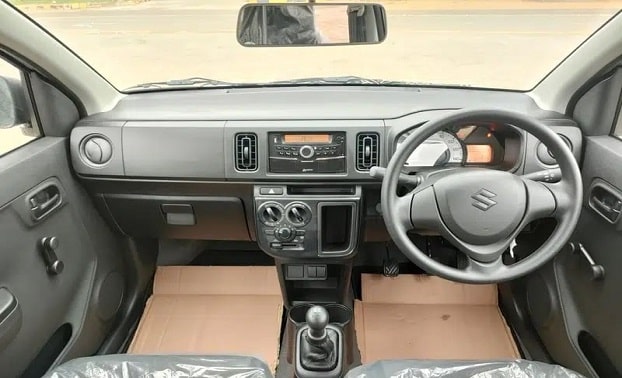 Exterior
If we discuss the exterior of Suzuki Alto VXR 2023, its design is unique with a contour line and aerodynamic that give it's a vibrant look. Its design is not properly designed by the company, which is the reason that its customer rate is a little bit low.
Suzuki Alto VXR 2023 posse's basic features of the exterior are similar to its previous models such as it contains the front grille and outside mirrors. It also has outside door handles and a spare wheel. It offers various colors to its customers.
The front end and rear end both are attractive. The taillights of the model are small and mounted on the rear bumper.
In Suzuki Alto VXR 2023, new features are added to improve the user experience and its demand according to the user's needs.
Performance
The engine of Suzuki alto VXR is improved from its previous editions. Due to its balanced power to weight ratio and aerodynamic design, you will get a delightful driving experience. The local assembly improves fuel efficiency.
The transmission is offered in both ways like automatic and manual. But the manual transmission of Suzuki Alto works better with efficient acceleration. The drawback of automatic acceleration is that it is slow and sluggish when the throttle is pressed.
The improvement in suspension gives you a smooth riding experience
Comfort and Convenience
To provide the customers an experience full of comfort, the following features are added to the Suzuki Alto VXR 2023.
Suzuki Alto VXR 2023 offers a cup holder in its design.
It has the feature of keyless entry and also remote keyless entry.
You will also find the feature of USB and auxiliary cable.
It provides the feature of climate control, multi-info, and accessory power outlet.
Safety features
Suzuki Alto VXR provides the following safety features.
It has the feature of a child lock and immobilizer key.
It has offered a security system. When some stranger comes near to your car and touches it. An alarm will alert you about it.
It also supports a high mount stop lamp.
Specifications
Some of the Suzuki Alto VXR specifications are listed below.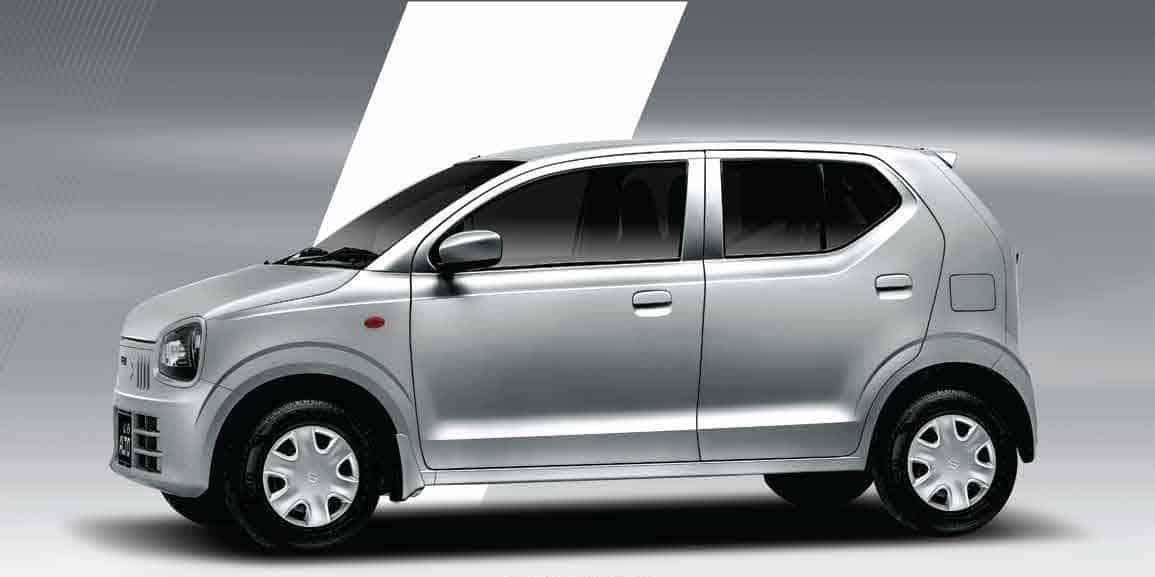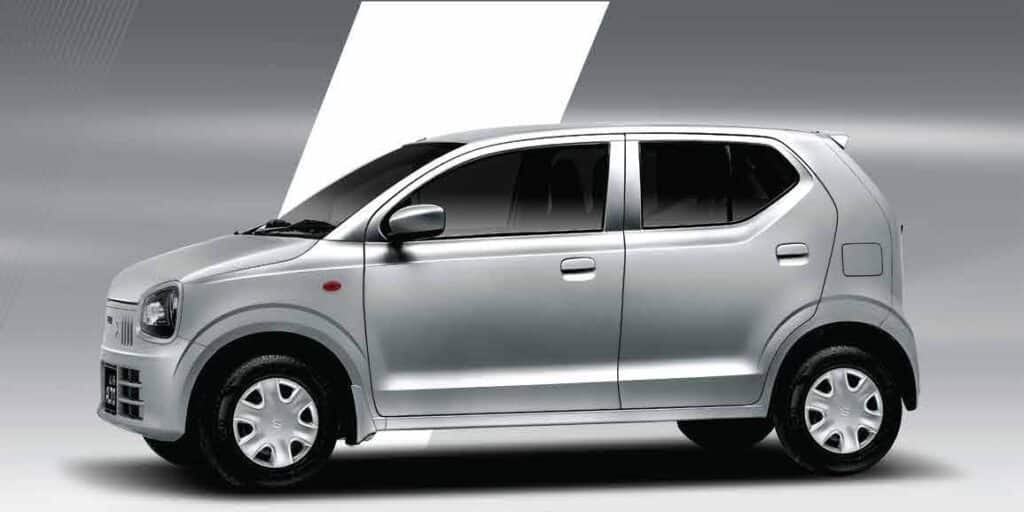 Weight and Dimensions
The weight and dimension specifications of the Suzuki Alto VXR are given below.
| | |
| --- | --- |
| Number of Doors | 5 |
| Kerb weight | 650 Kg |
| Wheelbase | 8 feet 1 inch |
| Overall width | 4 feet 11 inch |
| Overall height | 4 feet 11 inch |
| Clearance of Ground | 7 inches |
| Overall length | 11 feet 2 inch |
Engine
Engine specifications of Suzuki Alto VXR specifications are given in the table below.
| | |
| --- | --- |
| Engine Type | R06A |
| Displacement of engine | 658 cc |
| Fuel system | multipoint injection |
| Number of cylinders | 3 |
| Number of valves per cylinder | 4 |
| Cylinder Configuration | In-Line |
| Valve mechanism | DOHC 12 valves |
| Max Engine power | 29 Kw 38.8 HP at 6500 RPM |
| Bore / stroke | 64 x 68.2 mm |
| Max Torque | 56 Nm at 4000 RPM |
| Assembly of engine | Local |
| Compression ratio | 10:1 |
| Warranty of Engine | Four years per 80000 Km |
Steering, Wheel, And Tyres
| | |
| --- | --- |
| Steering Type | Rack and Pinion |
| Power-assisted in steering | Electric power |
| Turning radius (m) | 4.2 |
| Type of wheel | Steel wheel having steel caps |
| Size of Wheel in | 13 |
| Size of Tire | 145 / 80R13 |
| PCD | 4 x 100 mm mm |
Fuel, Capacity, And Transmission
| | |
| --- | --- |
| Fuel type | Petrol |
| Fuel tank capacity | 27 Liters |
| Mileage for city road | 16 Km/Liter |
| Mileage for highway | 18 Km / Liter |
| Transmission of Gear Box | 5-speed |
Brakes and Suspension
| | |
| --- | --- |
| Brakes | The front brake has solid Disc Rear has drum, leading, and trail |
| Suspension | The front suspension has a MacPherson strut having an oil spring. The rear suspension has a torsion beam having coil spring |
Other Specifications
| | |
| --- | --- |
| Driver type needed for Suzuki Alto VXR | Front-wheel |
| Driver setup | Right Driver |
| Interior color of Suzuki Alto VXR | Dual-tone |
| Antenna | |
| Seat adjustment | Manual |
| Inner Lights type | Cabin light 3 position |
Suzuki Alto VXR Price in Pakistan
Suzuki alto VXR price in Pakistan is PKR 2,156,000. Due to its price, it is considered a car for middle-class people in Pakistan.
Availability in Pakistan
Suzuki Alto VXR 2022 is available at different Suzuki car dealers stores all over Pakistan. these car dealers can be found in all cities of Pakistan Karachi, Lahore, Quetta, Islamabad, Rawalpindi, etc. You can visit any trusted Suzuki dealer store and can get your car according to the feature that you need and the colour of your choice.
Competitors
Major competitors of Suzuki Alto VXR 2022 are the following.
Conclusion
Suzuki Alto VXR 2022 is an improved generation than its previous models and contains some enhanced features and specifications.