Tabiyat.pk, the leading online pharmacy, has once again impressed the audience with its innovative and humorous marketing strategy. The popular health and wellness startup has just put up a hilarious billboard that takes a witty dig at its competitor Ehad pharmacy – and it's already causing quite a stir!
Located in the bustling Federal B area in Karachi, the billboard features a model pointing out at the Ehad pharmacy, with the line "Inn se na ho payega!", which loosely translates to "They won't be able to do it".
This lighthearted approach to marketing has quickly garnered attention, with people praising the company for its humorous take on the healthcare industry. The billboard is a playful way of highlighting the convenience and ease of access that tabiyat.pk offers in comparison to traditional pharmacies.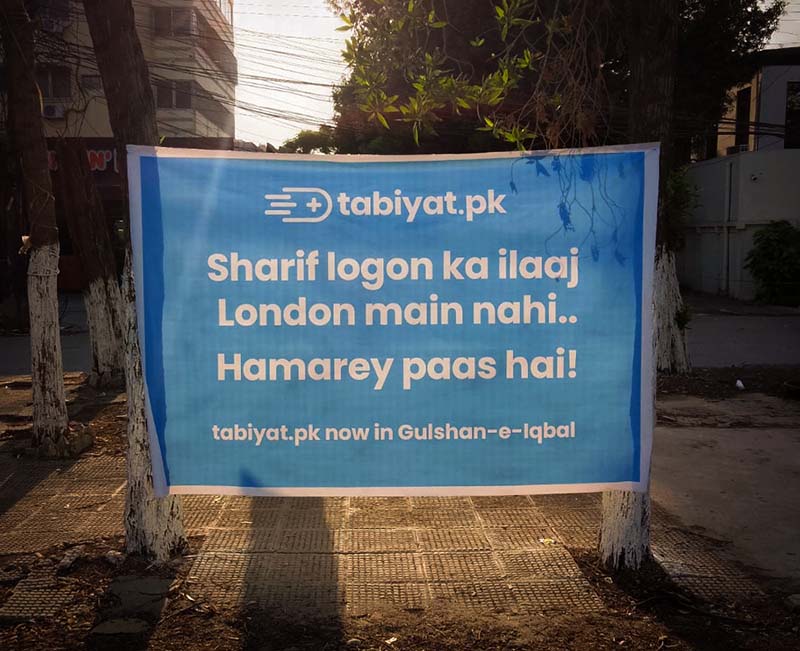 In the past, the company has launched several successful marketing campaigns that have made rounds on social media. One such campaign was the announcement of their pharmacies all over Pakistan. With a clever and humorous approach, the company used witty and political taglines all around the cities to promote the newly launched pharmacies. The campaign was a huge hit on social media, with many people sharing pictures and making it a trend on Twitter.
Started as an online pharmacy in Pakistan, tabiyat.pk now also operates offline as well in Karachi, Lahore and Islamabad. With so many people looking for convenient and easy access to healthcare, it's no wonder that tabiyat.pk is quickly becoming the go-to platform for all things related to health and wellness.
The start-up recently secured $11.5 Million in its pre-series A round, making it the largest health-tech funding in Pakistan. Apart from partnering with the leading manufacturers, tabiyat.pk has various projects in the pipeline to offer the audience better access to healthcare products.