TECNO is an innovative technology brand with operations in over 70 countries and regions across five continents. Since its launch, TECNO has been revolutionizing the digital experience in emerging global markets, relentlessly pushing for the perfect integration of contemporary, aesthetic design with the latest technologies.
Today, TECNO has developed into a recognized leader in its target markets, delivering state-of-the-art innovation through a wide range of smartphones, smart wearables, laptops, and tablets, along with HiOS operating systems and smart home products. Guided by its brand essence of 'Stop At Nothing', TECNO is committed to unlocking the best and newest technologies for forward-looking individuals. By creating stylish, intelligent products, TECNO inspires consumers worldwide to never stop pursuing their best selves and their brightest futures.
TECNO has once again raised the bar with the introduction of the highly anticipated Camon 20 series. This impressive lineup includes four exciting variants i.e. CAMON 20 Premier 5G, CAMON 20 Pro 5G, CAMON 20 Pro, and CAMON 20, each designed to cater to different user preferences and needs. TECNO has revolutionized the phone experience with its industry-first CAMON PUZZLE Deconstructionist Design, promising a spectacular portrait photography experience that surpasses all its previous innovations.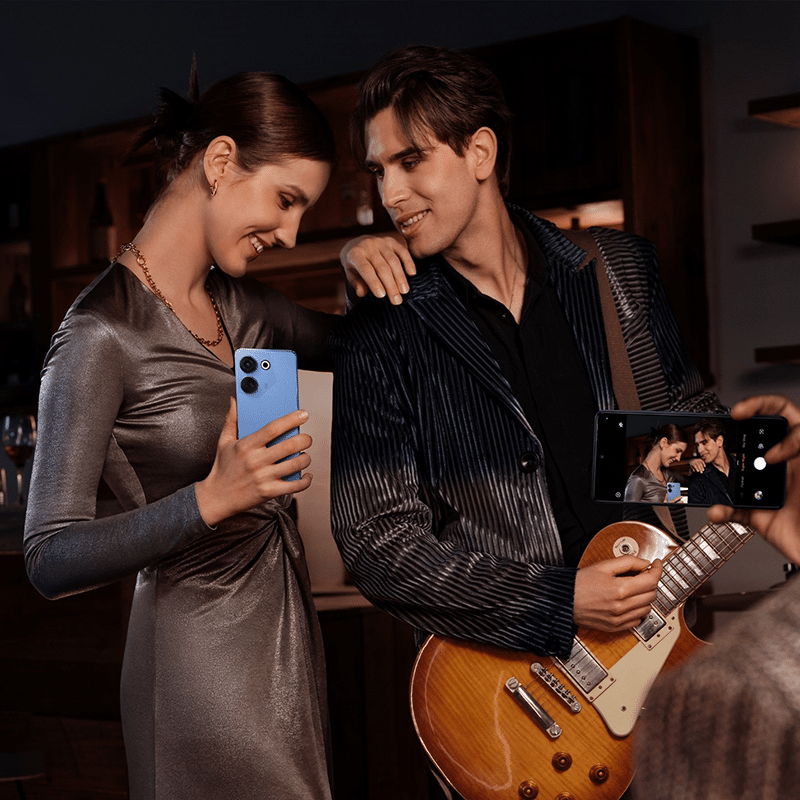 "TECNO CAMON 20 brings together innovative technologies and modern design in one striking, high-performance series," said Jack Guo, General Manager of TECNO, "Many moments in life are meant to be captured. TECNO CAMON 20's advanced portrait and video technologies let users record those emotional motion moments in sharper detail, while its striking aesthetic design and powerful performance complete an all-round exceptional user experience."
The Camon 20 and Camon 20 Pro come with a triple camera arrangement, which includes a 64 MP main sensor, a 2 MP depth sensor, and a QVGA lens. Whereas, the Camon 20 Premier goes a step further, featuring a triple camera setup consisting of a 50 MP wide lens, a 108 MP ultrawide lens, and a 2 MP depth sensor. These smartphones offer a range of photography modes, such as HDR, panorama, and ring-LED flash, allowing users to capture breathtaking photos in various situations.
The TECNO CAMON 20 Premier 5G boasts remarkable features that enhance your photography and design experience. Its 5000 Times/s Sensor-Shift OIS Anti-shaking Technology ensures steady portrait video by compensating for shakes up to 5,000 times per second, delivering crisp and vivid images and videos even during motion. Its 108MP Ultra Definition camera delivers breathtaking wide-angle shots for both photography and video shooting, while both front and back cameras support 4K and HDR video.
TECNO has introduced a groundbreaking technology called RGBW, which has significantly enhanced the quality of night portraits in its products. This innovative approach involves replacing the traditional RGGB color filter's "green" array solution with a "white" one, resulting in the RGBW sensor capturing more light. Moreover, the 1G+6P lens further boosts light intake by replacing one of the plastic lenses with a glass lens, optimizing the process of light reaching the main sensor. The TECNO CAMON 20 Premier 5G features an upgraded main sensor, with the pixel size increased from 0.8μm to 1.0μm, resulting in a 56.25% larger light-sensitive area. This improvement allows for images that closely resemble real-life scenes.
With this groundbreaking innovation, TECNO showcases its commitment to cutting-edge technology and pushing the boundaries of creativity. Coupled with an array of cutting-edge features, including top-of-the-line camera capabilities and powerful performance, the Camon 20 series is a true game-changer in the smartphone arena.