Toyota tundra in Pakistan is famous for its off-road driving abilities and comfortable interior system. Also, the car ride is comfortable and of good quality. That's why Toyota customers want to know about Toyota Tundra's price in Pakistan.
Toyota Tundra sale price in Pakistan is now available. The people looking for Toyota Tundra price in Pakistan 2022 – specs, features, and pictures should remain connected on this site. This article gives all the details about Toyota Tundra's price in Pakistan.
Toyota tundra availability in Pakistan is found in all its major cities like Karachi, Lahore, Islamabad, Quetta, Peshawar, Gilgit, etc.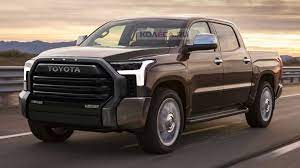 Fuel economy
Toyota Tundra's fuel economy in the city is 18 miles per gallon, but on the highway, it is 23 miles per gallon.
Interior
Toyota Tundra interior has a big infotainment system available on the dashboard. Customers will find air vents on the sides, and the gearbox is placed on the central tunnel. Its interior has a matte black color scheme.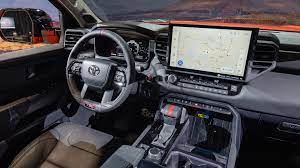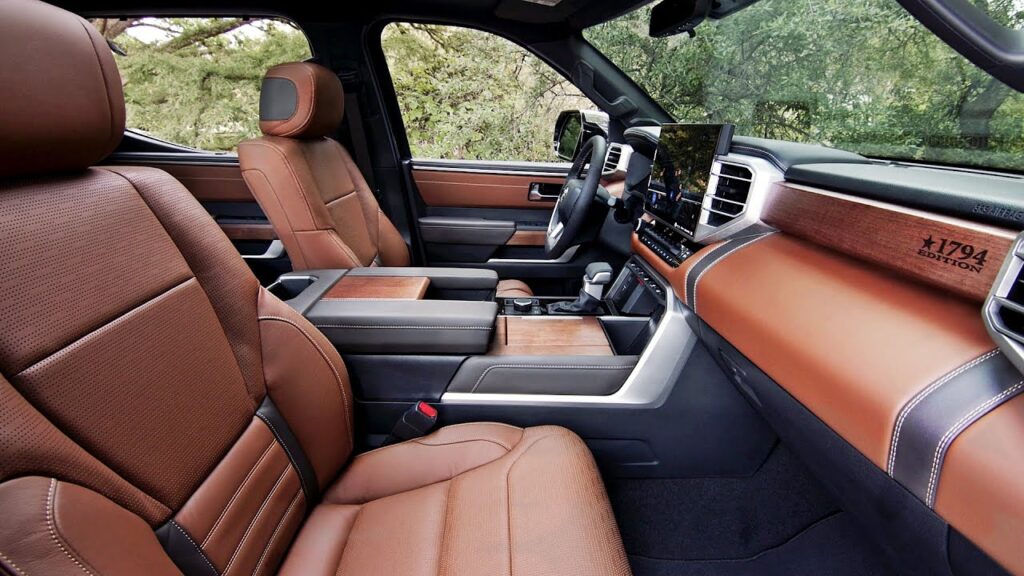 Exterior
Toyota Tundra 2022 exterior is extremely robust. Its style is robust and durable, which protects it from rust, dents, and dings. The elegant Toyota Tundra can carry 1940lbs in the payload. Its y-shaped exterior includes horizontal headlights with a grille on the bumper. There is a c-shaped tail-light on the rear side.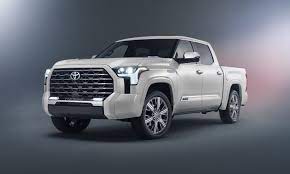 Specification
Toyota Tundra specifications are given in the below table.
Engine
| | |
| --- | --- |
| Type of engine | 3.5-liter twin-turbo engine with V6 Gas |
| Max power | 389 hp @5200 rpm |
| Max torque | 479 lb-ft @ 2400 rpm |
| Number of cylinders | 6 |
Transmission and steering
| | |
| --- | --- |
| Type of transmission | Automatic |
| Speed of gearbox | 10-speed |
| Type of driving | Rear wheel driving |
| Type of steering | Rack and pinion |
| Assisted steering | Power |
Dimensions
| | |
| --- | --- |
| Length x width x height (in) | 233.6 x 80.2 x 78 |
| Wheelbase (in) | 145.7 |
| Ker weight | 5215 lbs |
Brakes
| | |
| --- | --- |
| Type of front brake | Discs |
| Type of rear brake | Discs |
Wheel and tire
| | |
| --- | --- |
| Size of wheel | 20-inch |
| Type of wheel | Aluminum |
| Size of tire | P265/60HR20 |
| Spare tire | Yes |
Capacities
| | |
| --- | --- |
| Type of fuel | Gasoline |
| Seating capacity | 5-person |
| Fuel tank capacity | 32.2 gallons |
| Number of doors | 4 |
Features
Some of the Toyota Tundra features are mentioned below.
It has a blind-spot monitoring system.
There is a rear cross-traffic alarming system that alerts the driver.
It also has a 360-degree view camera system for safety and comfort.
Hood upfront system
It has a cab behind it.
Emergency braking assist, seatbelts, TPMS, crash sensor, and engine check warning system ensure safety.
There is a touch screen, remote control audio system, radio, USB and input auxiliary cable, and Bluetooth connectivity for entertainment.
This Toyota Tundra also has many other features that any luxurious car offer.
Toyota Tundra Price in Pakistan
Toyota Tundra price in Pakistan 2022 for used car range from 58.0 lacs to 125.0 lacs. The prices may vary depending on the features and specifications.
Tundra Price in Pakistan may vary a little bit from one showroom to another city showroom, but this amount will not be huge.
Competitors
Toyota Tundra will compete in the market with well-known car models in Pakistan as it is expected to come with new specs and features by using new technology. Some of the Toyota tundra competitors are given in below.
Colors availability
It has come to know that Toyota Tundra will come in eleven appealing colors. Some of them are listed below.
White
Supersonic red
Lunar rock
Black Metallic
Grey
Silver
End Note
From the resources, it is said that Toyota Tundra is a luxury car that comes with remarkable features and specifications. So get, if you are interesting, and enjoy its ride.