To enhance transportation within Abu Dhabi city, an electric bus service similar to a tram has been introduced, promising improved connectivity and convenience for residents and visitors alike. Additionally, Autonomous Rapid Transit (ART) vehicles, resembling trams, are now operational during the weekends, specifically on Fridays, Saturdays, and Sundays.
This service comprises a 14-stop route that connects Reem Mall to Rixos Marina Abu Dhabi. Passengers can get off at significant locations along the way, including Marina Square, hospitals, parks, and shopping malls.
The ART vehicles are designed to accommodate up to 240 passengers, offering ample seating capacity and efficiency. The journey starts from Reem Mall at 10 AM, reaching Rixos Marina Mall in just over an hour. Furthermore, the service operates with five trips in each direction, with the last service arriving at its destination just after 4 PM.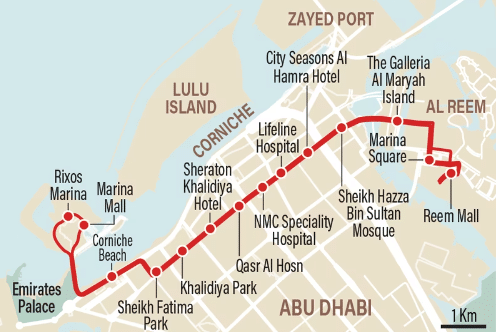 For the convenience of commuters, the Darbi app, provided by the Integrated Transport Centre (ITC) of the Department of Municipalities and Transport in Abu Dhabi, offers real-time service tracking and timing information.
Using this user-friendly service is quite simple for passengers. They only need to scan the QR code on the vehicle using the Txai app to avail themselves of the complimentary service.
This initiative is an important part of Abu Dhabi's Smart Mobility Project. The project also includes self-driving taxis and mini robobuses, further enriching the city's transportation options.
Looking ahead, Abu Dhabi envisions an expanded fleet of autonomous vehicles, aiming to provide a modern transportation experience for residents and visitors. The plan is to have hundreds of autonomous vehicles on the roads by 2025, revolutionizing the way people travel within the city.