Declared 'Market Leader of Digital Banking' by Euromoney in 2022, UBL has transformed banking by integrating the latest technologies and designing the best digital solutions for its customers. UBL promises highly user-oriented and secure digital banking solutions, meeting the needs of evolving times.
UBL has carried on with the reputation of being the leading name in the world of Digital innovation for three consecutive years. Asiamoney, a leading global financial publication, declared UBL the 'Best Bank for Digital Solutions' in Pakistan for 2022.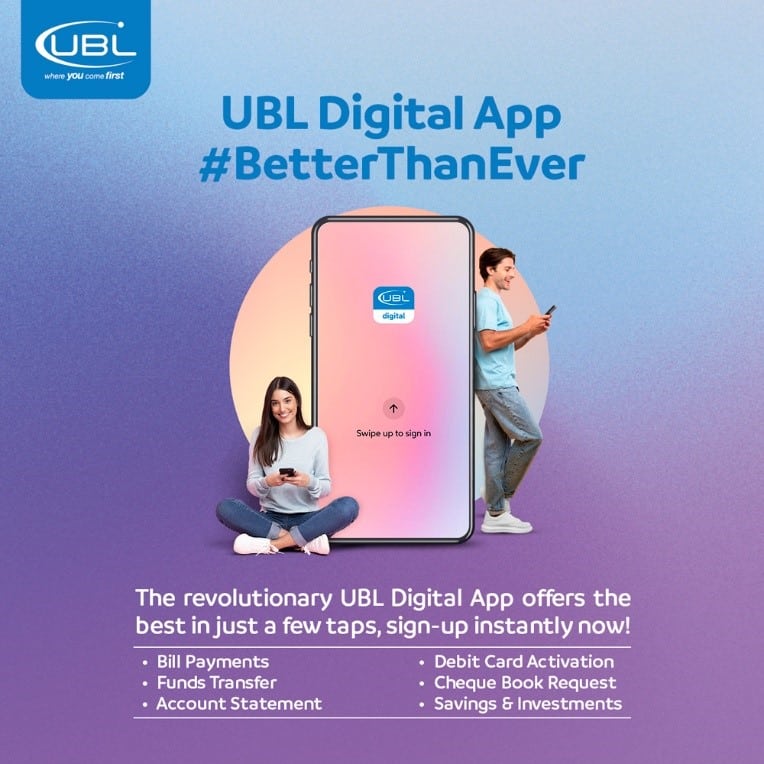 Bank on the Go with UBL Digital App
Download the UBL Digital App to access your account information, perform online transactions, and explore multiple discount offers on your smartphone anytime without visiting the bank amongst other exceptional features.
Benefits of the UBL Digital App
The app is user-friendly, with a well-organized layout and convenient interface. A navigation bar at the bottom of the app provides quick access to the main features, such as account information, bill payments, transaction options and many more.
UBL's mobile app ensures a flawless user experience with a simple model focusing on the essential features and options for the users instead of cluttering unnecessary information.
You can personalize your UBL digital app as per your choice and feasibility, a feature much appreciated. Set up your app according to your favorite themes or colors and have the choice to put some essential options at the front. You can also get help from the recommendations provided by the app based on your transaction history and behavior.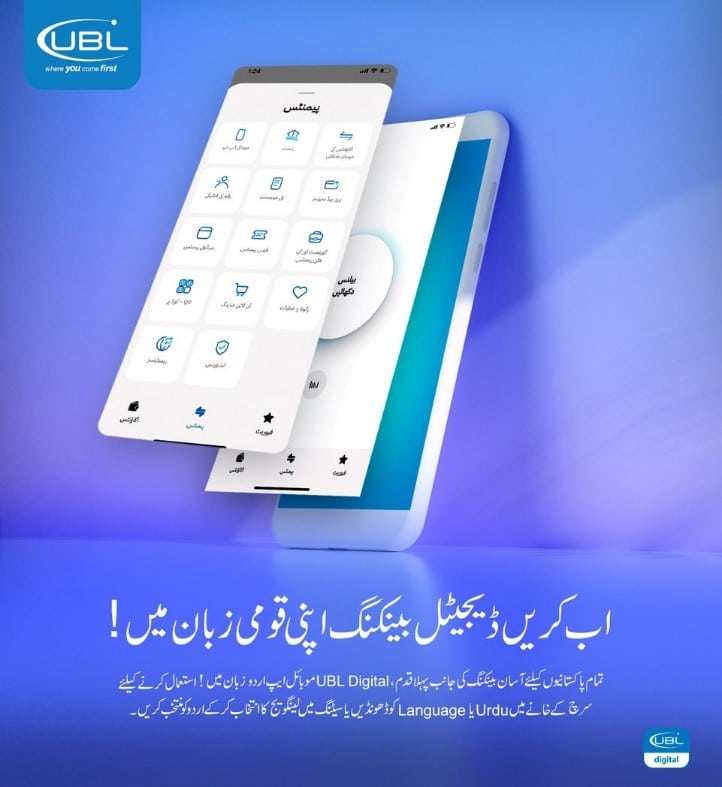 The digital banking app has achieved a significant milestone by introducing its availability in Urdu, making use easy for customers who prefer Urdu. This inclusive feature reflects the bank's efforts in providing the most seamless and accessible digital banking app to a broader range of users.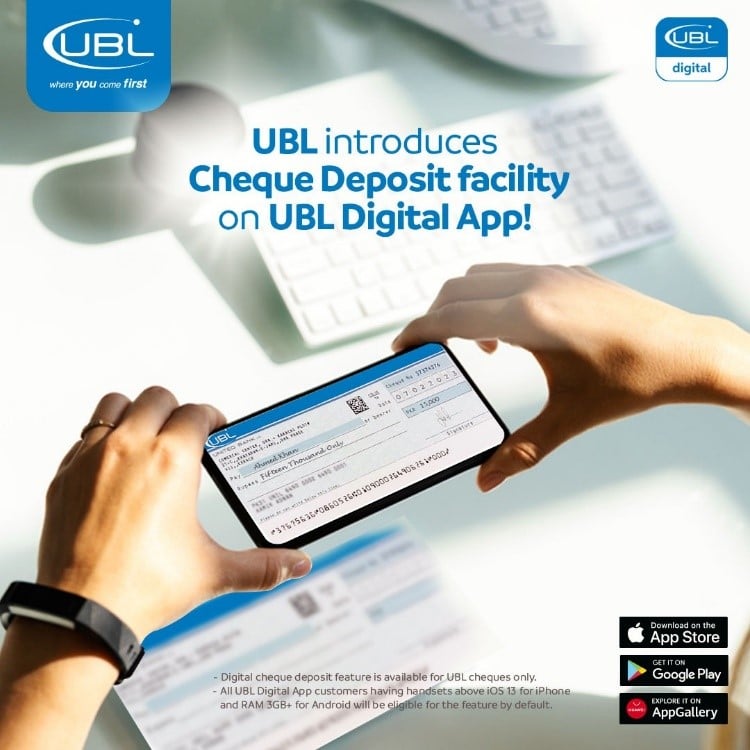 Digital Cheques : A game-changing Innovation
UBL's unique banking solutions do not end here. With the digital cheque feature, users can deposit UBL-to-UBL cheques through the mobile app, ensuring the most convenient and advanced digital banking for its users.
UBL in the Metaverse: Keeping up with the trends, UBL has embraced the metaverse by launching a virtual presence on the banking app. The users can now engage with the brand in the most immersive and interactive way.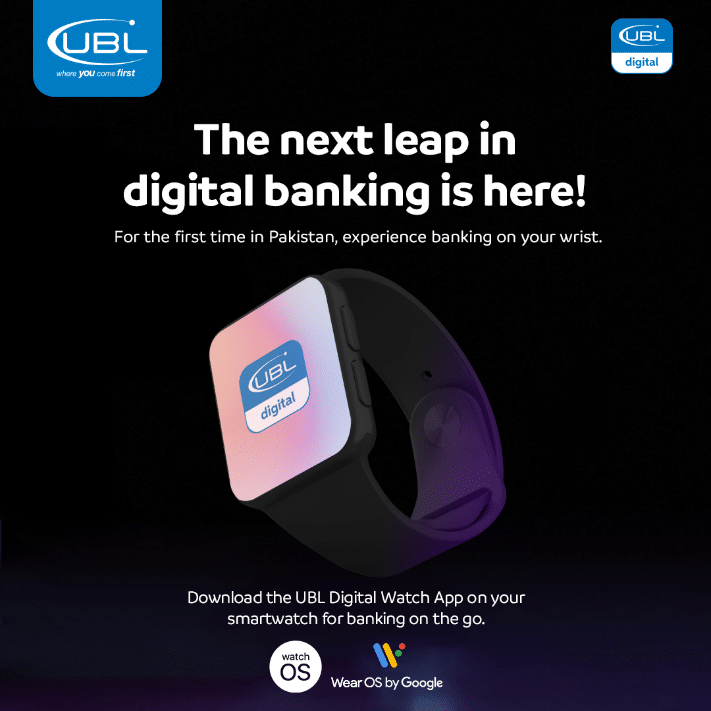 App Watch: Monitor and Manage Your App Usage
UBL has taken the next step in advancement by introducing the Digital Watch App to iOS and Android users. So, now you can carry out your transactions, check your account information, and avail many other features through your watch.
Aas Paas: Exclusive Deals and Discounts
You can avail the most rewarding deals and discounts with the UBL Aas Paas service on the mobile app. This service offers discounts and deals on popular brands, restaurants, and other retailers.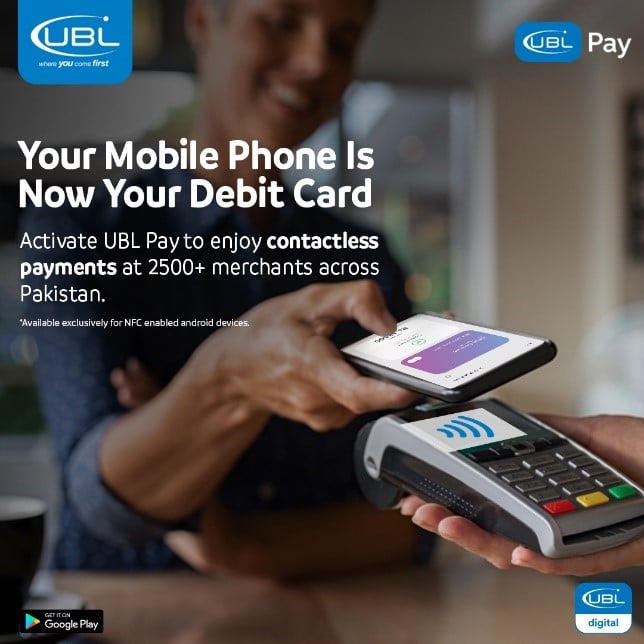 UBL Pay: Hassle-free Way for Users to Make Payments
With the UBL digital app, you do not need to worry about carrying your debit card or cash. Make transactions with your mobile device through the UBL Pay service – shopping and dining out have always been more convenient!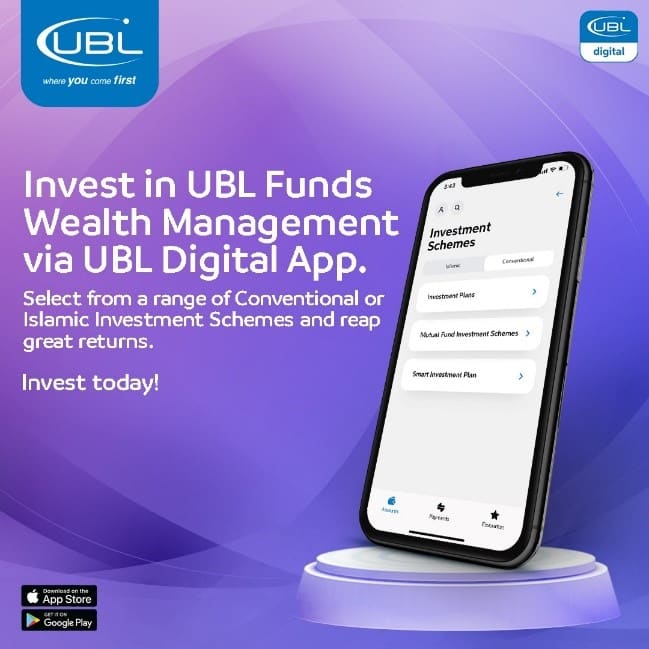 Manage your Savings and Investments
UBL Digital App also provides its customers the convenience of managing their finances, savings, and investments. The app offers various convenient options for term deposits and mutual funds and allows customers to earn higher returns on their savings.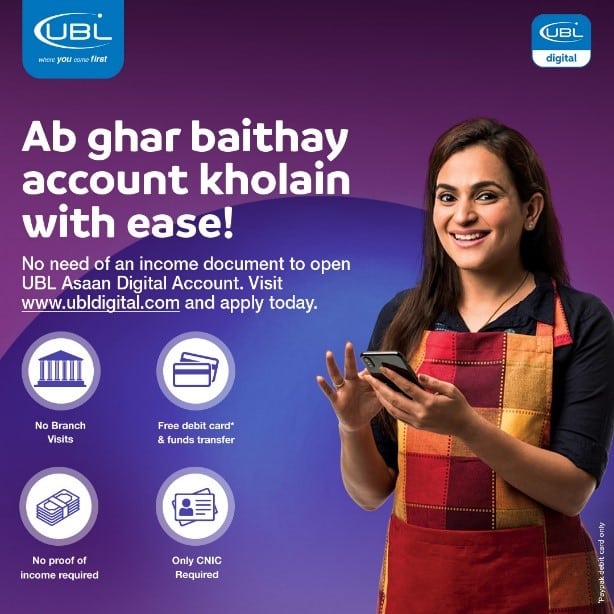 UBL Asaan Digital Account: Simplifying Account Opening
If you want to open a free basic account without any complicated steps, register with the UBL Asaan Digital Account. The registration includes easy steps and minimal documentation, and you can register your account online through the app. This account is ideal for those needing access to traditional banking services or prefer a more direct banking experience.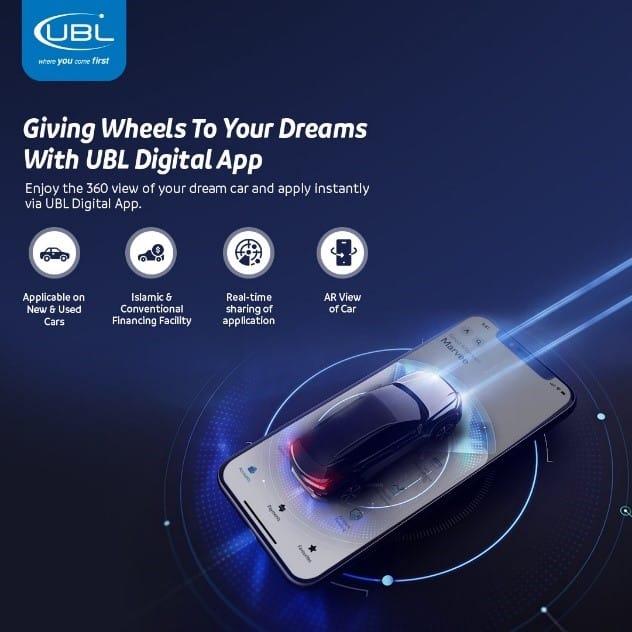 Auto Loan: Experience augmented reality like never before UBL Digital App offers an augmented reality Auto Loan feature that allows users to visualize and explore different car models and features in a virtual 3D environment. Users can explore their favorite car in 3D and find multiple options for financing and monthly installments in real time.
THE FUTURE OF TRANSFORMATION
UBL has revolutionized the era of digital banking with its integrated state-of-the-art features. UBL Digital App is undoubtedly the most futuristic and convenient solution for managing your financing and transactions.
Users can visit http://www.ubl.digital.com for further information and availability of their services. UBL is undoubtedly a leading bank in the digital banking era, evolving with customers' needs.