The automotive world witnessed a groundbreaking moment as Haval proudly introduced the highly anticipated Jolion, an SUV that embodies a perfect blend of style, performance, and cutting-edge technology. This momentous occasion took place at the exclusive launch event under the banner of "Be My Jolion," celebrating the concept of the first love in the automotive realm.
Jolion, which means 'First Love,' goes beyond being a car; it's an embodiment of elegance and practicality wrapped in a sleek design. With an innovative approach that fused luxury, comfort and convenience, Jolion stood as a testament to Haval's commitment to providing a superior driving experience. Its bold exterior design exudes confidence. Meanwhile, the spacious and meticulously crafted interior is so impressive that you can't help but fall in love with it.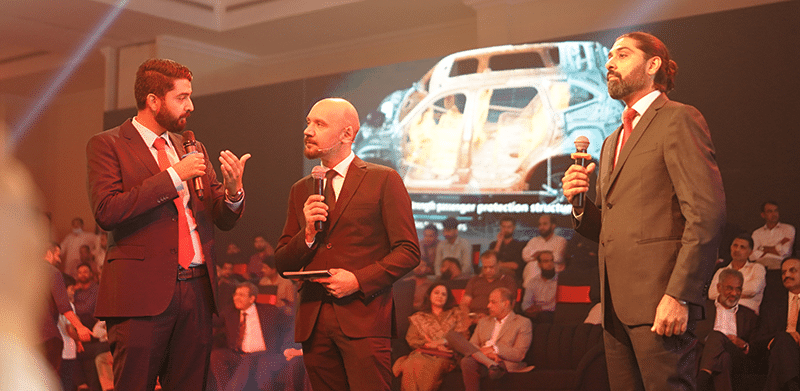 Innovative Safety Features
Safety is at the forefront of the Haval Jolion's design philosophy. This SUV is equipped with a comprehensive suite of advanced safety features, including:
Automatic Emergency Braking on straight roads and intersections: The Jolion takes proactive measures to ensure your safety by automatically applying brakes during emergencies on both straight roads and intersections.
Forward Collision Warning System: The Jolion's sophisticated sensors keep a vigilant eye on the road ahead, warning the driver of potential collisions and allowing them to take corrective action.
Lane Departure Warning System/Lane Departure Assist System: Drivers stay confidently in their lanes with the Jolion's Lane Departure systems that provides alerts and assists in maintaining the proper lane position.
Blind Spot Warning System: Changing lanes becomes safer and more intuitive with the Jolion's alerts when cars are present in your blind spots.
Moreover, the Jolion owners can enjoy these features with extended warranty as well, offering 5 years/150,000 km of coverage.
The 'Be My Jolion' launch event was a star-studded affair, with everyone in awe of the grandeur of the Haval Jolion. The event was graced by distinguished individuals from various fields. Dr. Gohar Ejaz, Federal Minister for Commerce and Industry, was present to share his insights on the intersection of technology and automotive innovation. Sunil Munj, a visionary leader who had made substantial contributions to automotive industry, was also in attendance, lending his perspective on the Haval Jolion's impact on the market.
"The Haval Jolion represents a perfect harmony between aesthetics and functionality, redefining the driving experience," said Ali Hameed, COO at Haval. " Pakistan market is a significant part in Great Wall Motor global strategy. We will continue to provide with more excellent products, including EV and PHEV. We will work together with Sazgar for a win-win development and support the Pakistan market to achieve a great success in the future,'' Said Mr Parker Shi, the Head of Great Wall Motor.
As the automotive world geared up for the unveiling of the Haval Jolion, the "Be My Jolion" event stood as a testament to innovation, luxury, and sheer magnificence. Everyone couldn't help but wonder, could this #BeMyJolion?"