The latest beta release of WhatsApp includes a feature that enables users to share their status updates on Facebook with ease, without any additional steps. This new feature was discovered by WABetaInfo, and it is currently being rolled out through the Google Play Beta Program.
Version 2.23.9.23 added a "Share my status across my accounts" option under Status privacy, which, once activated, will automatically share your status via your Facebook Story at the same time as posting on WhatsApp without ever leaving the app.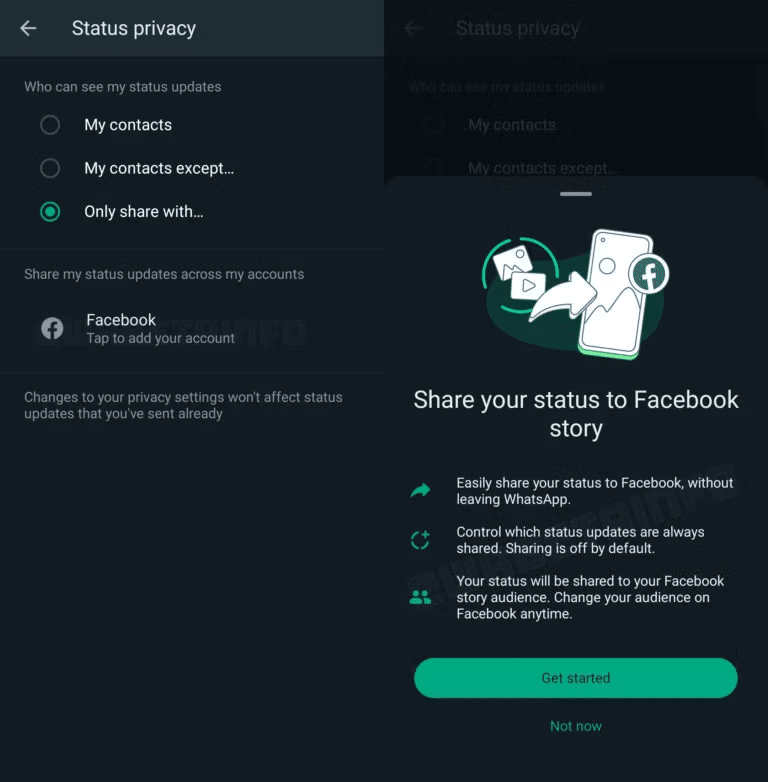 By default, sharing your WhatsApp status updates on Facebook is turned off and the audience for your Facebook story is determined by your Facebook privacy settings, giving you control over who sees your status messages.
This allows users to keep their social networks separate if they choose to. However, users should review their Facebook privacy settings to ensure that their WhatsApp status messages are not being shared with unwanted viewers.
This latest feature update builds on the significant overhaul that WhatsApp status updates underwent in February 2021.
The update gave users more control over the privacy of their status updates and the ability to customize which contacts could see them. Other features added were the option to leave voice messages as status updates and for contacts to react to status messages.