In the dynamic landscape of transportation in Pakistan, a new player has emerged to revolutionize the way we commute. The Evee C1 is not just a vehicle; it is a statement of high-quality, reliability, and convenience tailored to meet a diverse range of needs. Let's delve into the specifications, features, and price structure of Evee C1.
Specifications & Features
Category
Specification/Feature
Dimensions
1860 x 780 x 1160 mm
Cargo Space
150 kg
Motor
1200w
Motor Magnet
Strong and reliable performance
Controller
12-tube vector controller for smooth and precise control
Tires
90/90-10 for excellent grip and handling
Brakes
Disc brakes for reliable stopping power
Suspension
Hydraulic shock absorbers for a smooth and comfortable ride
Battery
72V, 20ah dry acid battery
Charging Time
Approximately 5-6 hours
Range
65 km on a single charge
Max Speed
55 km/h
Loading Capacity
150 kg
Colors
Midnight Blue, Ruby Red, Ivory White
Features
· Anti-theft alarm
· Front LED headlight
· 1/2/3 shift gear speed modes
· Reverse running system
· One-button repair
· Remote key
· Passenger footrest
· Tubeless tires
· Dimmer light
· Foot mat
Dimensions and Cargo Space
The Evee C1 boasts an overall size of 1860 x 780 x 1160 mm, striking the perfect balance between compactness and spaciousness. Its design allows for easy maneuverability while ensuring ample space for passengers and an impressive 150 kg cargo capacity. This makes it an ideal choice for both personal and commercial use.
1200w Motor
Under the hood, the Evee C1 packs a powerful punch with its 1200w motor. This motor not only delivers ample power but also ensures a smooth and efficient ride. The motor magnet further enhances performance, providing a strong and reliable driving experience.
Features
The Evee C1 is not just about getting from one point to another. It is about making the journey enjoyable and convenient. It is packed with features like an anti-theft alarm, front LED headlight, 1/2/3 shift gear speed modes, reverse running system, one-button repair, remote key, passenger footrest, tubeless tires, dimmer light, foot mat, and the latest technology, every ride is a delight.
Precision in Control
Controlling the Evee C1 is a breeze, due to its 12-tube vector controller. This advanced controller ensures smooth and precise control of the motor, enhancing the overall driving experience.
Comfort Meets the Road
Evee C1 is equipped with 90/90-10 tires. It ensures excellent grip and handling on various terrains. The disc brakes provide reliable stopping power, ensuring safety on the road. The hydraulic shock absorbers contribute to a smooth and comfortable ride, making every journey a pleasure.
Battery
Evee C1 contains 72V, 20 AH Dry Acid battery. Charging takes approximately 5 to 6 hours, offering the convenience of quick turnaround times. It has a range of 65 km on a single charge and a maximum speed of 55 km/h. The Evee C1 is ready to tackle the demands of a full day's travel.
Loading Capacity
Need to transport cargo? The Evee C1 has you covered with its impressive loading capacity of 150 kg. Whether it is goods for delivery or luggage for a trip, the evee C1 ensures you can carry what you need without compromising on performance.
Color
The Evee C1 not only offers performance but also lets you express your style. You can choose from three distinct colors that reflect your personality-Midnight Blue, Ruby Red, and Ivory White. Each color adds a touch of individuality to your ride, making the Evee C1 as stylish as it is practical.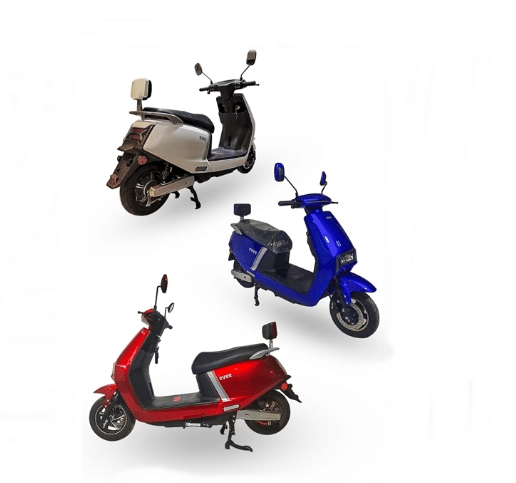 Price in Pakistan
The most appealing aspect of the Evee C1 is its price point. It is priced at just Rs. 195,000, the scooter provides an affordable alternative to traditional petrol-driven vehicles. This is a notable move, especially when other vehicles in the market are experiencing significant price hikes.
Evee C1 Price in Pakistan
Price
195,000 PKR
In conclusion, the Evee C1 is not just a vehicle; it is a comprehensive solution to the evolving transportation needs in Pakistan. Its compact design, powerful motor, rich features, and stylish colors make it a versatile choice for individuals and businesses alike. As we move towards a future of sustainable and efficient transportation, the evee C1 stands at the forefront, ready to redefine mobility in Pakistan.