Honda needs no sugar coating when talking about its automobiles and commercially successful vehicles. It has made its name on the top auto manufacturing companies globally. Honda's new Vezel has so much to offer if you're looking for an all-in-one car. Honda has proved itself multiple times in the market and has proved to be a reliable and efficient solution for your concerns for a nice d smart car.
Honda Vezel 2023
Honda added a few modifications in its Vezel Hybrid 2018 to 2023. A prominent frontal grille accompanies a giant honda logo on the car's exterior. It comes with some more prominent fog lamps and comparatively bigger LED headlamps. Honda has added a few modifications to the bumper design of the car as well.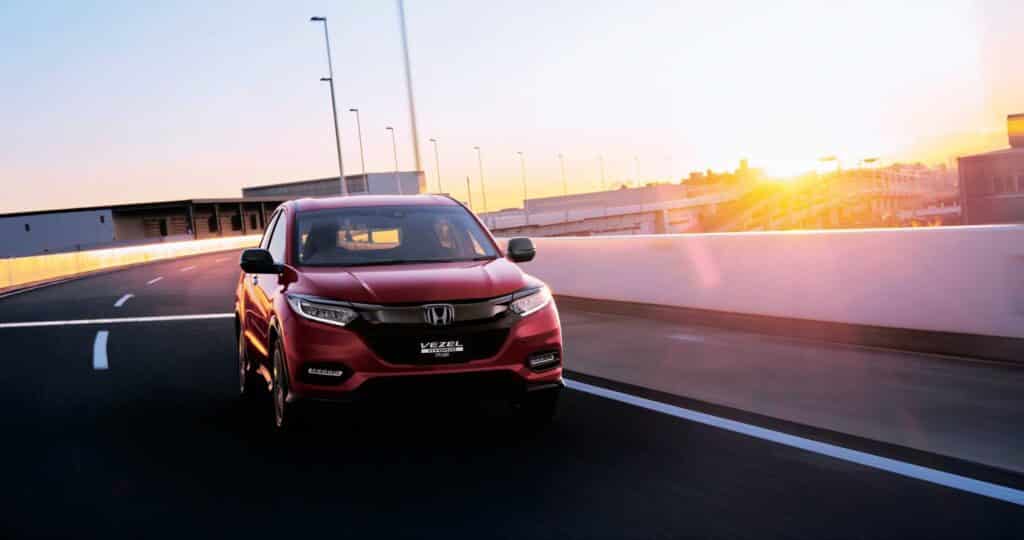 Variants
Honda Vezel has these variants; some are mentioned below.
Honsa Vezel G
Honda Vezel hybrid X
Honda Vezel hybrid RS honda Sensing
Honda Vezel hybrid X L package
Honda Vezel X
Honda Vezel Z
Honda Vezel S
Honda Vezel Exterior
Vezel 2023 comes with a fantastic facelift feature. Its exterior has a prolific feature called Honda Sensing. Honda Sensing helps drivers and passengers with a Safety feature and allows riders a couple of safety alerts that could be easily missed without this feature.
It also has a couple of driver-assistive technology setups to make sure the driver is attentive and consistent. Honda Sensing comes with several fantastic safety features and modifications, e.g., ACC control, low speed and lane-keeping assistant, road departure mitigating setup, collision mitigation brake setup.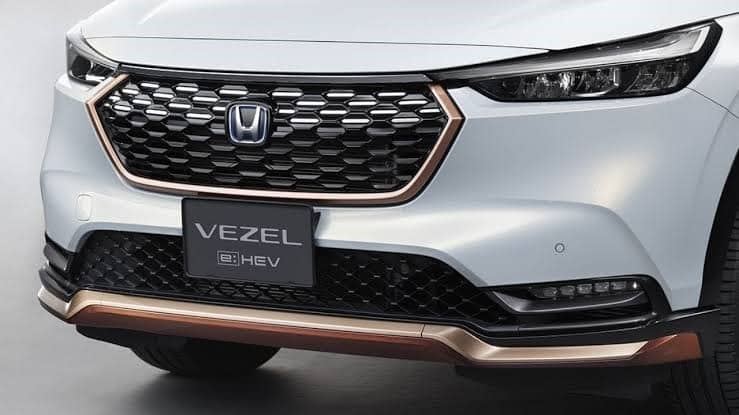 Honda Vezel Interior
Vezel 2023 Hybrid comes with a freshly modified and up-to-date infotainment setup. Apple car play and Android is compatible with it; along comes that there is a leather-trimmed car seating setup, and these features are not complete without the push stop and start part, climate controlled setup, tire monitoring setup, Bluetooth connection setup. There is a perfect space for the rear and front passengers in the Honda Vezel hybrid. It has ample cargo space, and alongside, it comes with foldable seats to make cargo space more spacious.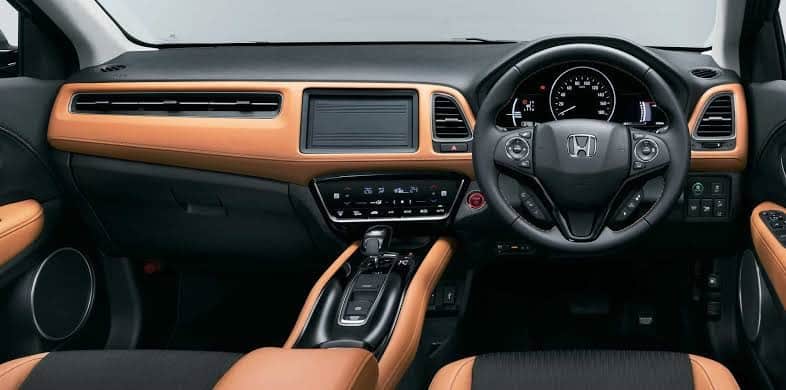 Honda Vezel Hybrid Engine
Honda has made its new Vezel a hybrid car like Honda's previous variants. Honda has launched its Vezel 2023 hybrid in Asia after its success in Japan under the title (HR V).
It has an I VTEC 1.5 litres engine (hybrid)
Like its precursor, Honda Vezel 2023 is also a hybrid car. After its release in Japan, the car is also launched in ASIA under Honda HR-V.
Honda Vezel is available with 1.5-litre petrol I VTEC and 1.5-liter i-VTEC hybrid engines driven from previous precursors. In the Honda Vezel hybrid, the brand has made the brakes smooth, and the sporty hybrid I set up retuned. With this, drivers can get a highly responsive acceleration feature.
The Honda Vezel hybrid comes with a vibration-damping material in the petrol variant. Honda has designed the fuel pump leading to a quieter cabin. They have improved the cam chain friction problem that helps get an enhanced fuel economy leading from 20. 6 kilometres per litre to 21.2 kilometres per litres.
The hybrid specification includes a 4WD setup that helps passengers get an excellent riding experience on slippery roads or even on steep hills.
General Specifications
Honda Vezel has a bunch of other specifications that are mentioned above. Some of the Honda Vezel hybrid specifications are discussed below.
Five person seating setup
Automatic CVT
Gearbox setup
Steering setup
Electronic powerful steering
Seven-speed dual-clutch
130 hp valves 1499 cc (DHOC 16)
Leather seats
Powerful speakers
Large fog lights
Equipped with Honda Sensing feature
Gps setup incorporated
Honda Vezel 2023 Price in Pakistan
Honda Vezel 2023 Hybrid price in Pakistan is PKR 4,200,000/-
The price of the Honda Vezel hybrid is significantly moderate and affordable for individuals looking for a nice modern designed car with quality features and functions.
Conclusion
Honda Vezel 2023 has many specifications for its fuel, brake, tire, interior, and exterior setups. It is a modern car equipped and integrated with several quality features, functions, and modifications. It has been incorporated with Honda Sensing features which provide maximum Safty for riders and the car itself.
Vezelis an excellent car with nice fuel mileage, exterior, and interior. Its price in Pakistan is affordable and worth the features it is offering. When opting for good commercially successful vehicles, one must include the car in his checklist.