In Pakistan, MG ZS EV 2023 is a 5-seater electrical SUV with a single-speed automatic car and all-wheel drive. A single electric motor powers it. The MG ZS EV is 4314 mm long, 1620 mm tall, and 1809 mm wide. The length of the wheelbase measures 114.2 inches. 1532 kg is the Kerb Weight. MG ZS EV price in Pakistan 2023 is mentioned in the article below.
MG ZS EV Car
Morris Garages (MG) is a British car brand launched in different countries of the world like the UK, China, and India. Javed Afridi, the owner of the JW Auto Park Pakistan, will bring the MG cars in Pakistan. They are not importing these cars from the UK but are importing through China motor companies.
Exterior
This car's appearance is also really luxurious, making it appear amazing while driving on the road. This car will undoubtedly attract car enthusiasts after its launch, and it will also give other Pakistani car makers a run for their money.
The front grille, often known as the Galaxy Grille, is quite large and features MG badging in the center. The car's charging documentation is located under this logo, which may be accessed by pressing it. A splitter with air vents is also included in the front bumper, which plays an important part in the aerodynamics of the ZS EV. These vents also assist in maintaining the electric motor cool.
It has 17-inch alloy wheels, which resemble Dutch windmills in design. It also has Michelin tires on it. The car's side features two grey-colored lines, one on top and one in the lower part. Meanwhile, the door handles are chromed, and the side-view mirrors are body-colored.
Interior
The interior of this vehicle is best according to the shape and specs, making it a complete luxury automobile at such a low price compared to other well-known car companies in Pakistan, which offer the car at similar price ranges with fewer features and specifications.
The MG ZS EV 2023 offers keyless entry. The front and back seats feature plenty of leg and headroom, as well as excellent entry/exit space. Furthermore, the driver's seat is motorized and may be adjusted to your preference.
Two adults, one and a minor, can comfortably sit in the back seats for a short trip, whereas two passengers can comfortably sit in the front seats for longer trips. Seat Belts have also been added in the backseats and a child ISOFIX seating option.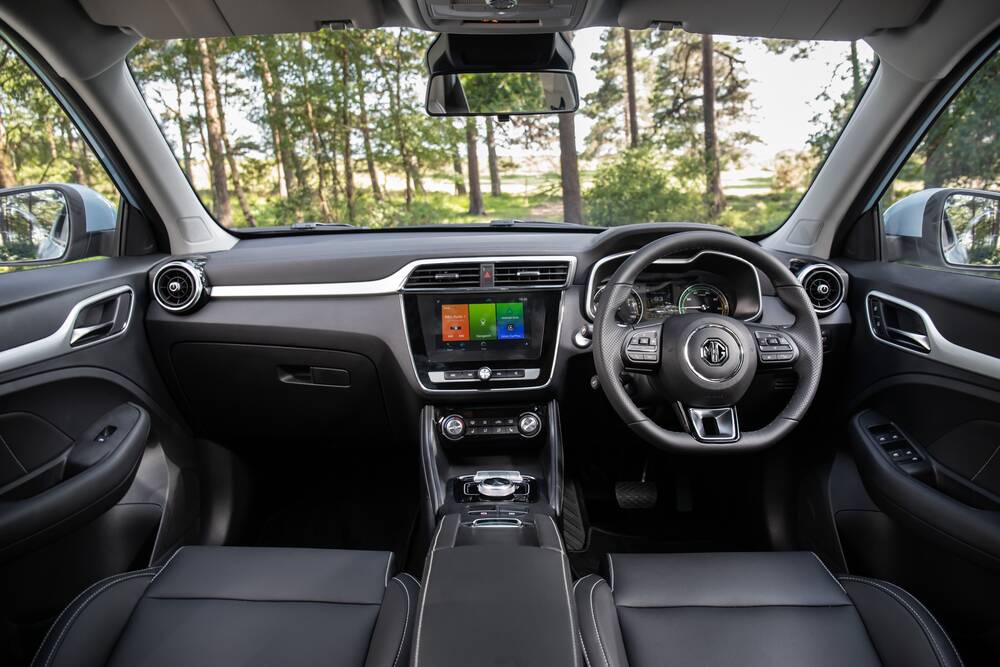 Charger
This car may be charged both at home and in a commercial setting. This automobile can be fully charged in 1 hour 15 minutes at a commercial charging station. On the other hand, a single charge can set you back roughly Rs 950-1,000. But on the other hand, a home charge will set you back roughly Rs500-600, but it will take around 9-10 hours to complete.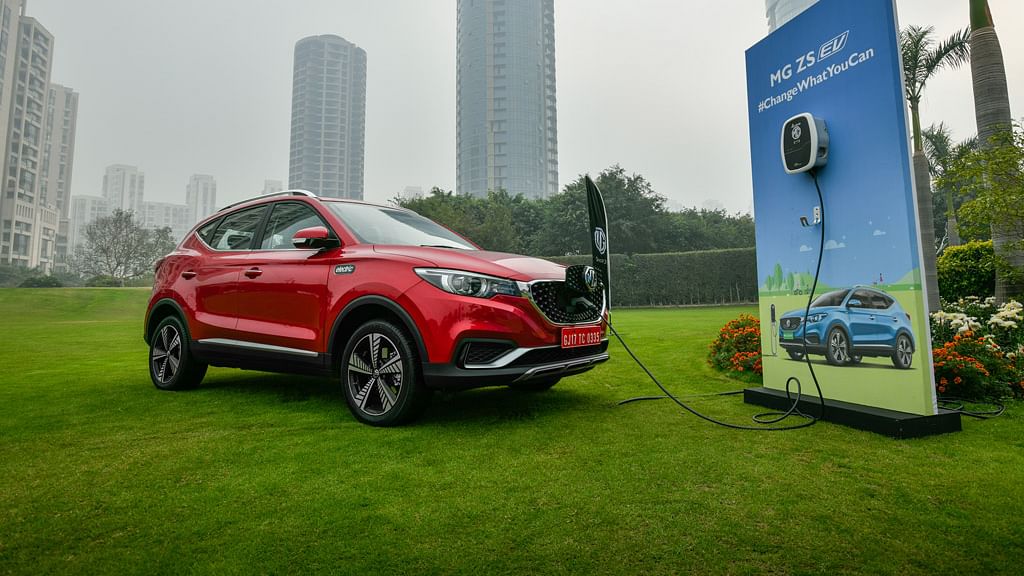 Charging Time
This automobile has a range of 340 kilometers on a single charge. However, it depends on your driving behavior, such as which functions you use or whether devices, such as the air conditioner, are turned on. The range of this car is between 250 and 340 kilometers when driven with the air conditioner on at full throttle.
As a result, its per-kilometer cost is Rs 2-4, which is significantly less than the cost of petrol or diesel cars. Another thing to take into consideration is indeed the charging time. If charging takes less than an hour from 0 to 80%, the automobile has a good electric motor and batteries. The ZS EV has an 0-80% charging time of under 40 minutes, which is great.
Specifications
MG ZS EV Car is an electric car, and it has a lot of new features according to its new charging option, as it is charged at home and commercial stations. Its other specifications are shown below:
| | |
| --- | --- |
| Body Type | An SUV Car |
| Engine type | Electric |
| Transmission Type | Automatic |
| Length | 4314 mm |
| Fuel tank capacity | 45 kWh |
| Anti-Lock braking System | Available |
| Seating capacity | 5 Seats |
| Height | 1620 mm |
| Width | 1809mm |
| Front and Rear Brake | Disc |
| Total weight | 1532 kg |
| Charging time | 6-8 hours |
| Top Speed of Car | 140 kmph |
| Battery capacity | 44.5 kWh |
Range
You'll have actual electric acceleration and a driving car range of up to 320 kilometers on a single charge, thanks to a 44.5kWh water-cooled lithium-ion battery that delivers 353Nm of immediate torque and 105kW of power.
Boot Capacity
The car does not have an autostart feature; instead, you must press the MG emblem at the back to start it. You can fit 2-3 large luggage bags in the car's boot. The rear seats may be folded to expand the cargo capacity. An Emergency Kit and a Home Charger are also included in the trunk.
Colors
The electric SUV's exterior color possibilities have been revealed, and the MG ZS EV will indeed be available in four different colors in 2023. Red, blue, and white are the colors of the current version. Red, white, silver, and grey will be available for the upgraded ZS EV.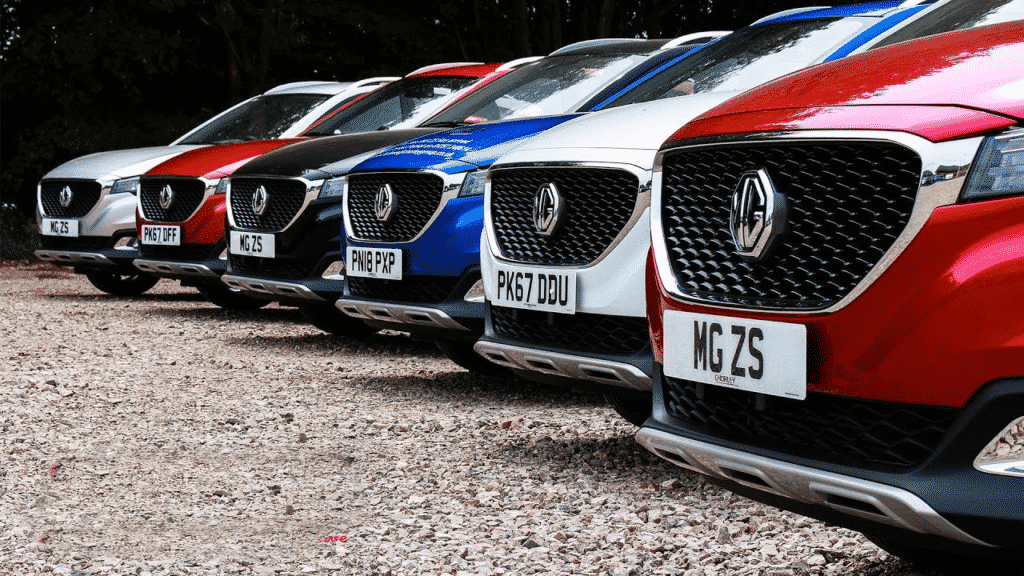 Safety Features
Excite EV models come with a Lane Detection, Front-Collision Warning alarm, updated auto stop/go, adaptive cruise and speeds limited assistance, and traffic jam help brakes accelerate and steer in the line.
Performance
The ZS EV sprints from 0 to 62 miles per hour in 8.2 seconds, with a top speed of 87 miles per hour, making it unsuitable for lengthy road trips — higher-speed cruising necessitates considerable planning, not to mention faster drives that consume the car's battery considerably faster than urban driving.
Features
The most thrilling part of this car is its driving experience, enhanced by its 44.5Kw electric motor, which produces 147hp and 350Nm torque. The car's power, which you can feel directly after the first acceleration, is the most important component of its drive. The EV has a strong push, and it accelerates quickly and quietly. Some other features are as follows:
The automobile owner must drive it carefully and adjust to its power, while it appears to be similar to other cars.
It is vastly different in terms of power and acceleration.
Furthermore, you must drive it cautiously because it approaches people/traffic crossing the road faster than other vehicles, potentially causing accidents.
As a result, you must acclimatize to its power as well as acceleration. Finally, cars that run on regular gasoline make noise.
Other features
Some of the other important features of MG ZS EV 2023 are shown below:
LED Headlights with Two Functions
Rear Parking Sensors Fog Lights
Aero Wipers in the Front and Back
Speed Limiter and Cruise Control
A total of six airbags
Tyre Pressure Monitoring System on the Panoramic Sky Roof (TPMS)
Infotainment System with 10.1″ Display
Diamond-Cut Alloy Wheels, 17″
MG ZS EV Competitors
This car has some competitors, such as Tata Nexton EV Hyundai Kona Electric. Both of these cars are electric. The Tata Nexon EV is the smallest SUV here, but it has a price premium over the other two by several lakhs. The Hyundai Kona Electric is a smart and unique take on the electric SUV's opposite end of the price spectrum.
Then there's the MG ZS EV 2023, which is the largest of the three models and, in true MG fashion, comes with tons of features.
MG ZS EV Launch date
MG ZS EV 2023 is also launched in Pakistan. It was said that the MG ZS EV car would be available in Pakistan in December 2020. However, due to the COVID-19 lockdown, the export of this car has been halted, but it was expected to be released after January 10th, 2023.
MG ZS EV 2023 Price in Pakistan
MG ZS EV 2023 is an electric car sold in Pakistan after being imported from China, as it was manufactured in the UK. Javed Afridi in Pakistan imported this electric car from China.
The price in Pakistan of MG ZS EV 2023 is expected to be PKR 6,250,000 Different websites and places have different price ranges as it is imported from China.
Conclusion
This MG ZS EV 2023 car is well equipped and has plenty of interior room, but its handling is a little harsh, and it's not very comfortable to drive for long distances. On the other hand, long-term thinking is important, and ZS EV is expected to decline quicker than its competitors. MG ZS EV 2023 is an electric car imported from China, and its price is being mentioned in this article in detail.