October 12, HY SOLAR held the HT Module Product Launch Party in Islamabad, Pakistan. More than 260 people, including Mr. Tauseef, former chairman of NEPRA, Mr. Nisar, chairman of REAP, local PV head distributors, EPC and other corporate executives came to the scene to witness the release of two high-efficiency N-type TOPCon bifacial module products together with Jane Dong, HY SOLAR Overseas Sales President and Saad Ahmed, Country Director Pakistan.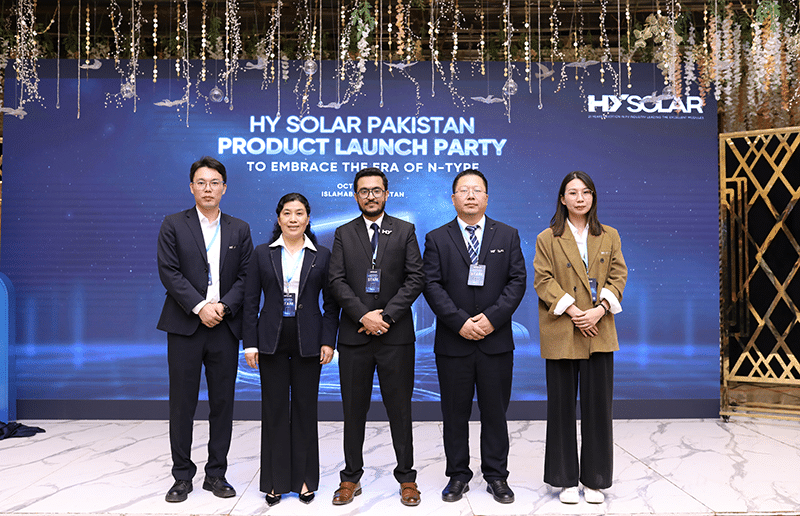 Outstanding performance HT series modules were first released in Pakistan!
At the launch party, HY SOLAR released two high-efficiency module products of HT series N-type TOPCon with 72 and 78 pcs, with output power of 575W and 630W respectively, leading the industry with excellent power generation performance. The product adopts a double-glass and bifacial design, and the module back side could provide additional power generation gain to the system through light reflection from floor/roof. At the same time, the N-type TOPCon cells produced by HY SOLAR have a high bifaciality up to 85%, which adds a "high-energy blessing" to the "high-performance N-type module".
The power range of the products released on site meets the local needs of Pakistan, and can be widely applied to distributed and large-scale ground power stations and other application scenarios to meet the diverse needs of local customers.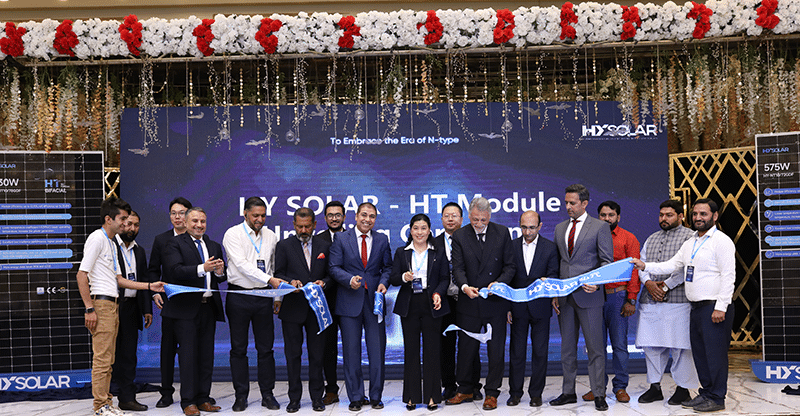 Saad Ahmed, Country Director for Pakistan, delivered a comprehensive presentation on HY SOLAR's cell technology, the inherent benefits of their module products, and the technical roadmap embraced by HY SOLAR. During his address, he underscored the company's unwavering commitment to stringent production line management and control, with a steadfast dedication to prioritizing product quality. Additionally, he shared empirical data highlighting the performance of HY SOLAR's HT modules and engaged in discussions with prominent industry figures, demonstrating HY SOLAR's robust product offerings and its vision for the Pakistani market.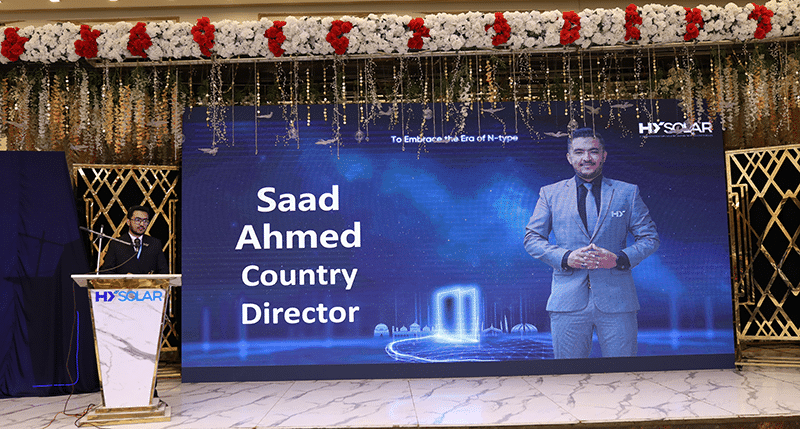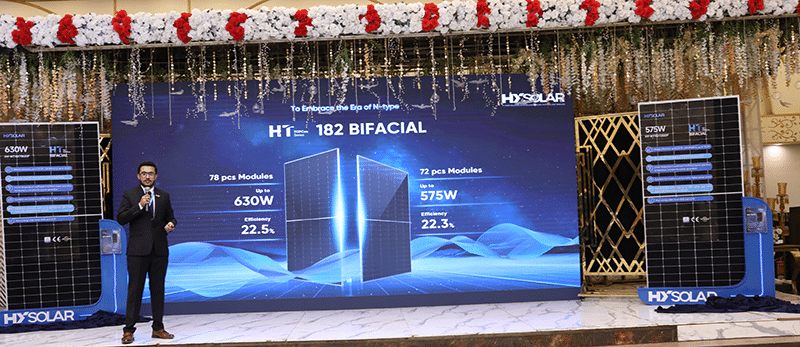 Xia Yunlong, Director of Product Management and Technical Support of HY SOLAR, gave a detailed interpretation of HY SOLAR cell technology, advantages of module products and technical roadmap adopted by HY SOLAR, and emphasized that HY SOLAR always adheres to strict production line management and control to ensure product "Quality First". He shared the empirical data of HY SOLAR HT modules, and spoke with authoritative figures to show the strong product strength of HY SOLAR.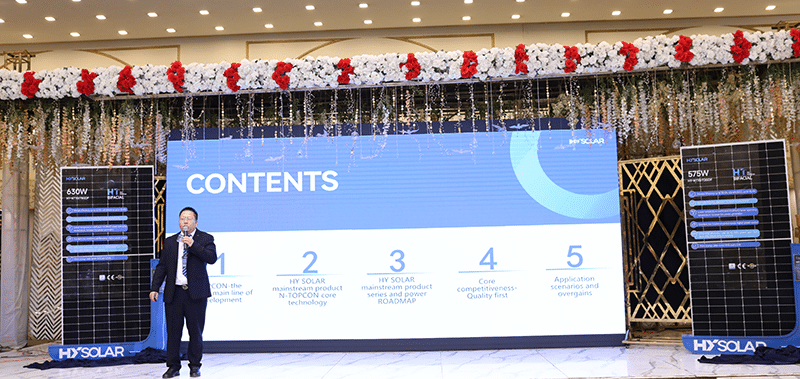 Seek sustainable development and lighting up business map
Mr. Tauseef, former Chairman of NEPRA, and Mr. Nisar, Chairman of REAP, attended the conference and welcomed HY SOLAR's entry into the Pakistani market and win-win cooperation with local enterprises.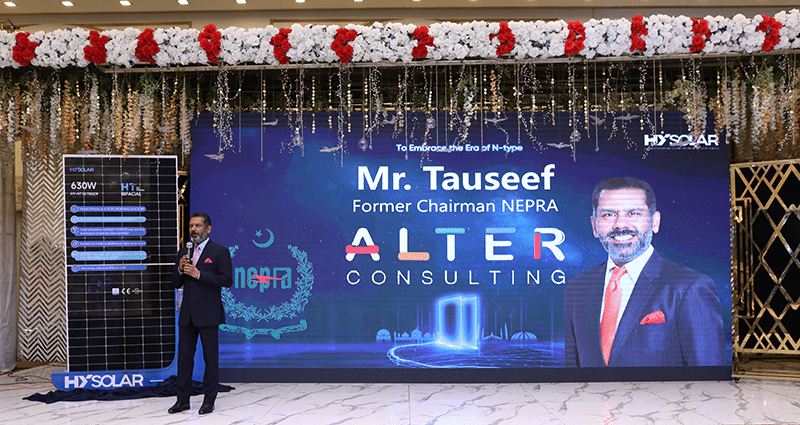 Mr. Nisar, Chairman of REAP Association, pointed out that Pakistan, as a fast-growing photovoltaic market, has an urgent need for energy transformation and frequent government incentive policies. The new installed capacity of Pakistan is about 2.2GW in 2022, and Pakistan plans to increase the share of domestic renewable energy to 30% by 2030, which also means broad prospects for the development of the photovoltaic industry.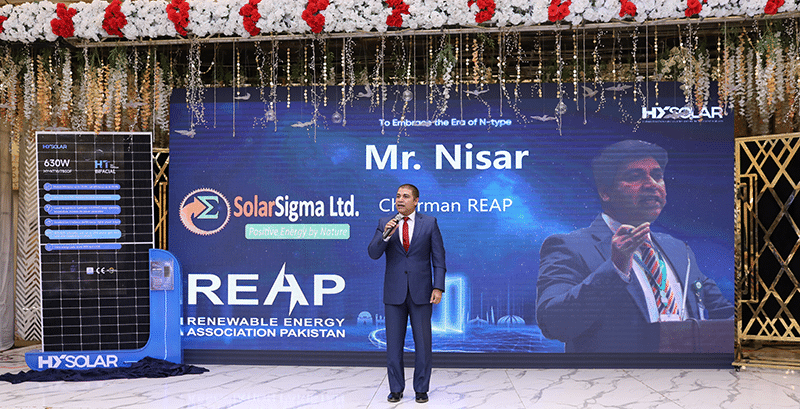 Additionally, Mr. Dave, CEO Global industry Suppliers said that Pakistan is also welcomes to cooperate with HY SOLAR, which has strong manufacturing genes, and seeks cooperation opportunities in trade and investment to learn from each other's strengths. Mr. Hussain Ibrahim, General manager, Global industry Supplier, HY SOLAR is expected to form a win-win cooperation model with local photovoltaic enterprises to promote the further development of local green industry.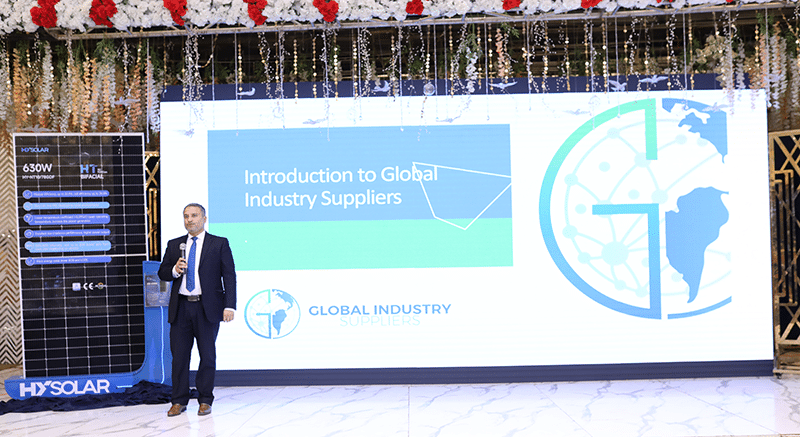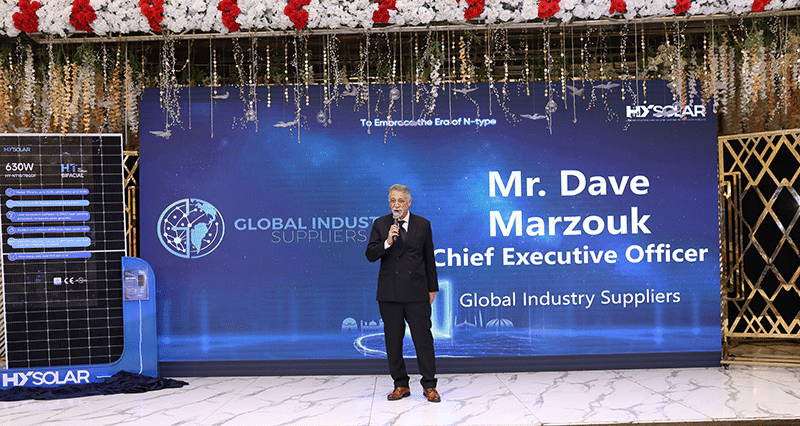 Jane said that HY SOLAR, as a Global Green Energy Industry Eco-Integrator, has core competitiveness in raw material quality selection, delivery guarantee and product performance relying on the strong advantages of N-type whole industrial chain. With the continuous development of HY SOLAR's global service network, HY SOLAR sincerely establishes long-term and close cooperative relationships with high-quality Pakistani partners to bring efficient energy solutions to Pakistan and help realize energy transformation.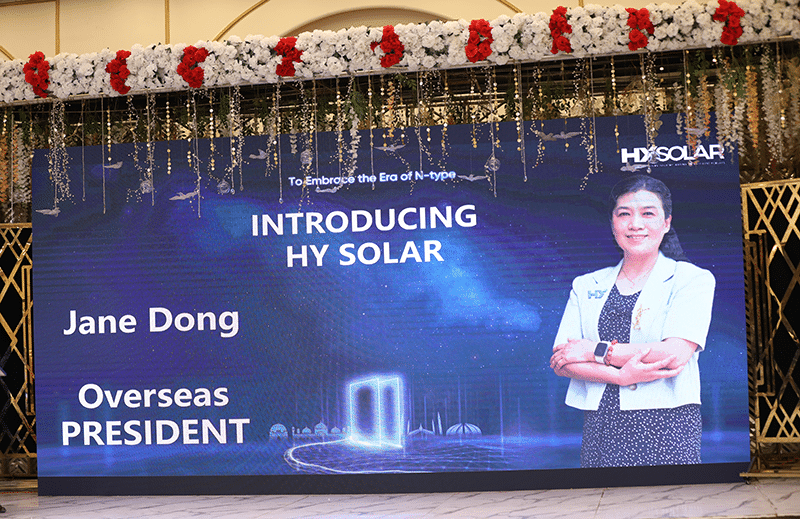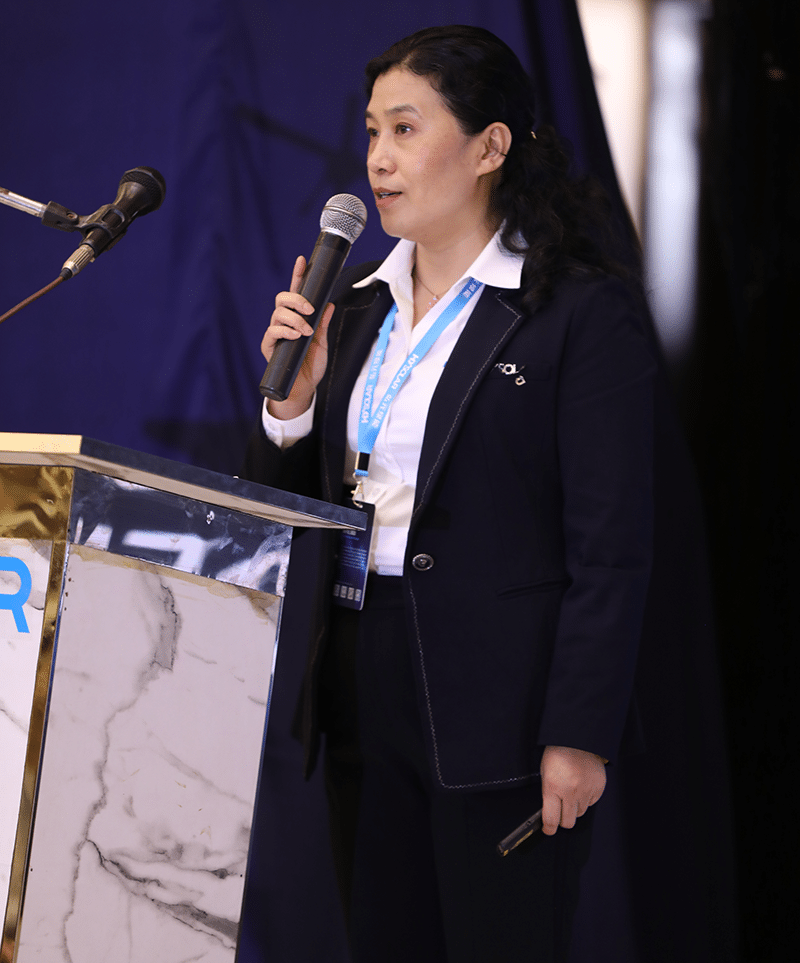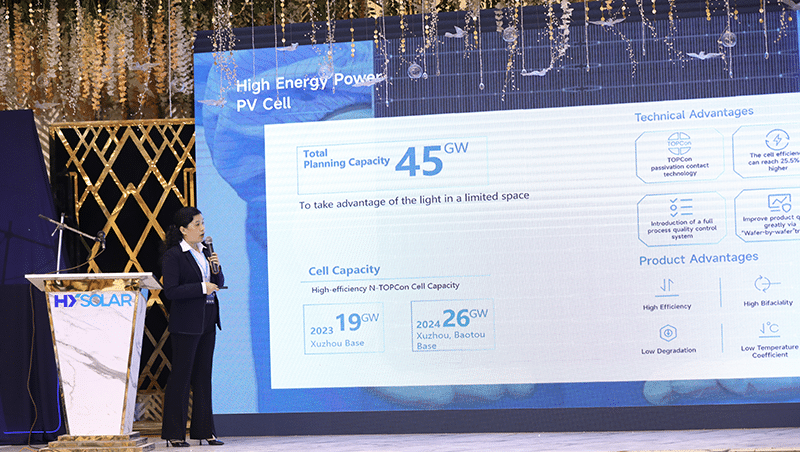 In addition, during the launch party, HY SOLAR granted Sustainability Partnership Awards to a number of established local distributors to seek a green and win-win future, and announced the booking of local stock is open now.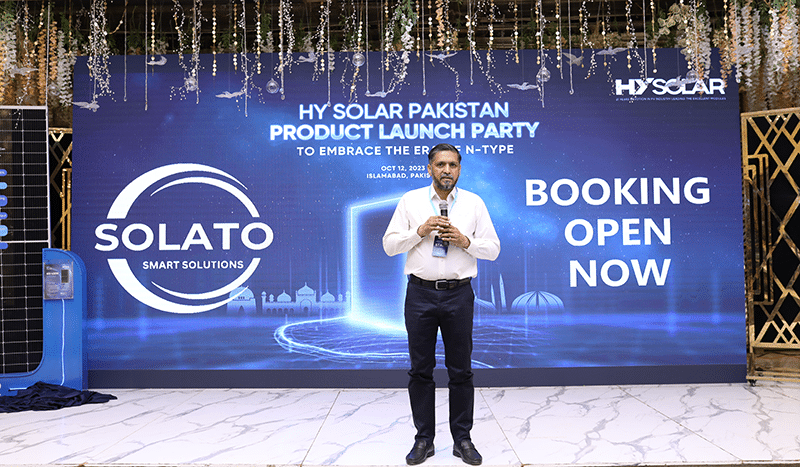 Participants expressed high recognition for HY SOLAR brand and the quality of our module products, and eagerly looked forward to working with HY SOLAR to jointly create a zero-carbon future for Pakistan. During the party, HY SOLAR reached cooperation with head distributors in Pakistan and signed a memorandum of understanding for a total volume of 100MW PV modules.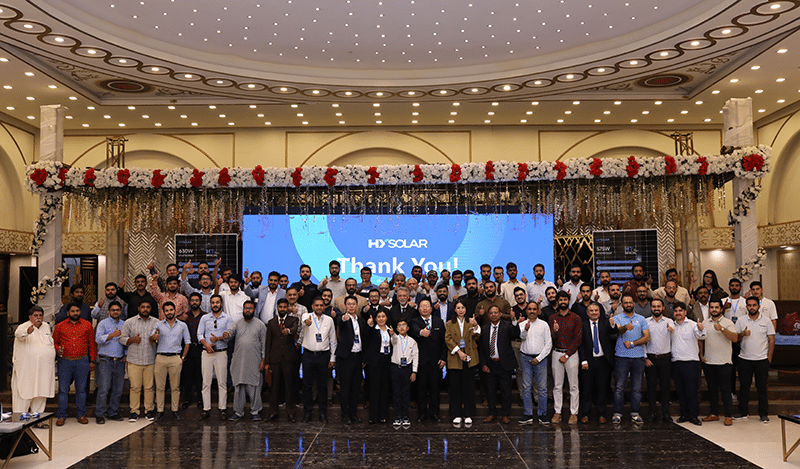 HY SOLAR will continue to be committed to the development of efficient and reliable module products. At the same time, HY SOLAR looks forward to establishing strong cooperative relationships with more partners around the world to jointly promote the implementation of high-quality projects and further expand HY SOLAR's influence in Pakistan and the world.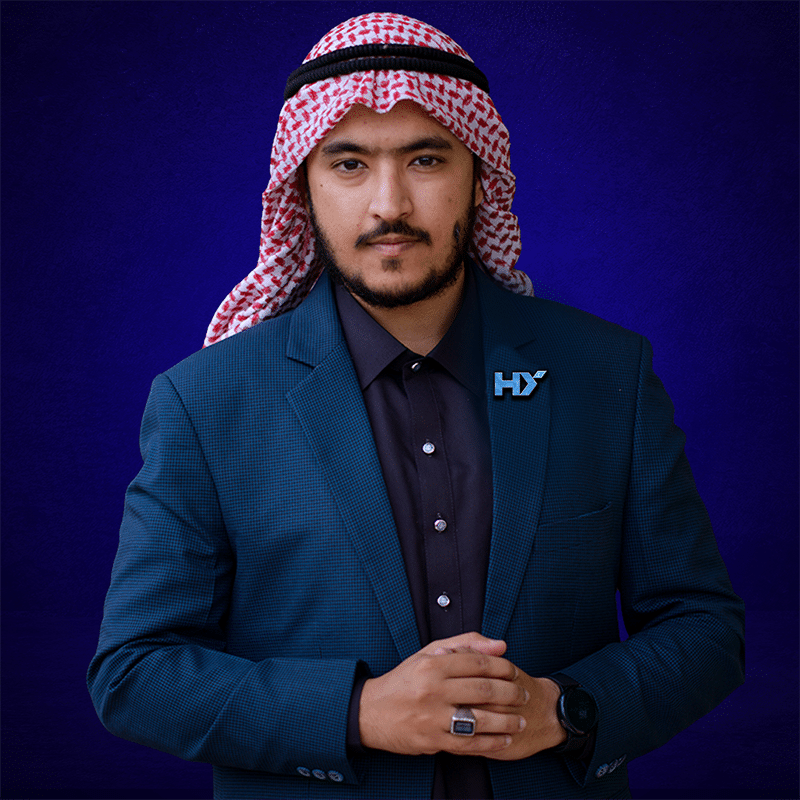 1. Can you provide an overview of HY SOLAR's involvement in the Pakistani solar energy market, including the duration of your presence and the scale of your operations?
HY SOLAR was founded in 2002, with our headquarter in Wuxi City, Jiangsu Province. We are committed to becoming a Global Green Energy Industry Eco-integrator, and currently we have well-established in business industries, and the 5 manufacturing bases, 2 global marketing centers have fully ensured the efficient linkage of the entire process from PV equipment manufacturing, metallurgical-grade silicon and crystalline silicon, PV wafers, N-type PV cells and N-type PV modules, power station development and service, building a eco-system of N-type PV industry and making each kilowatt-hour electricity cleaner.
Relying on our Group's N-type PV industry vertical-integration strategy, we are committed to providing global clients with efficient module-product solutions applicable for diverse scenarios.
HY SOLAR, a leading high-efficiency module manufacturer, has taken a significant step forward in advancing solar energy solutions by signing Memorandums of Understanding (MOUs) with two prominent entities in Pakistan—Green Light Solar and Solato.
2. Can you discuss any partnerships or collaborations that HY SOLAR has formed with local organizations or authorities in Pakistan to advance solar technology and promote renewable energy solutions?
The first MoU signed during the Solar Pakistan 2023 marked the beginning of a strategic partnership between HY SOLAR and Greenlight Solar. This collaboration aims to bring about a profound impact on the solar energy landscape in the Middle East and Pakistan. Greenlight Solar, known for its expertise and reach in the region, is an ideal partner for HY SOLAR's ambitious goals.
Under this MoU, HY SOLAR and Greenlight Solar will work hand in hand to expand the presence of HY modules throughout the Middle East and Pakistan. This expansion not only strengthens HY SOLAR's foothold in the region but also contributes significantly to the global transition toward sustainable energy solutions.
The strategic partnership encompasses a shared commitment to harnessing solar power to meet the increasing energy demands in the Middle East and Pakistan, ensuring a greener and more sustainable future for the region's communities.
Distribution Collaboration with Solato
The second 50MW MoU inked by HY SOLAR was with Solato, marking a crucial collaboration in the distribution of solar products within Pakistan. This agreement underscores HY SOLAR's dedication to making high-quality solar modules easily accessible to the local market.
Solato, a reputable distribution partner with a strong presence in Pakistan, will play a pivotal role in ensuring the seamless distribution of HY SOLAR's TOPCon solar modules across the country. This collaboration aims to meet the growing demand for clean and reliable energy solutions in Pakistan, contributing to the nation's energy sustainability goals.
3. Are there any plans to localize manufacturing or production of solar components in Pakistan, and how would this impact the affordability and accessibility of solar energy for Pakistani consumers?
HY SOLAR will plan to consider  localizing manufacturing or production of solar modules in Pakistan hold great potential for the affordability and accessibility of solar energy in the country. Localized production can lead to cost savings, reduced import dependencies, and the creation of jobs within Pakistan's solar industry. This, in turn, can make solar energy solutions more accessible and cost-effective for Pakistani consumers, further accelerating the adoption of renewable energy.
4. Looking ahead, what are HY SOLAR's specific goals and strategies for further expanding its presence and impact in the Pakistani solar energy market?
Looking ahead, HY SOLAR's specific goals for expanding its presence and impact in the Pakistani solar energy market likely include adding the transit warehouse to increase the module stocking inventory, and enhancing the quality of its products and services. Strategies may involve continued investment in the development on the construction of distributors and installers, building stronger local partnerships, and participating in government initiatives that promote renewable energy adoption.
Additionally, HY SOLAR may aim to broaden its portfolio of solar solutions to cater to diverse consumer needs and preferences. This could involve the development of tailored solutions for residential, commercial, and industrial sectors, as well as the exploration of emerging technologies in the solar industry.