Multinet Pakistan, a leading Telecommunication and Information Technology Service provider, has signed an MOU to forge a strategic partnership with the Pakistan Software Houses Association (P@SHA), aimed at providing members of the association with MyCloud's enterprise-ready onshore Cloud, Information Security and Connectivity portfolio. The agreement is expected to pave the way for premium Cloud computing, Security and Connectivity Solutions for P@SHA's extensive network of IT and Software Companies.
P@SHA, a prominent industry body representing Pakistan's Software and IT Services sector, has been at the forefront of promoting technological innovation and collaboration within the industry. With Multinet Pakistan joining hands with P@SHA, its members can now benefit from preferential tariff packages designed to cater to the specific needs of the IT sector.
The membership benefit agreement was inked during a signing ceremony held at P@SHA office in Karachi. Representatives from both organizations expressed enthusiasm for the collaborative effort and the potential it holds for the local tech ecosystem.
P@SHA members can avail special tariff all year round with their membership ID number. Not only this, if members' signup a yearly contract with Multinet Pakistan for its products and services, they can avail last 2 months absolutely free.
Mr. Adnan H. Zaidi, CEO of Multinet Pakistan, highlighted the significance of the partnership in a statement; "We are excited to align our resources and expertise with P@SHA, an organization that shares our commitment to driving technological progress in Pakistan. By offering exclusive tariff plans to P@SHA members, we aim to empower IT companies with seamless and reliable Technology and Communication Services, ultimately contributing to their growth and success."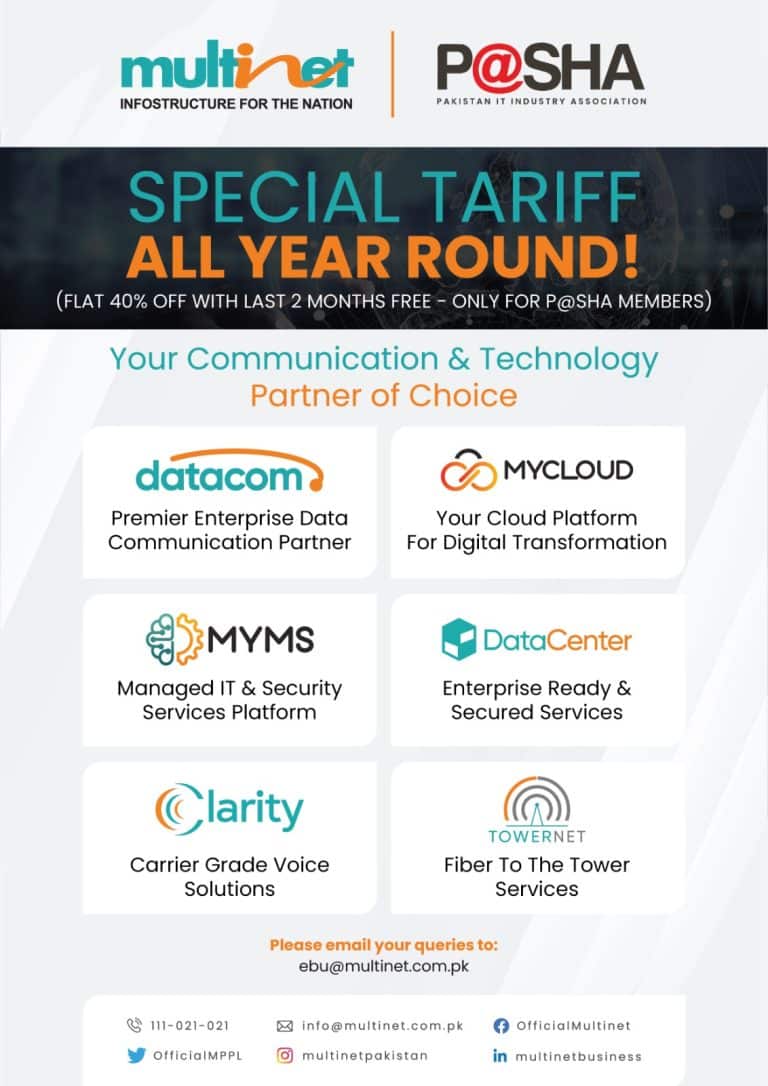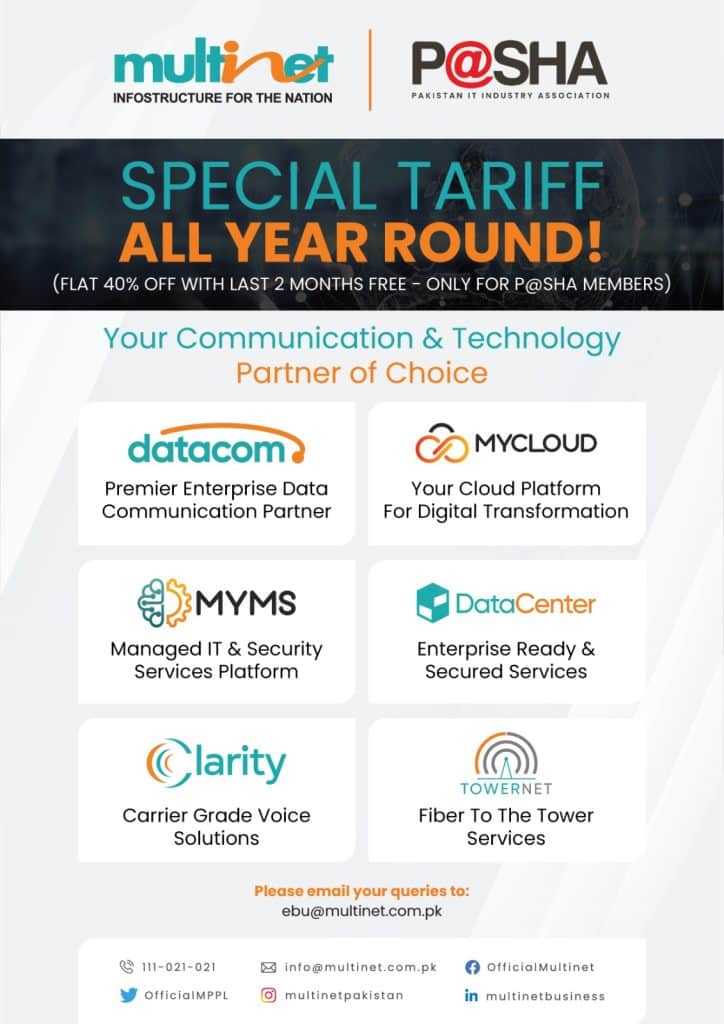 Mr. Muhammad Zohaib Khan, Chairman of P@SHA, echoed these sentiments, stating; "Our partnership with Multinet Pakistan opens up a new avenue of support for our member companies. In today's digital age, efficient and dependable communication infrastructure is crucial for software development firms. Through this agreement, P@SHA members will gain access to advanced Technology and Connectivity Solutions that can enhance their operational efficiency and competitiveness."
Under the terms of the agreement, P@SHA members will have access to a range of special tariff plans, including MyCloud, Infotech enabled services, high-speed internet services, dedicated bandwidth options, and data connectivity solutions. These offerings are anticipated to empower IT companies to seamlessly collaborate, innovate, and scale their operations.
This collaboration reflects Multinet Pakistan's commitment to serving diverse sectors of the economy with cutting-edge Technology and Connectivity Solutions. As a pioneer in the Telecommunications and IT industry, Multinet Pakistan has consistently strived to facilitate digital transformation and enable businesses to achieve their objectives efficiently.
The MOU signing between Multinet Pakistan and P@SHA comes at a time when Pakistan's IT sector is rapidly evolving and gaining global recognition. This joint initiative is expected to contribute to the sector's growth trajectory by addressing critical communication infrastructure needs.
As Pakistan's IT landscape continues to flourish, initiatives like the one between Multinet Pakistan and P@SHA stand as a testament to the industry's collaborative spirit and dedication to driving innovation forward. This partnership not only strengthens ties within the tech community, but also positions both organizations as catalysts for the nation's technological advancement.