Pakistan's IT industry has been making leaps and bounds in the past year. With a total population of 76.38 million that actively uses internet in their daily lives, Pakistan has been able to get ranked among the top freelance markets as per Forbes Magazine.
Our IT field has experienced a growth rate of 47%, hereby, leading the race from tech giants like the Russia, India, and Bangladesh. The growth rate has highlighted the potential in the IT industry that is flourishing in our country.
Salsoft Technologies is one of the top IT companies of Pakistan whose contributions to the IT sector of Pakistan has led towards game-changing success rates.
Contribution of Salsoft in IT Exports of Pakistan:
Salsoft is an all-encompassing IT Company that was established 2 decades ago. It was the initial phase of IT industry in Pakistan when it was taking its first steps. Salsoft began as a software house; however, as per the PSEB- Pakistan Software Export Board) later it gained the recognition as one of the top and leading IT Exporters of Pakistan.
The company has also extended their services in different domains like in SMEs, large enterprises, and in other various Start-ups also. It all happened due to the company's highly professional teams of digital marketers, designers, programmers, brand ambassadors and others that have the specialized in different useful skills. Salsoft is competing and handling challenges at the utmost priority with determination and efficiency.
Salsoft Technologies is tremendously performing in the wide-range of various IT services like the web development, mobile application development, AI regarding different solutions as well as the augmented reality.
All-in-all, with their passion they are delivering the top-notch tech services. Salsoft has enabled its services to expand in other countries like UAE, England and USA. However, it has been recorded as a massive milestones in the growth of the company and its performance that started initially just as a software house but in almost 20 years have proved to be a successful IT contributor in Pakistan.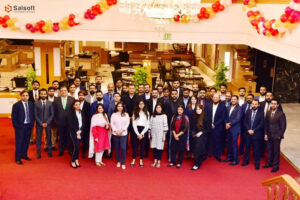 Head of HR, Mr. Atif Iqbal has stated that many IT companies gave high salaries and other benefits to their employees; but this is perhaps lacking the employees to grow more and learn. Meanwhile, he also stated that this growth thrives the professionals. However, the HR of Salsoft is highly concerned in every domain for their employees in terms of their salaries, growth and goal attainment. They also aim to develop cooperative environment where the workforce is easily able to excel at a fast pace.
Salsoft employees get a market competitive salary along with various skill-based and emotional training sessions that helps every individual to grow. This helps the employees in the career growth by further polishing their skillset in IT. The organization culture of innovation and creativity not only boosts the ability to work efficiently, but it also assists them in professional growth.
Sustainability of Salsoft is due to an essential reason that is they value their employees and have a high concern of rights of an individual. The company also enhances the well-being of their employees by providing flexibility in work.
Contributions of Salsoft Technologies during Pandemic
COVID-19 Pandemic has tremendously hit the economy of the country and the job seekers as well as the employed ones have suffered a lot due to this; meanwhile, Salsoft played a vital role and take the measures to support all working body of the organization. During pandemic Salsoft has hired 600 new employees and encourage their teams and workers to effectively work from home.
The company is determinant for its growth in the IT industry as it depends more on the environment and Salsoft's working environment is effective and flexible. Providing a safe workplace to employees where they feel encouraged and motivated to test their own limits helps them to come up with innovative ideas. A healthy work environment helps the employees to even grow and excel more by utilizing their skills and learn more that also leads the company to achieve its goals.
Setting standards for the IT industry:
Salsoft has immense pride because their workforce has participated in many impressive projects. The company has intends on becoming an opportunity provider for many where all working bodies are given a top-quality environments. Digital solutions are also provided to them in the organization.
The skillset provided to the employees and allowing them to utilize their skills has made the company grow. The innovation in IT recognized from Silicon Valley has also highlighted the potential ideas for company to grow more and contribute to the economy of Pakistan.