Success is a contagious habit while recognition breeds continuous achievement and growth. This has been the story of The Superior Group.
On Thursday, the South Asian Partnership Summit (SAPS) honoured Rector, Superior University, Prof. Dr. Sumaira Rehman with South Asia's Top 100 Power Women Award at the 6th Business Excellence Awards 2022 in recognition of her relentless efforts toward making a lasting socioeconomic impact by introducing a revolutionary entrepreneurial approach to education and facilitation of self-sufficient and progressive communities. The prestigious awards consider thousands of candidates and organisations from the eight (8) representative countries to select the most credible and the best candidate who has the profile and track record of effective leadership and tangible change quotient. Meanwhile, SAPS also conferred Superior University with the Emerging Educational Institute of the Year Award in a glittering ceremony held at Pan Pacific Sonargaon, Dhaka, Bangladesh.
Earlier in April, Superior University became Pakistan's number one private-sector university under the Times Higher Education Impact Ranking 2022. It stands to reason to suggest that success has become more than just a habit at Superior.
Organizations, irrespective of their scope and size, tend to thrive under visionary, innovative, and exceptional leadership, and behind Superior's success is such a leader. Chairman, The Superior Group and Chairman, Board of Governors, Superior University, Prof. Dr. Chaudhry Abdul Rehman has been an inspirational leader and the Superior's meteoric rise in recent years. Dr. Abdul Rehman set this culture of success, togetherness, and developing human resources into human capital, which Rector, Superior University, Prof. Dr. Sumaira Rehman has carried forward with grace and nous. A PhD in Women Entrepreneurship from Middlesex University, UK, Dr. Sumaira has been a trailblazing influence in transforming ideologies, capitalizing on opportunities, and providing practical solutions by enabling and empowering youth to believe in themselves and think out of the box with the conviction to make Pakistan economically Superior. Dr. Sumaira took up the role of the Rector of Superior University with a vision to set new standards of excellence in learning, innovation, and research. By initializing Superior's flagship programs like the Entrepreneurship Teaching and Training Program (ETTP), Social Entrepreneurship Program (SEP), and the unique 3U1M Program, she solidified her commitment to creating a socioeconomic impact beyond imagination.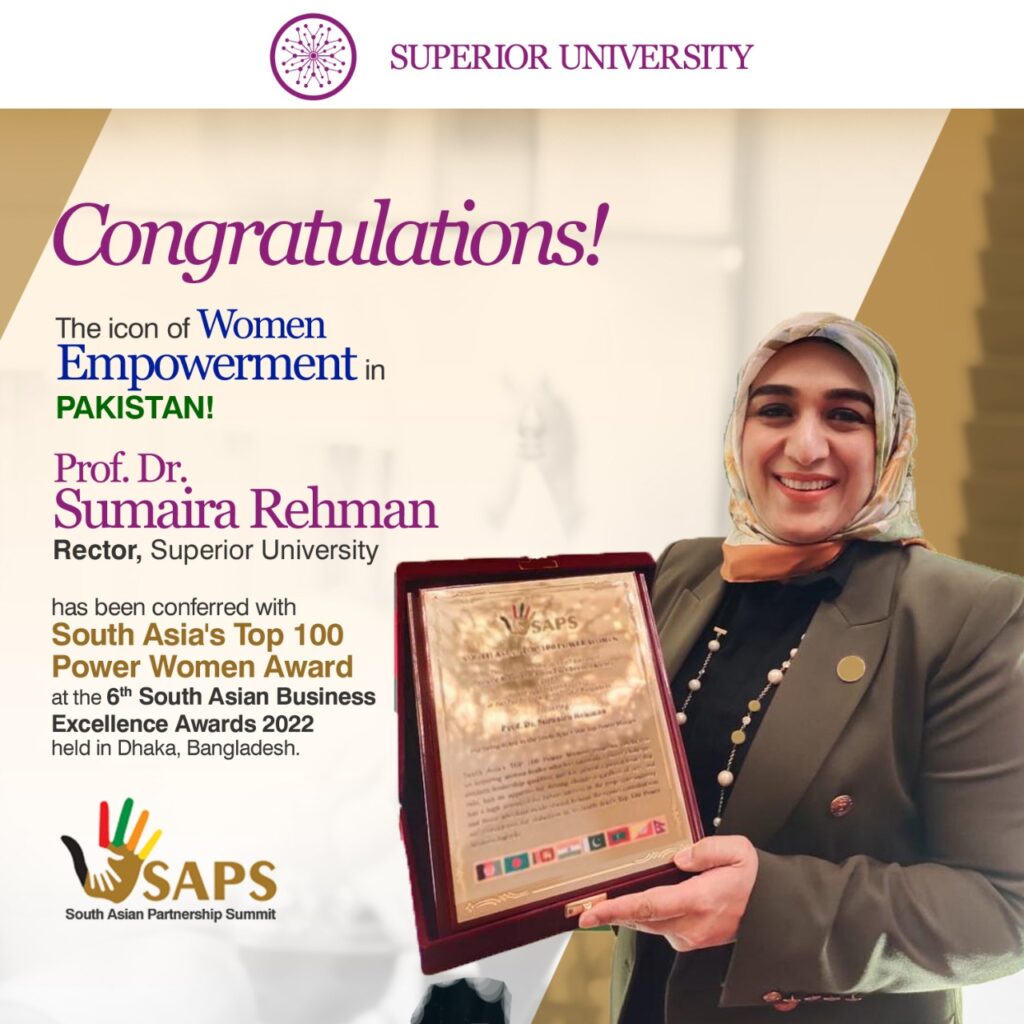 Dreams require hard work and commitment and Dr. Sumaira nurtured her dream of building an economically Superior Pakistan with grit, vigour, and fortitude. The 301-400 rank in the Times Higher Education Impact Ranking 2022 highlights the diversity and effectiveness of her initiatives intended to achieve academic excellence. The annual Rectors' Conference is another one of her ideas designed to create possibilities in finding practically creative solutions for existing threats and challenges facing the higher education sector in Pakistan. Her ultimate objective is to project an optimistic image of Pakistan to the international community. The recently held Superior Entrepreneurial Expo in collaboration with the Association of Private Sector Universities of Pakistan (APSUP) provided a creative platform for the Pakistani youth to showcase their innovative ideas and get Pakistan further close to an entrepreneurial revolution.
During these past six years, Dr. Sumaira has given a new dimension to the higher education sector in Pakistan and trained a generation to believe in themselves, enabling them to dream and create miracles. Her dedication, hard work, and individuality are crucial to empowering the 67% young population of Pakistan to think beyond the ordinary, to be Superior, and become the master of their destinies. For these past six years, Dr. Sumaira Rehman has been an emblem of change, collaboration, and innovation. Her diversified personality is a role model for all the women leaders who have to care for their children as well as their people with confidence, care, and commitment. She is the mind behind renewed focus on ensuring student success, creating socioeconomic impact, and facilitating sustainable growth across the educational spectrum in Pakistan.
This journey of sustainable success seems to just have started and it is bound to continue with more awards and recognitions to come in the future.