The thermometer is an instrument used to calculate the temperature of the system, one consisting of a narrow glass tube sealed hermetically and one end of the tube contain mercury or alcohol, which expands along with the tube. It helps to measure the temperature of a range of activities in science, medical, and manufacturing fields.
Italian mathematician-physicist Galileo Galilei invented the Thermometer in 1592. Any substance that changes its temperature is the main part of the Thermometer.
Types of Thermometer
There are two main types of Thermometer
Gas Thermometer
Liquid Thermometer
Gas Thermometer
It works at a very low temperature; it changes its temperature by variation of volume and pressure. For technical measurements, a gas thermometer works at temperatures from –150 to 600°C. At a temperature up to 600°C, nitrogen is used, and above 600°C, argon is used as a working gas.
Liquid Thermometer
Liquid thermometers are the most common type. They were easy to use, long-lasting, economical, and used to measure different ranges of temperatures. The component used as a liquid is mercury or coloured alcohol.
Different series of Thermometers with their Models
These include,
Digital Thermometer
Electronic ear Thermometer
Plastic strip Thermometer
Pacifier Thermometer
Glass and Mercury Thermometer
Digital Thermometer
Digital thermometers are the rapid and precise type of Thermometer. Thermometers are placed below the tongue, from the rectum, or under the armpit to grab the reading. They are easily accessible in pharmacies, and they also use in-home and in the hospital.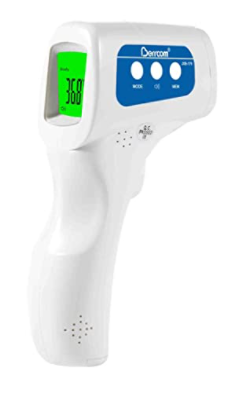 Electronic Ear Thermometer
To get the temperature reading, we use infrared technology. If there is a large amount of wax present in the ear, it gives an incorrect reading. That's why they are less accurate, and they are expensive too. They are easier to use on children and babies, as it is hard for the children to sit for a long time using a digital thermometer.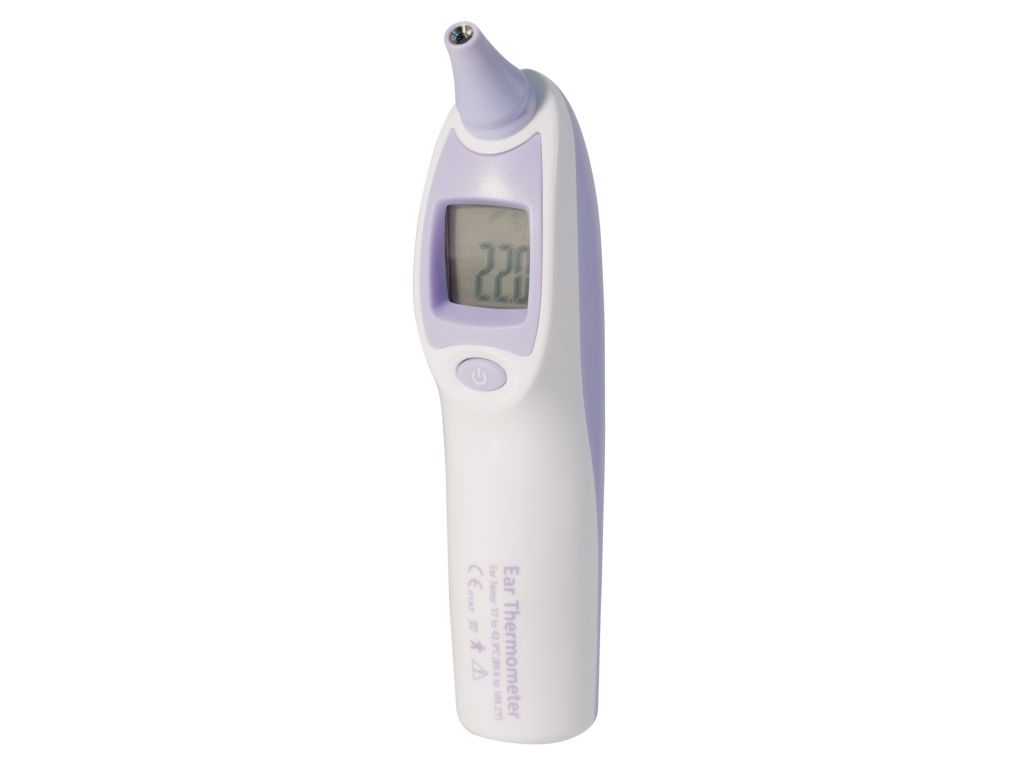 Forehead Thermometer
With the help of infrared to they to read the temperature. They are placed on a temporal artery. The forehead thermometer is also not as good as the digital Thermometer.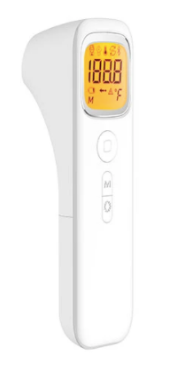 Pacifier Thermometer
These thermometers are used on infants than three months. It needs the infant to be still for one or two minutes, and this can be a struggle; that's why sometimes temperature can be inaccurate.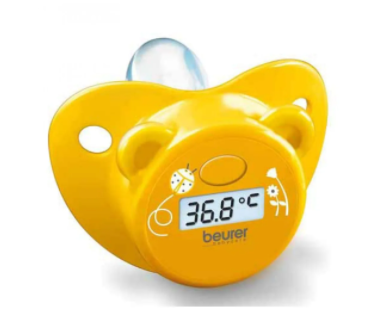 Glass and Mercury Thermometer
This is the oldest form of Thermometer. It is normally put under the armpit and tongue to check the temperature of the body. Mercury is not good for health; so, it is not recommended nowadays.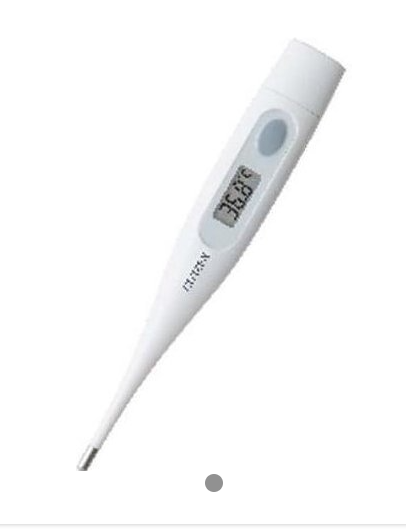 Best Thermometer to measure the temperature
We have been using mercury thermometers for years, but it is time-consuming and hard to read, so for safety reasons, digital thermometers are used nowadays. Digital Thermometer takes a few seconds to read and is accurate and reliable.
How we choose
It is not necessarily the best Thermometer is not is best for you, so the main features to find the best Thermometer for yourself are given below:
Design
Thermometers should not have complicated things and be easy to use for everyone, and their instruction is clearly written.
Speed
Speed should be fast so the sick person can also check his temperature quickly without the need for any help.
Readability
It should be easy to read for everyone, and you shouldn't have to turn on a spotlight or squint hard to read a thermometer.
Accuracy
It should be accurate; otherwise, What's the point if you can't trust the reading?
Best Thermometers in Pakistan
Rossmax Digital Thermometer TG 100
Kinsa QuickCare Thermometer
Baby MouthThermometer Pacifier Nipple Temperature LCD Digital Thermometer Safety.
Wasif Enterprises Digital Pacifier Thermometer for Babies
KINLEY FT3010 Infrared Non-contact Body Thermometer
Infrared NX-2000 Forehead Mesial Thermometer
The Exergen Temporal Thermometer TAT-2000C
TES-1311A electronic Thermometer
Accurate Infrared Digital Thermometer TF-600 Thermal
Safety Kit Berrcom Forehead Digital Non-Contact Infrared Th
Braun Thermoscan 7 (IRT6520)
Details of some best thermometers available in Pakistan are given below:
Safety Kit Berrcom Forehead Digital Non-Contact Infrared Th
It features a colour-coded display, last-temperature recall, and automatic shut-off to preserve battery life. It can be used under the arm, rectally, and orally takes 8 seconds to get a temperature. It's waterproof and comes with batteries and a storage case.
Braun Thermoscan 7 (IRT6520)
Ear thermometers can be easier for some people to handle than oral thermometers. With the Braun Thermoscan 7, it keeps track of the last nine readings, and your results will be displayed in just a few seconds. In-ear thermometer appropriate age groups are selected so that better understanding of what the reading means. It contains disposable lens filters and two AA batteries. It is super easy to use.
The Exergen Temporal Thermometer TAT-2000C
The Exergen Temporal Thermometer TAT-2000C saves the last eight readings, has an illuminated display and programmable beeper, so you don't have to disturb your kids if they're sleeping. The one-button programming should make all that very convenient. A 5-year warranty and 9-volt battery are included.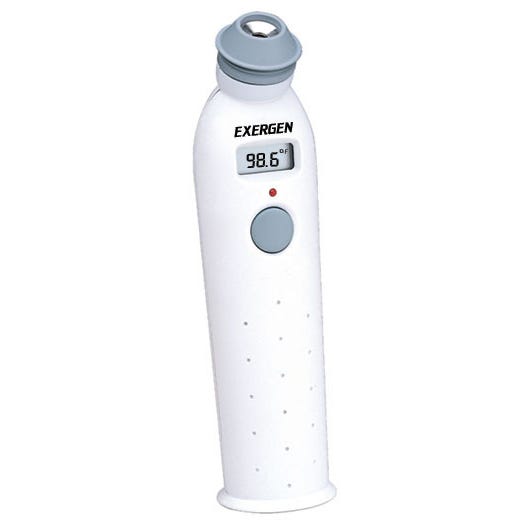 Wasuf Enterprises Digital Pacifier Thermometer for Babies
It is quicker, safer, and easier to measure a baby's temperature with this digital pacifier thermometer as opposed to the prod in and poke in ears, underarms, and under tongue devices.
Kinsa QuickCare Thermometer
In this thermometer, the glass tube is filled with mercury, and the temperature scale is written on the tube. Mercury expands or contracts with the change of temperature, and it can read on the scale. This Thermometer is readable, easy to use, and simple.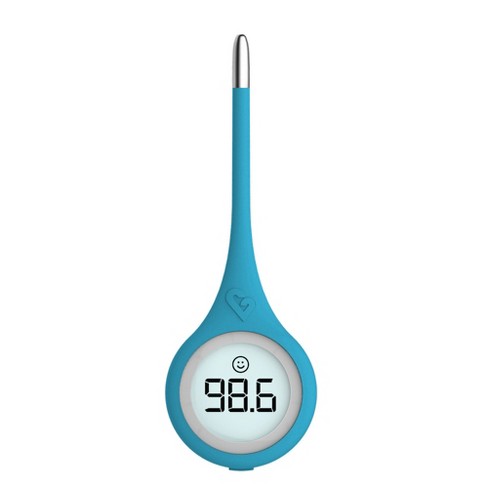 Thermometer Price in Pakistan
| | |
| --- | --- |
| Thermometer | Price in Pakistan |
| MediASK Analogue Glass Mercury-Free Thermometer (MFT2792) | Rs. 450 |
| Rossmax Fever Thermometer (TG100) | Rs. 375 |
| CoolPlus Medical Infrared Thermometer (GF-Z99Y) | Rs. 3,999 |
| NON-CONTACT INFRARED DIGITAL THERMOMETER | Rs. 3,499 |
| Accurate Infrared Digital Thermometer TF-600 Thermal | Rs. 8,999 |
| KINLEE FT3010 Infrared Non-contact Body Thermometer | Rs. 7,500 |
| Wasuf Enterprises Digital Pacifier Thermometer for Babies | Rs. 999 |
| The Exergen Temporal Thermometer TAT-2000C | Rs. 21,250 |
| Braun Thermoscan 7 (IRT6520) | Rs. 7,499 |
| Kinsa QuickCare Thermometer | Rs. 7,399 |
Conclusion
It concludes our discussion on the Thermometer Price in Pakistan in 2023. Here we provide information on the Thermometer, which is the main equipment to measure the system's temperature. Thermometers come in a variety of variants, but the Digital Thermometer is the greatest.
Hopefully, this article helps you in better understanding the Thermometers and their variants available in Pakistan.