Toyota Crown 2023 is a luxurious sedan manufactured by Toyota Japan. Toyota Crown Price in Pakistan 2023 is quite high for its integrated advanced technologies.
Adorned with superior materials and advanced features, this premium luxury car has a captivating exterior, highly comfortable interior, advanced technologies installed, safety features, and excellent performance.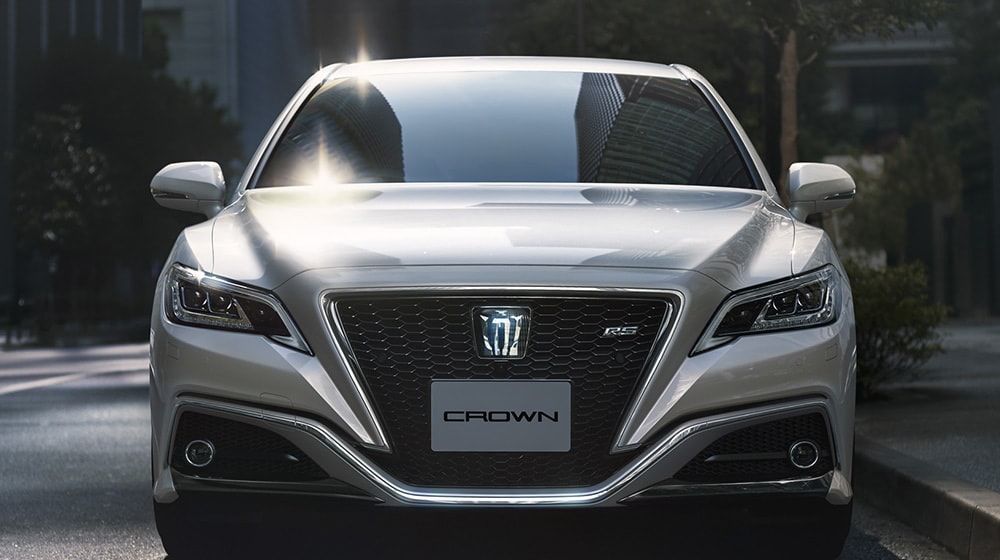 Explore all the features of the car with this article and its technical specifications.
Engine and performance
Toyota Crown engine comes in two options. 2.5 litres DOHC and 3.5 Liters DOHC engines provide excellent performance and efficiency. Both engines are VVT-I V6. With its 6-speed as well as 8-speed transmission, enjoy your journey with the automatic transmission. The excellent fuel efficiency provides an average fuel mileage of 17 km/l.
Exterior
Toyota crown with its signature exterior and its unique crown badge captivate everyone's attention. The front end is styled with dual fog lights circular in shape. Its huge and aggressive front grille with crown badge provides a premium outlook. Moreover, its chrome accent, sleek trapezium side headlights, and DLRs (Daytime running lights) enhance the appearance of the car.
The rear end is styled with large trapezium side taillights. The exterior of all the Toyota Crown models is almost the same. It makes it stand distinctive among all its competitors. It has leather upholstery, 4-zone climate control, rear-seat climate control, airbags, and other luxury features.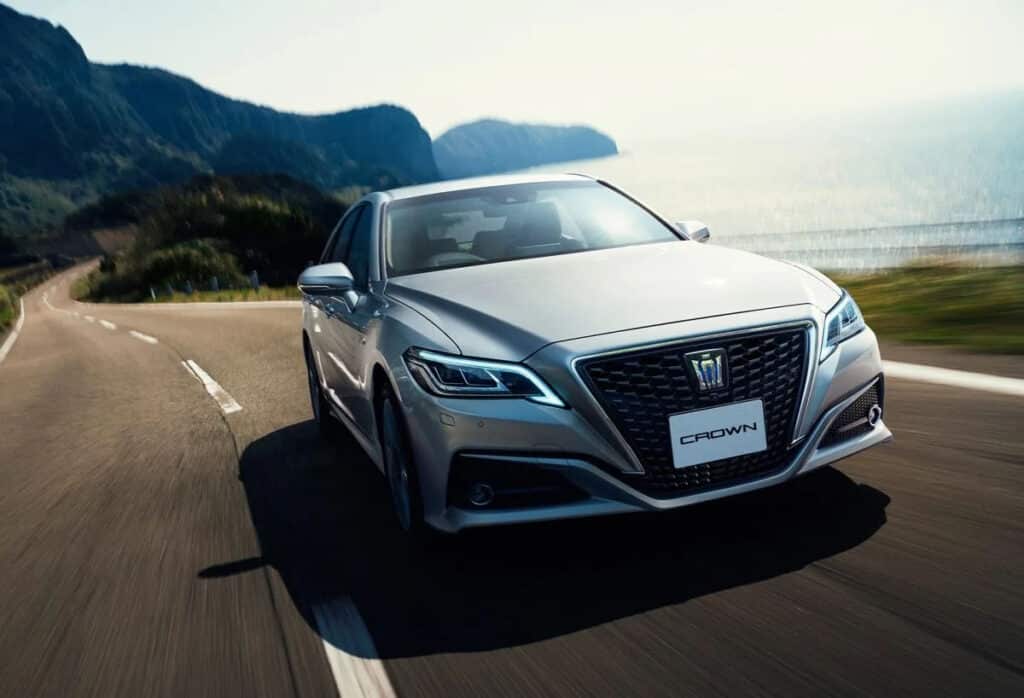 Interior
Leather upholstery with wooden panelling adorns the interior of the luxurious Toyota Crown. The front and rear leather seats are comfortable enough for your whole journey. Satellite navigation, powered front seats, and 3-zone climate control are the standard Toyota Crown interior features.
The Royal Saloon variant is integrated with large wheels which provide pre-collision detection. There are automatic windshield wipers integrated into the car as well. Moreover, the ventilated front seats and heated rear seats provide the comfort of the journey in every weather.
Enjoy your ride with its powered moonroof. Its enormous interior provides enough legroom. The elegance and comfort are made certain in the new Toyota Crown. The Royal Saloon G variant comes with standard features which include leather upholstery, 12 airbags, powered rear seats, heated seats, climate controls for rear seats, 4-zone climate control, and a sunroof as well.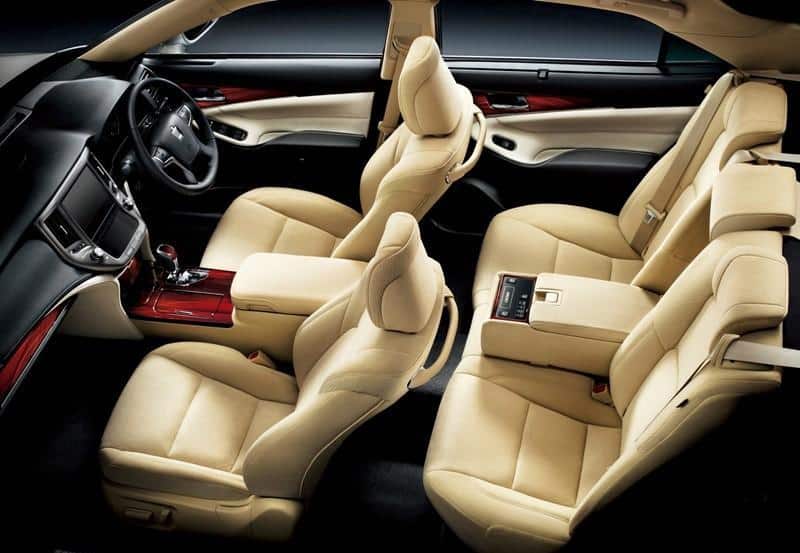 Safety features
Safety is ensured by various features installed in the Toyota Crown. It comes with 8 airbags present at different. The rear-view mirrors have an anti-glare feature making your view clear. Other features include intelligent sonar sensors, SRS side airbags installed at the right and left sides, a control console for the rear side, and adaptive cruise controls.
Toyota Crown Features
Remote-controlled central locking ensures safety. Electric Remote controlled twin rear sliding doors. Automatic front and rear climate control installed. Parking cameras on the front as well as rear side ensure the safety of the driver and car.
8 airbags were installed in Toyota Crown and 12 airbags were installed in the later models. Front and rear ventilated seats, as well as heated seats for both front and rear sides, are present. The sunroof feature provides an eminent appearance.
Front and rear parking cameras were installed for ensuring safety. All electric-powered windows (4 x). A lane departure indication system is also installed.
The Alpine headrest monitors are also present making your journey comfortable. Led lights and xenon headlamps enhance the exterior outlook as well as improvise the vision.
Rear spoiler and alloy wheels, velour and leather upholstery, centre console, power outlet of 1500 W, and fog lamps further add to the key features.
Toyota Crown Specifications
The technical specifications of the car are given below.
| | |
| --- | --- |
| Features | Specs |
| Engine | 2.4 litres DOHC 24 valves VVT-I V6 3.5 litres DOHC 24-valve VVT-I V6 |
| Displacement | 1999 – 3456 cc |
| Driving type | 4WD (Four-wheel drive) 2WD (Two Wheel drive) |
| Gearbox | 8-speed and 6-speed automatic |
| Doors | Four |
| Gross weight | 1900 Kg |
| Kerb weight | 1442 Kg |
| Valves / cylinder | 4 |
| Number of cylinders | 4 |
| Seating capacity | Five |
Mileage
Toyota Crown exhibit excellent fuel efficiency. Its 71 litres fuel tank provides a fuel average of 11 km/l – 23.8 km/l. The recorded driving range is 781 – 1689 km.
Competitors
Toyota crown has put quite good competition in the market. Toyota Crown's competitors include BMW 5 Series, Mercedes E-Class, Audi A6, and Jaguar XF.
Variants
There are multiple variants of the Toyota Crown. All of the variants differ in some specifications. However, the exterior is almost the same. The fifteen Toyota Crown variants are the following.
Toyota Crown Athlete, Toyota crown Athlete Anniversary Edition, Athlete G-T, Athlete S Package, Athlete G Package, Toyota crown athlete T, Toyota crown Royal saloon and its Anniversary edition, Royal saloon Premium, Royal Saloon G, Royal Saloon advance, Super select, and super deluxe.
Toyota Crown Price in Pakistan
Crown car price in Pakistan is different for used cars and brand-new models. Toyota Crown for sale in Pakistan is also available at multiple online sites and companies. The price range of the Toyota crown is mentioned below.
| Toyota Crown | Price in Pakistan |
| --- | --- |
| Toyota crown 2023 | PKR 18,500,000 |
The article sums up the features, specifications, and price of the Toyota Crown.