An individual's NIC, issued by the Pakistan Government is enshrined with a distinct 13-digit number that distinguishes him or her from everyone else.The days of having to travel to a NADRA office and standing in long queues to get your NADRA-issued identification documents authenticated are over. You can now easily verify all of your identification documents through using NADRA's web platform, which saves your time and effort.
Because of the widespread usage of smart media in various public sectors throughout Pakistan, it is now possible to complete necessary activities on the internet with relative ease. All of it, from paying the bills to verifying licenses & getting a CNIC, has been moved to digital services in order to provide the best possible service to the public.
Are you still looking forward to learning how to verify your CNIC online with NADRA for a long time? Following this simple but comprehensive guide will be a piece of cake! Here is a comprehensive guide on how to use Id CNIC Verification system effectively and avoid being fooled.
In other words, if you have been concerned about how to verify CNIC online by using NADRA web platform, this article will make everything much simpler for you.
NADRA ONLINE SERVICES:
NADRA online services are a convenient and quick facility that is available online. People who live in Pakistan and/or back overseas can take advantage of this system to obtain an identification card or just about any recognition document delivered to their door.
The NADRA has taken the initiative in this regard, as this period has invented different advanced ways to serve the public. When we think back to the recent past, we are reminded of the citizens who stood in long lines, having to wait for their turn to be served.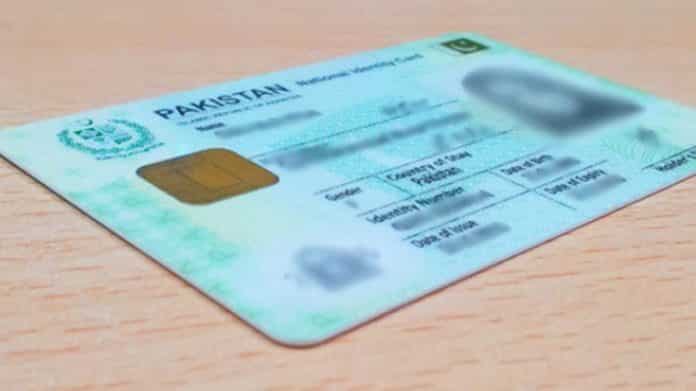 That not only made us  exhausted, but it also made us feel like we had wasted our entire day.
A user account can be created on this system, which allows you to access various NADRA services like applying for a Youth Certificate Of registration or a Family Registration Certificate, Nadra cnic tracking, Nadra cnic details. It also provides other facilities like Check cnic number by name online, Cnic details with picture online free. Nadra helpline and many more.
It is necessary to establish an account on the NADRA website in order to verify the CNIC and to avail all the other services offered. What is the best way to do this? Please read through the whole user registration process, which is provided below.
Registration with Nadra Online: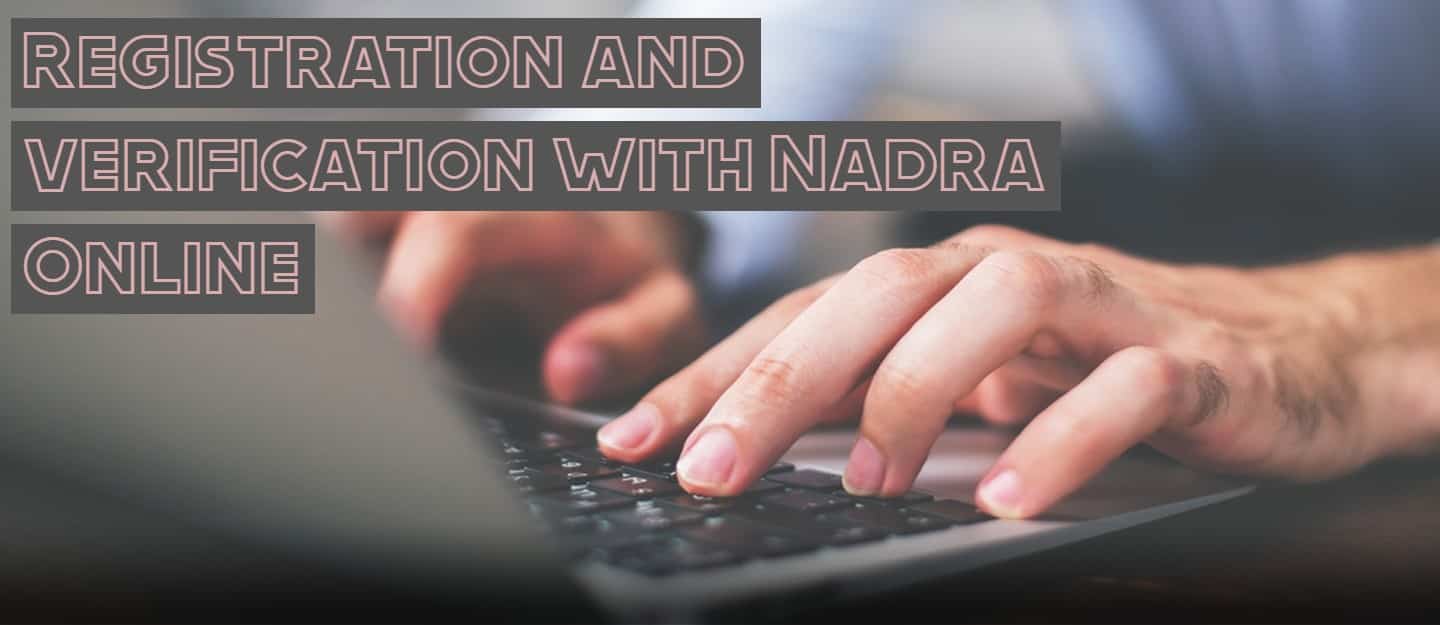 In order to use the NADRA's online services, you must accomplish two steps. It is necessary to complete a registration form including some basic info including such your full name, email id, contact information, and so on before you can begin using the service.
The NADRA main site will require you to log in with your email id in verifying a CNIC or to take advantage of any other services that the organization provides. Throughout this section, we'll take a glance at how you would register with NADRA and take advantage of the many services it provides, as well as the Identification Products it offers in conjunction with it.
Step-by-Step Procedure:
Activate the search engine on your computer or smartphone and enter the link into the address bar https://id.nadra.gov.pk/e-id/authenticate  .
Create a new account by clicking the 'Create a New Account' button.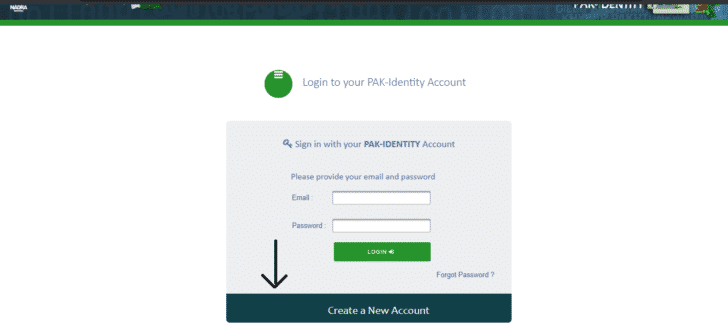 To continue, you must complete out a form with all of your personal information, including your full name, contact information, and birth date, etc.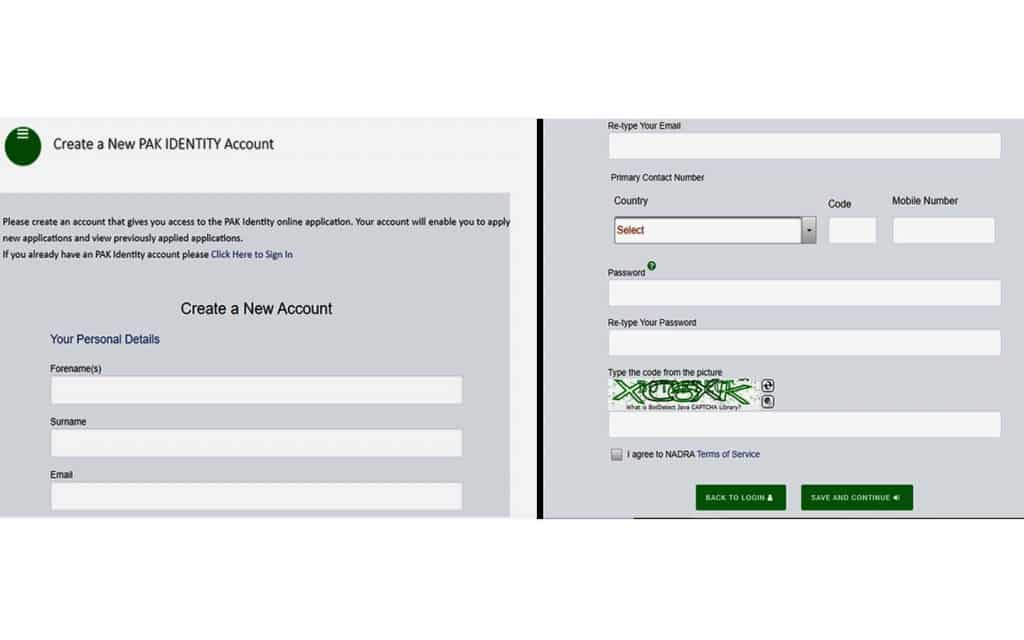 Because the site will time out rapidly, make absolutely sure you input all the info correctly in one go.
After you've completed the form and entered all the important info, enter the captcha code for the confirmation.
Hit the 'save and continue' option immediately after entering the code. A passcode will be sent to the phone number you provided on the form for verification.
The verification code you received on your phone, no or email address will be required with the next page.
Press 'verify' after entering the code.
You will be taken towards the login page when you have validated your identity.
After you've completed the profile registration procedure, you'll need to log in to use the online services. To do so, enter your email address and password, then hit the 'login' button.
CNIC verification:,
For your convenience, we've put up a step-by-step instruction on how to authenticate your CNIC through NADRA's CNIC Verification page.
After you have finished the profile online application, you can login to the system using the email and password that you have registered. After that, you will be able to take full advantage of the digital services provided by NADRA.
Then You must "accept the terms and conditions "after you have logged in.
Inspect everything thoroughly before proceeding. Scroll to the bottom and check the box beside "I have read and accept the terms and conditions." But unless you consent with everything, then click on the option.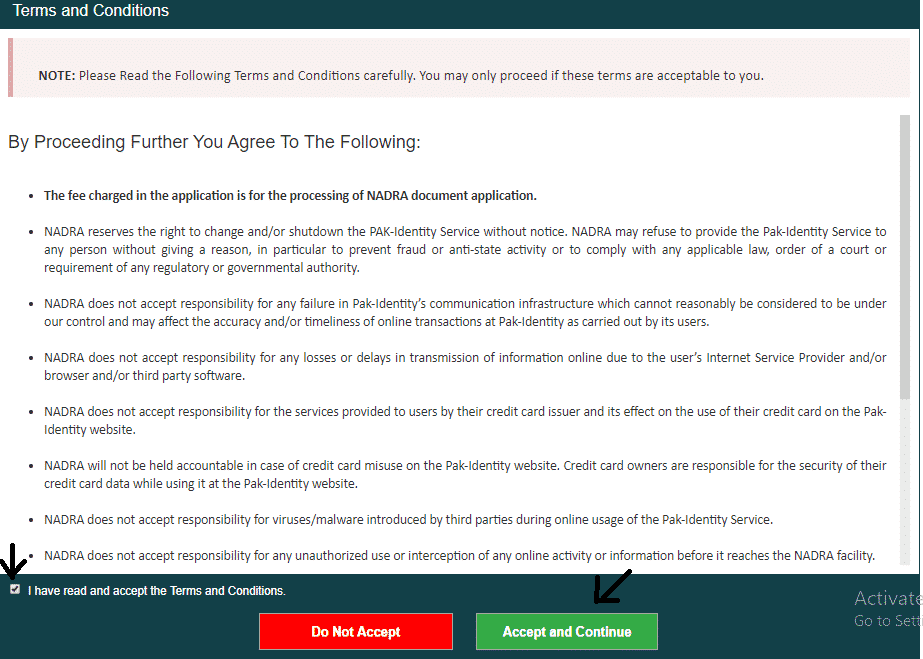 After that, click on the button that states "Accept and Continue."
Then, when you have accepted to those terms and conditions, you would be taken to an entirely separate web page, which will display many amenities and services by NADRA.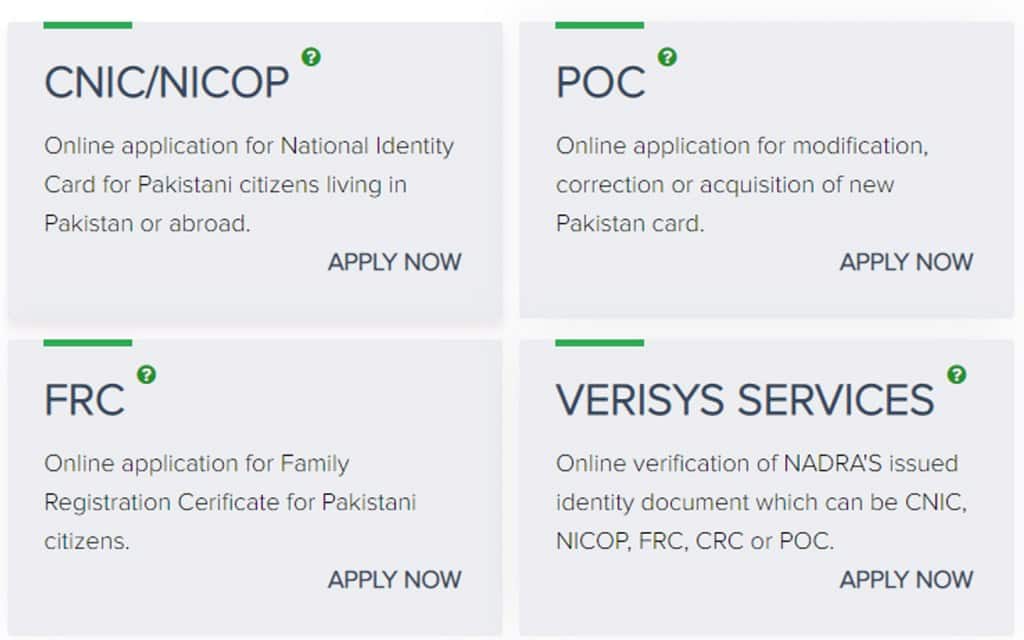 For verification of a CNIC with NADRA, select 'Verisys Services' from the menu.
It is necessary for you to have a little funds in your account in order to perform the CNIC verification process or to use any of the other services. As a result, you will be prompted to top up your profile with your credit or debit card on the next screen.
Add an additional PKR 300 to your account's balance after entering all the needed information.
Following the payment of the money, you will be needed to complete the necessary information.
You will be required to sign a statement in the following step. Once you have completed this process, you will indeed be able to verify a CNIC and utilize a variety of other services, such as applying for FRC, POC, or CNIC certification, etc.
Some frequently Asked Questions:
Here are the answers of some FAQ's by people regarding Nadra online portal and verification. Like.
How can I check my CNIC details online? To do so you have to register yourself on Nadra online portal and then on the main page you have to select CNIC/NICOP option. The "Existing Applications" button will be located in the upper-left corner of your screen. Simply tap on it. And then select "Tracking ID" option to check the status of your CNIC details.
How can I verify my ID by SMS? So Nadra Cnic Re-verification and checking family tree facility is available through SMS. The code for Cnic verification 8008 is available. To do so simple send your CNIC number to 8008, and in reply You can send your CNIC number to 8008 (with or without dashes). Your family's members' names will be returned to you in exchange for your request. Respond to 2 if you are happy with the list; but, if there is someone on the list who you do not recognize, alert the authorities by replying to 1. If there is anyone on the list who you recognize, react with 1 to notify the authorities.
WRAPPING UP:
In Pakistan, each individual's National Identification Card (NIC), issued by the government, is encoded with a unique 13-digit number that distinguishes him or her from everyone else. For the sake of providing the best possible service, everything, from paying bills to verifying licenses and obtaining a CNIC, has been moved online via digital services.
  The majority of the time, organizations or landlords would use a verification site to confirm the identification of some other person. People often turn to verification facilities before engaging in any business-related transactions with strangers, according to the official website of E-Sahulat NADRA.
This online platform is a fantastic initiative by NADRA, and it is proving to be quite beneficial to many people in a variety of ways. They don't have to spend the entire day waiting in lengthy lines outside the NADRA offices for a simple identification verification. That was a long-awaited breakthrough that has now been implemented for the greater good of the society, particularly Pakistanis living abroad in the United States.
NADRA online services are a convenient and quick service that is available on the internet at any time. In this system, you can create a user account that will allow you to log in and access a variety of NADRA services. In addition, it provides other services such as online cnic number check by name, free Cnic details with picture, and other similar services.
This is the point at which our comprehensive and step-by-step guidance on NADRA's CNIC verification comes to an end. You are now prepared to perform a NADRA records check using the CNIC number that you entered earlier.
Feel free to leave a remark on this page if you have any more questions about the verifying of your identification documents with the NADRA.