The Hyundai Santa Fe 2023 is a remarkable SUV that embodies the blend of modern technology and efficiency, presenting an incredible journey on the road. It strikes the perfect balance between style and performance. Moreover, it boasts a dynamic design outside and a spacious, well-equipped interior. Plus, it offers a Smart Power Liftgate for added convenience.
The Hyundai Santa Fe is more than just a vehicle; it is a pathway to exploration and memorable adventures. This hybrid SUV is designed to integrate cutting-edge technology with unparalleled efficiency, enhancing every aspect of your driving experience.
Specifications and Features
The Hyundai Santa Fe 2023 is powered by a 1598CC hybrid engine, offering 227 horsepower and 350 Nm of torque. Its Automatic transmission ensures a smooth and effortless ride. With a top speed of 220 KM/H and a mileage of 15 to 15 KM/L, the Santa Fe delivers a powerful yet efficient performance. The SUV is equipped with a 67-liter fuel tank, providing ample fuel capacity for your journeys.
Specification
Details
Engine
1598cc Hybrid
Transmission
Automatic
Horsepower
227 hp
Torque
350 Nm
Fuel Type
Hybrid
Mileage (km/l)
15 to 15
Fuel Tank Capacity
67 L
Body Type
SUV
Dimensions (L x W x H)
4785 x 1900 x 1710 mm
Ground Clearance
176 mm
Boot Space
782 L
Kerb Weight
1780 – 1845 kg
Seating Capacity
7 Persons
Top Speed
220 KM/H
Tyre Size
235/55/R19
Price Range (PKR)
PKR 12,990,000 – PKR 14,699,000 (Smart to Signature variant)
Key Features Smart
6 Airbags, Remote Engine Start, Panoramic Sunroof, Heated seats
Key Features Signature
6 Airbags, Differential Lock, Panoramic Sunroof, Blind Spot Monitor, Heated & Ventilated Seats, Headup Display
Colours
Flame Red
Twilight Black
Shimmering Silver
Stormy Sea
Hampton Grey
Nocturne Grey
Serenity White
Exterior Design
The 2023 Santa Fe features a commanding presence on the road with its luxurious design. The wide cascading grille and T-shaped LED daytime running lights create an incredible sight, exuding power and class. Its sleek and aerodynamic profile, coupled with sculpted curves, gives it an incomparable presence wherever it goes. The rear design is equally stylish, and exhibit a sporty look with striking LED lights and a wide rear bumper.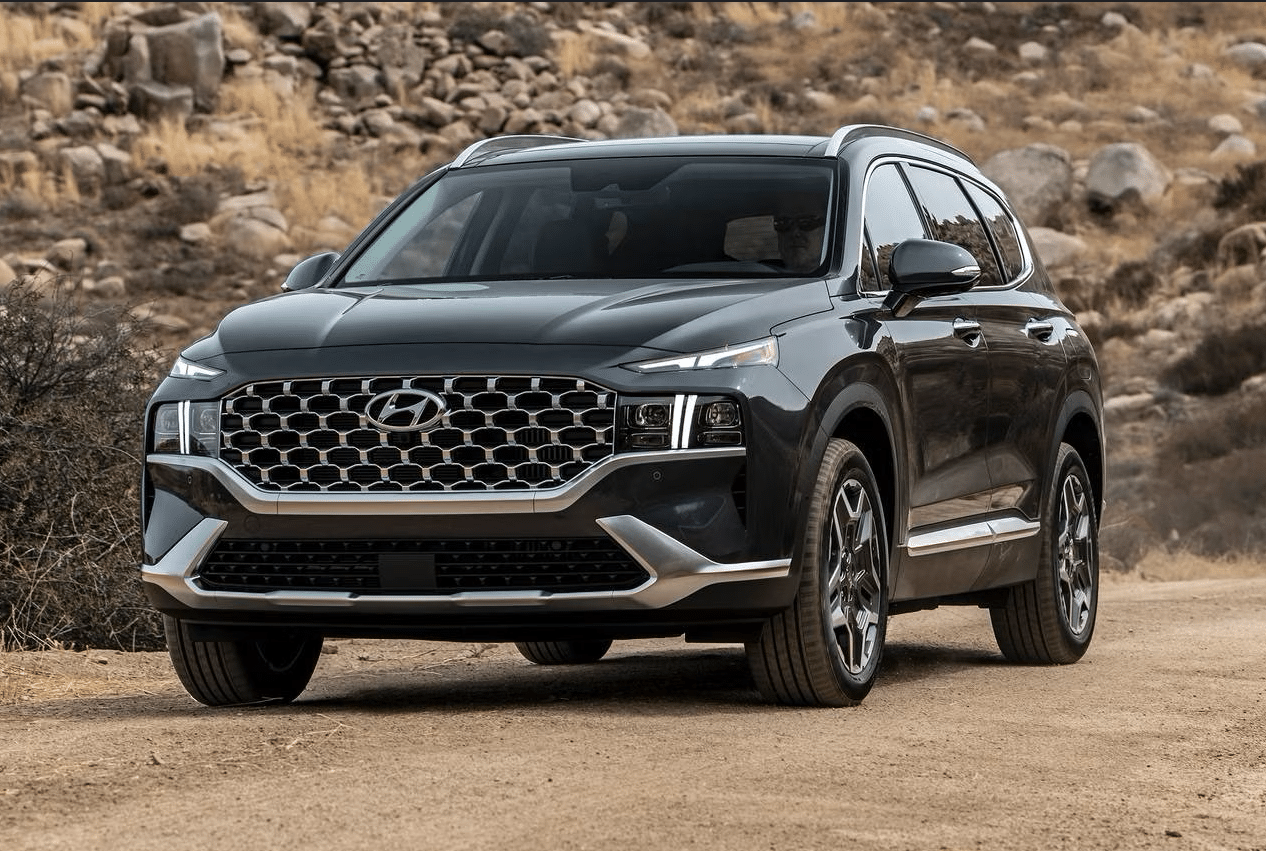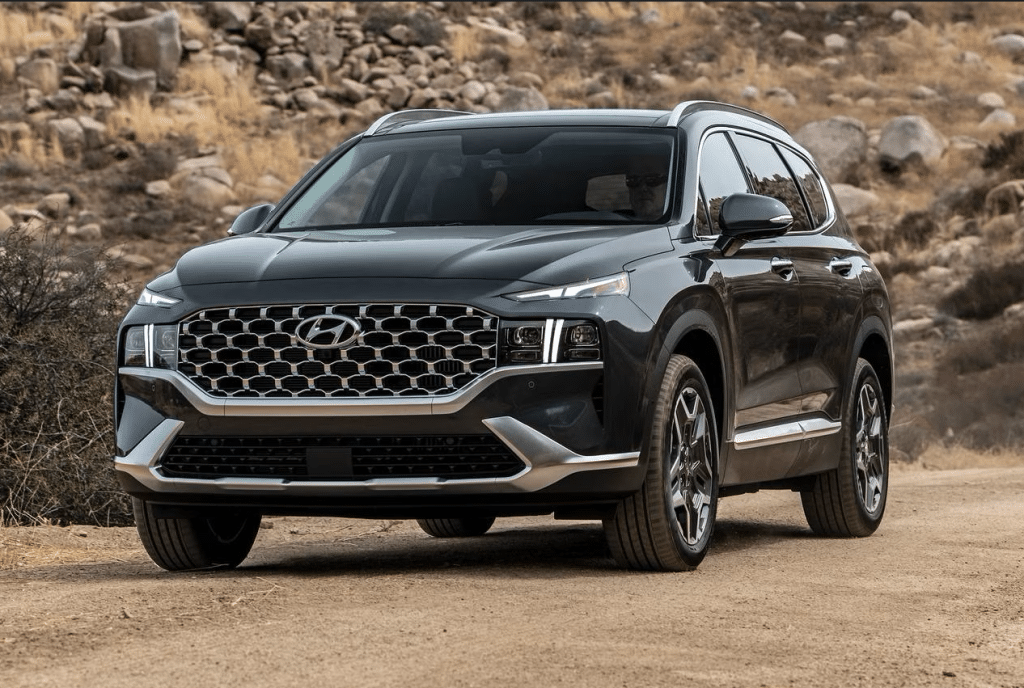 Interior of Hyundai Santa Fe
The interior of the Santa Fe is designed to anticipate and meet every driving need and road condition. It offers versatile drive modes, such as Eco Mode for efficiency and Sport Mode for dynamic performance.
The advanced technology within the Santa Fe is designed for convenience, with features like remote engine start, push start button, and smart keyless entry. The intelligently designed console elevates overall comfort and sophistication, making interactions with high-tech controls and smart features an uninterrupted experience.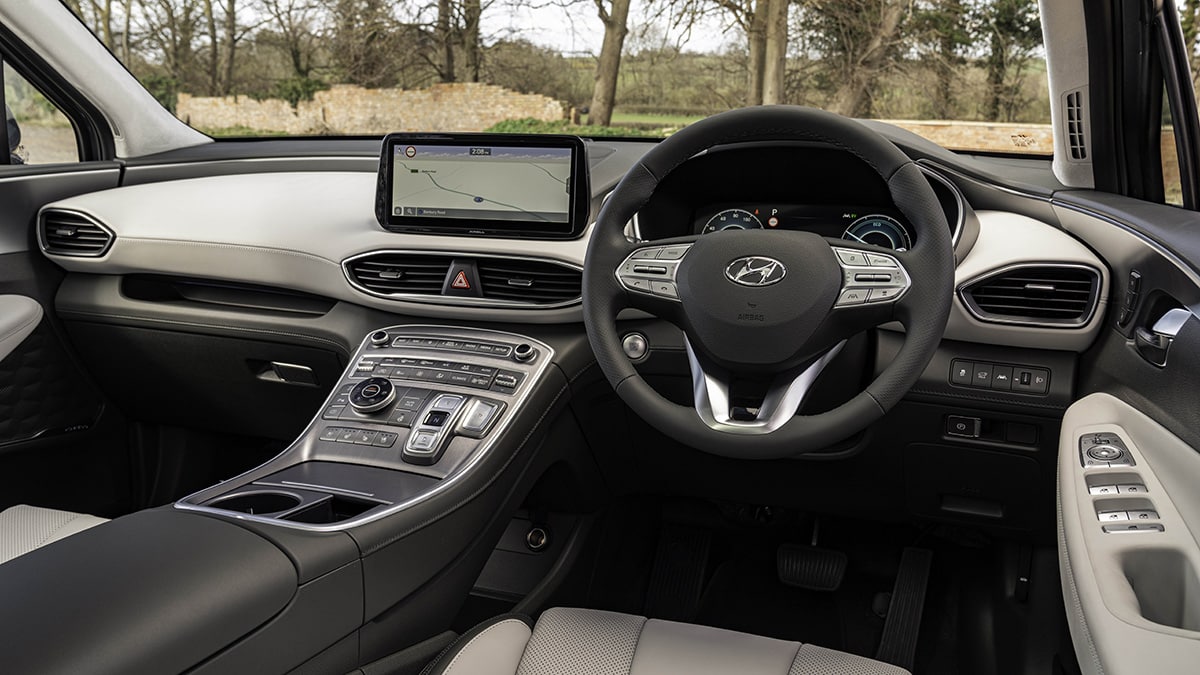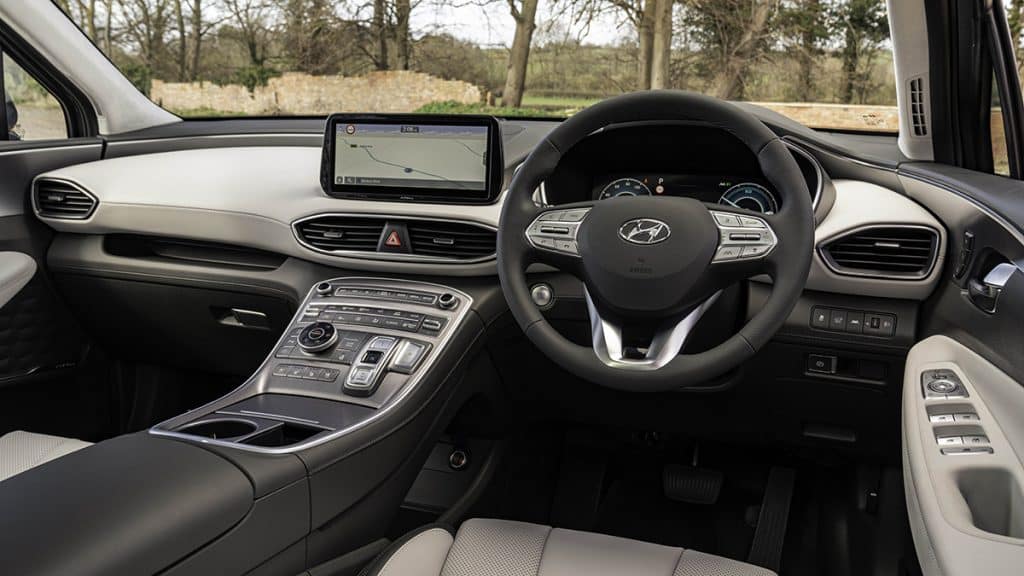 Variants and Pricing
The Hyundai Santa Fe 2023 is available in two variants:
The Smart variant offers features like 6 Airbags, Remote engine start, Panoramic sunroof, and heated seats. On the other hand, the Signature variant comes with additional features like a differential lock, blind spot monitor, ventilated seats, and head-up display.
The price ranges from PKR 12,990,000 for the Smart variant to PKR 14,699,000 for the top-of-the-line Signature variant, making it accessible to a broader audience.
Colors
Hyundai Santa Fe 2023 is available in 7 beautiful colors.
Flame Red
Twilight Black
Shimmering Silver
Stormy Sea
Hampton Grey
Nocturne Grey
Serenity White
Dimensions and Capacity
The Santa Fe 2023 boasts spacious dimensions, measuring 4785mm in length, 1900mm in width, and 1710mm in height. With a ground clearance of 176mm, it can handle various terrains.
The SUV can comfortably accommodate seven persons and offers a generous boot space of 782 liters. The kerb weight ranges from 1780 to 1845 kg, ensuring stability and control during your drives.
Tires and Safety
Hyundai Santa Fe 2023 is equipped with 235/55/R19 tires, the Santa Fe ensures a comfortable and secure grip on the road. Furthermore, safety is a priority, as evidenced by features like Airbags, panoramic sunroof, blind spot monitor, and more. These safety features emphasize Hyundai's commitment to providing a safe driving experience.
In conclusion, the 2023 Hyundai Santa Fe is an SUV that offers a perfect blend of style, technology, and efficiency. Moreover, its luxurious design, advanced features, powerful performance, and dedication to safety make it a compelling choice for those seeking a remarkable driving experience. So, embrace the thrill of driving a hybrid and unlock new destinations and unforgettable memories with the Hyundai Santa Fe 2023.