With more and more new automobile debuts, Pakistan's auto sector is increasing exponentially. Many famous brand names have entered the country in the last two years. Proton Cars in Pakistan also get huge demand from starting. We've gathered some key facts ahead of the Proton X70 2023 price in Pakistan and its Models, Specs, and Features for all the interested people.
The Proton X70, a Malaysian SUV, has been introduced in the country. Because of the X70's popularity in the SUV market, we can expect it to be a fierce competitor. The build quality of the Proton X70 is robust yet elegant. The SUV will be available in both AWD and FWD configurations. Because this vehicle produces less smoke, it is fully environmentally beneficial. When it comes to power, the Gasoline-Direct engine has a horsepower of 177 and a torque of 255Nm. As a result, this Proton model offers excellent value for money.
Proton X70 2023 Features
The X70 SUV boasts several features that set it apart from the market. These are the following:
It has a 1,500cc engine.
Proton X70 Pakistan is a decent C-segment SUV.
It includes a lane departure warning system and panoramic roof.
It has an automatic transmission type.
The X70 vehicle has an attractive tiger-themed design.
It has a 1.5L 3-Cylinder Turbocharged Petrol car.
It has an electronic steering type
It possesses admirable interior lighting
It also has eight speakers in the trims.
It also comes with an advanced feature of sound command.
It contains six airbags for safety purposes.
The X70 also comes with up to 5 years or 150,000kms warranty.
Proton X70 Specifications
All specification of the Proton X70 SUV is mentioned below the table:
| | |
| --- | --- |
| Transmission Type | Dual Clutch |
| Engine | 1500cc |
| Seating Capacity | 5 seats |
| Power | 181 hp |
| Fuel Tank Capacity | 1.8 L |
| Body Type | SUV |
| Total Height | 1694mm |
| Total Length | 4519 mm |
| Total Width | 1831 mm |
Proton X70 Interior
The Proton X70 SUV was officially imported from Malaysia; therefore, it will have most of the features found in the Malaysian variant. It has the following features on the inside:
It owns a panoramic sunroof
It has a beautiful leather interior
It carries six safety airbags
It has a 360-degree camera.
For monitoring the tire pressure, it has a tire monitoring pressure system
It also has foldable rear seats.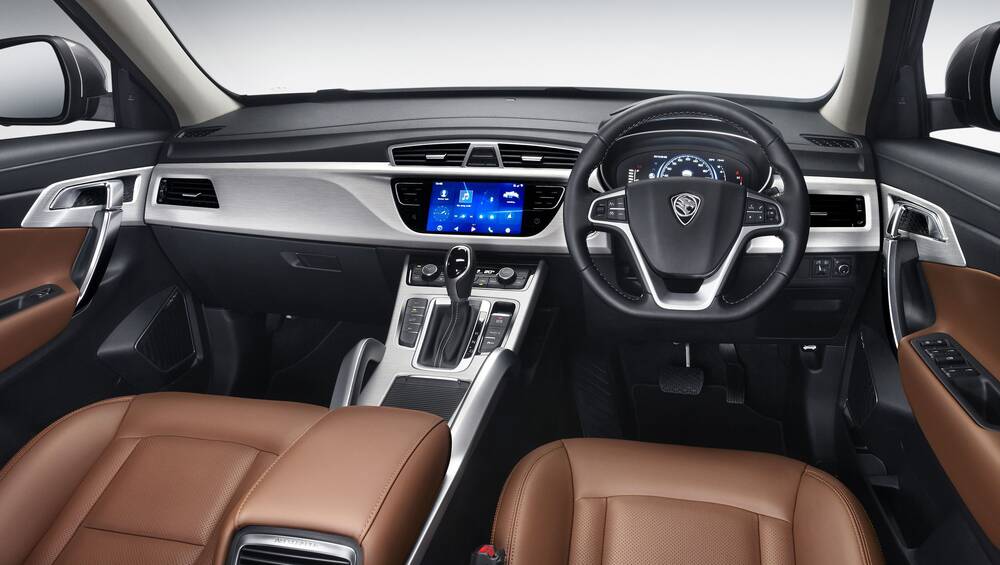 Proton X70 Exterior
This vehicle from Proton has a premium design, including
It possesses halogen headlights with DRL
A standard rear screen wiper is present
It also owns a spoiler with a stop lamp
It has Standard roof rails
Front rain-sensing wipers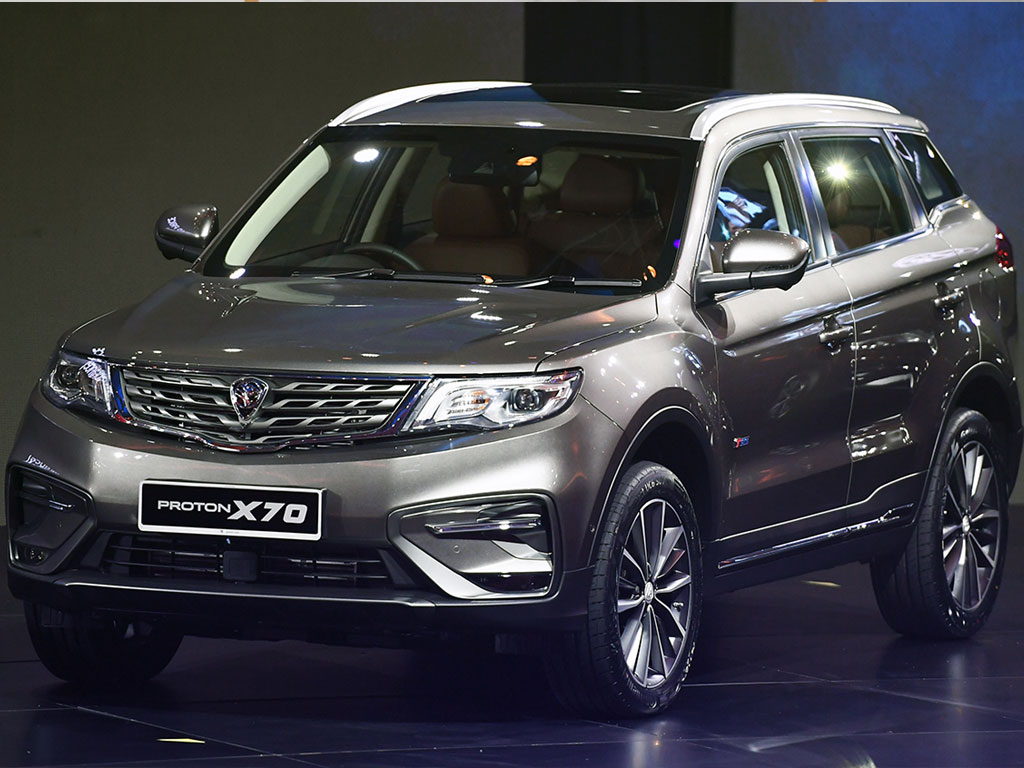 Proton X70 SUV Fuel Average
The fuel average of Proton X70 2023 is 10 – 12 KM/L.
Proton X70 Colors Availability in Pakistan
The vehicle is available in 5 attractive hues such as:
Solid white
Quartz black
Armour silver
Space grey
Ruby-red.
Models of Proton X70 2023
The Proton X70 Pakistan is a first-generation SUV that comes in two models: AWD Executive and FWD Premium.
Let's take a quick look at their characteristics.
Proton X70 Executive AWD
Features:
It has an Automatic transmission
It has a petrol fuel type.
It has a fuel consumption of 10 to 12 KM/L
It owns a 1470cc engine
It possesses five numbers of doors.
It holds a seating capacity of five persons.
For reading measurement, it has a tachometer installed in it.
It also has an Air conditioner for proper cooling in the car
Cup holders are also installed in the vehicle.
It has a wheel size of 18 inches.
It also possesses the feature of a child lock.
It has a proper navigation system installed in it.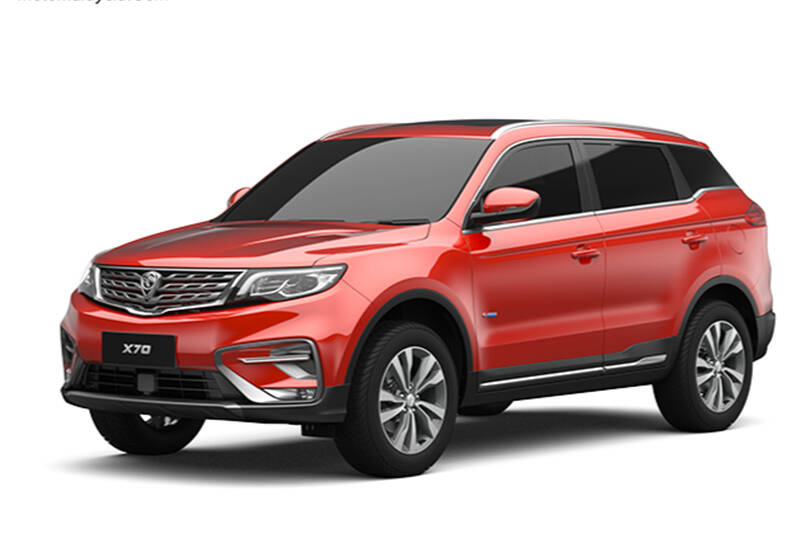 Proton X70 Premium FWD
Features:
It has a wheelbase of 2670 mm.
It owns four valves per cylinder
It comes with a petrol fuel type.
It has a steering type of rack and pinion with an electronic motor
It has a wheel size of 19 inches.
It comes with reliable leather seats.
It has an in-line cylinder configuration.
It has an automatic transmission with a gearbox of seven-speed
It has alloy wheels
It possesses a fuel tank capacity of 60 L
It has an Anti-locking brake system
It also comes with a moon-roof.
It possesses keyless entry.
The air conditioner and heater are also properly installed in it.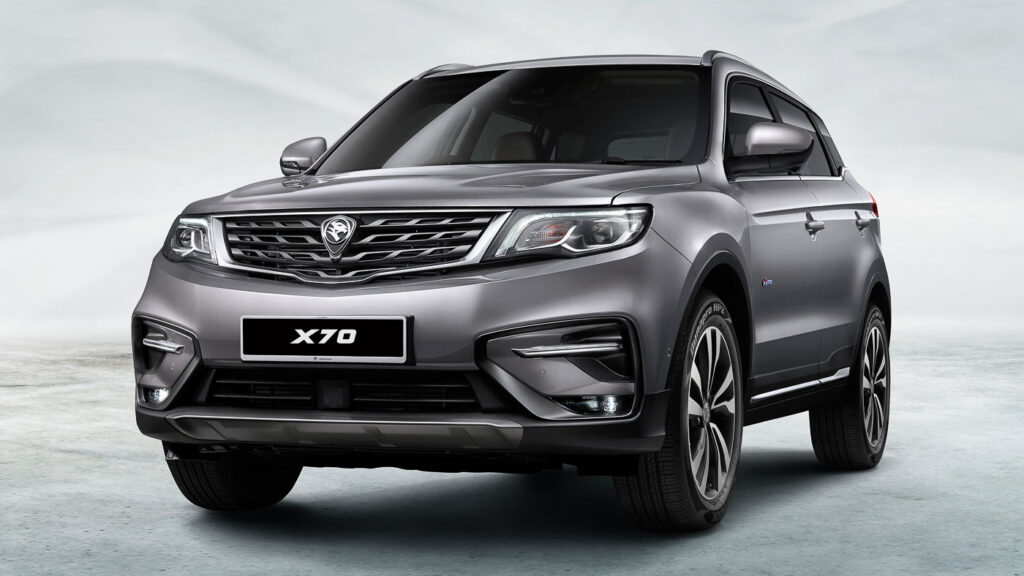 Proton X70 Price in Pakistan
The price of the Proton X70 SUV ranges from PKR 46.9 to 49.9 Lacs in Pakistan. The price of their models is mentioned in the table:
| | |
| --- | --- |
|   Models of Proton X70 2023 in Pakistan | Price in Pakistan |
| Proton X70 Executive AWD |   PKR 6,740,000 |
| Proton X70 Premium FWD |   PKR 7,190,000 |
Conclusion
The Proton X70 is a favorite choice for SUV drivers in Pakistan since it delivers power pack advantages at a lower price and comes with a 5-year warranty. The Proton X70 SUV is a calm and relaxing vehicle to drive. It's also jam-packed with high-quality safety measures.
This car is an excellent value for money despite its high fuel consumption. Overall, Proton Pakistan has created a promising car with a perfect balance of attractive appearance and excellent driving characteristics.