Since its inception in 1996, local motorcycle manufacturer United Motors has been introducing 4-stroke bikes & rickshaws to the market. The motorbike assembler United Auto Industries makes 70cc and 100cc bikes and 125cc bikes. This article will discuss the prices of these united bikes in Pakistan in 2023.
United Bikes 2023
The engine type of US United Motorcycles sold in Pakistan is a single-cylinder, four-stroke, overhead camshaft design. Every year, United Company introduces a new model of bike and ride to the market. This manufacturer offers 4stroke engine bicycles that are not only fashionable but also long-lasting, dependable, and trustworthy.
There will be various United motorcycles in Pakistan in 2023. Some of these bikes are as follows:
United US 70cc
100cc United US
United US 125cc
United US 70cc
To increase the power output of the engine as well as its overall functioning in the US Motorcycle 70cc, a compression ratio of 9.1:1 has been fixed, and 0.8 litres of engine oil are needed. The front tyre of the United 70 2023 model has a diameter of 2.25 inches, while the rear tyre has a diameter of 2.50 inches.
If we are talking about the functioning of its breaks, then it uses drum mechanical brakes for both the front and the back. United US 70 is a new player in the regional market, and the company hopes that the attractive price tag it offers will attract the attention of potential customers.
With its high rated mileage, inexpensive price tag, and low cost of replacement parts, the United motorcycle brand has been meeting the requirements of the average consumer quite well.
The United US 70 is a fuel-efficient bike that is hassle-free and durable, and it features a comfy seat design. Your contentment is United US 70's number one priority beyond all others.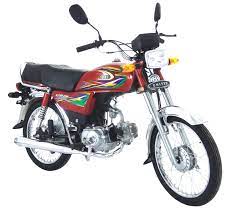 United US 70cc Specifications
The motorcycle is a 70cc model, and it has all of the essential features that come with that size, along with upgraded technology that allows it to have a lower overall fuel usage. Additionally, United US 70 helps its consumers by providing them with an extended warranty claim network so that they may get hassle-free services.
Some of the specifications are as follows:
| | |
| --- | --- |
| Engine | Four-stroke cylinder air-cooled |
| Displacement | 70cc |
| Transmission | Four-speed |
| Clutch | Multi-wet type plate |
| Bore and stroke | 47 x 41.4 mm |
| Petrol capacity | Nine litres |
| Tyre at back | 2.50-17 |
| Tyre at front | 2.25-17 |
United US 100cc
The United 100cc is a wonderful bike that runs on four strokes and has a power output of 4.2 KW. Those individuals who need the propulsion power of the 100cc engine to get them around use it. It seems to be a basic cycle and has a powerful headlight, but it is undoubtedly enticing to those just starting in the world of cycling.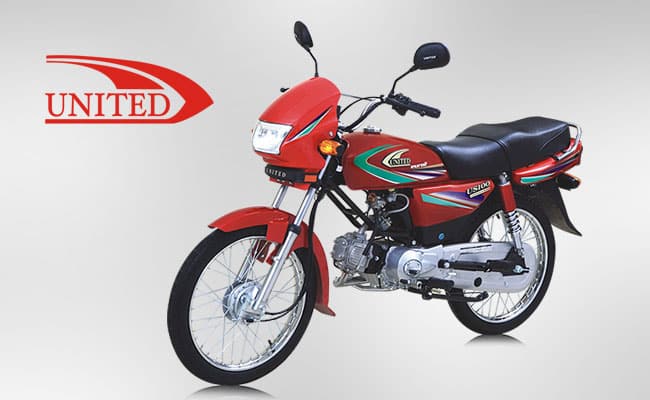 The price of this bicycle, which can be purchased from us, is PKR 86,950. United motorbikes have a long history of producing bikes regarded as being among the most desirable on the market. The United 100 is a solid and well-known option for novice cyclists looking to get their hands on a bike of superior quality.
It has astonishing features as follows:
Stunned to the core
a four-stroke internal combustion engine
Capacity for a large fuel tank
a relaxing chair
Design using the most up-to-date graphics
Astonishing fuel economy
It has all the characteristics you'd expect from a 100cc motorcycle, including a strong engine. All the features of a 100cc motorcycle are accessible at a lesser cost than their rivals. One of Suzuki Sprinter ECO's main opponents is the Suzuki Raider 110. Another is the Honda pridor and Unique UD 100.
The exceptional fuel efficiency of the United US 100 is one of the vehicle's main selling points. There are two colour options for the 2023 United US 100: red and black.
United US 100cc Specifications
The massive fuel tank and strong United US 100 in 2023 make it a standout vehicle. Short- and long-distance travels may be taken on this bike, as well as the seat is quite comfy, making the rides more enjoyable. Some other specifications are as follows:
| | |
| --- | --- |
| Engine | Four Stroke OHC Single cylinder that is cooled by the air |
| Displacement | 97cc |
| Compression ratio | 8.1:1 |
| Brake at front | Mechanical drum |
| Brake at rear | Mechanical drum |
| Transmission speed | Four Speed |
| Starting | Arm Kick |
| Fuel Tank Capacity | 8.5 Litre |
United US 125cc
The United US 125 Euro II debut came when there was significant demand for efficient motorcycles with gasoline. The major objective in introducing the United US 125 is to appeal to prospective buyers who place a high premium on having an economical mode of transportation with gasoline.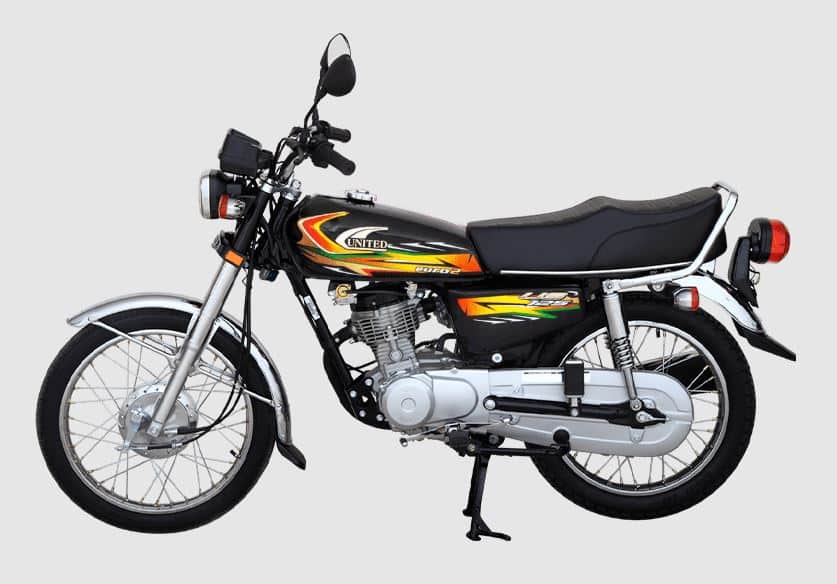 The United US 125 incorporates a patent-protected Euro II technology developed specifically to meet the standards for your mileage. In addition to this, the United US 125 Euro II has a price tag that is noticeably lower than the price tags of other 125cc motorcycles that are now available on the market.
This allows customers to consider purchasing this bike rather than one of the other 125cc bikes. The United US 125 Euro II is the ideal combination of technical technology that is economical in its gasoline use and a powerful 125cc engine.
United US 125cc Specifications
The United US 125 receives its power from a four-stroke, overhead-valve, air-cooled, 125cc engine equipped with a capacitor discharge ignition system. Additionally, the four-speed gearbox is efficient enough to offer a smooth and consistent performance.
Because of your exact gear changes, you can ride your bike easily, both in traffic and at high speeds. Because of its big gasoline tank and the availability of 2 litres of reserve fuel and a capacity of 1 litre for engine oil, the United 125 is well suited for long-distance travel.
The bicycle has an updated muffle design that results in more road grip and improved performance. Additionally, the bike's decent tyres, which also contribute to increased road grip, help to preserve the ride's stability. Some of its specifications are as follows:
| | |
| --- | --- |
| Engine | Four-stroke air-cooled engine |
| Displacement | 125 cc |
| Bore and Stroke | 56.5 x 49.5 mm |
| Compression | 9.5:1 |
| Bike clutch | Multi-Plate |
| Transmission | four-speed |
| Bike Starting | Kick Start |
| Bike frame | Diamond Type Steel |
| Dimension | 1911 x 732 x 1016 mm |
| Total Petrol Capacity | 9 L |
| Front tyre | 2.50 – 18 |
| Back tyre | 3.00 – 17 |
| Dry Weight | 102 KG |
United Bikes Competitors
These United bikes have many competitors in Pakistan, but the most know are Honda Bikes, Super Power Bikes, Road Price and Unique Bikes.
United US Bikes price in Pakistan 2023
United company has introduced a variety of bikes like United US 70, united US 100 and United US 125 motorbikes. The prices of these motorbikes are given below. The United US 70, United US 100 and United US 125 prices in Pakistan are as follows:
| | |
| --- | --- |
| United Motorbikes | Price in Pakistan |
| United US 70 |  PKR 109,500 |
| United US 100 | PKR 115,000 |
| United US 125 |  PKR 164,500 |
Conclusion
United company has introduced a lot of bikes in the past few years some of these major bikes in this year 2022 are discussed in an article in detail along with the prices in Pakistan in 2022.